Our city is chock-full of interesting people and wild personalities. Overwhelmed by the coolness? Every week we'll pick one standout local we'd love to be friends with to answer seven essential questions about their life in the Bay Area. 
---
Sarah is a veteran SF resident who's recently traded in city living for Oakland. Along with working full time for our media crush The Bold Italic, she writes a regular column for TBI about the joys of Oakland-living (check out her Best Nature Getaways post–gorgeous pics!). 
Aside from keeping us up-to-date on all the best from the East Bay, Sarah is also a huge animal lover and co-founder of Pawesome, an insanely adorable pet blog. Need we say more about why we couldn't wait to interview her for a special Oakland edition of We Wanna Be Friends With Q&A? 
1. What neighborhood do you currently call home? Would you ever move or are you happy in your 'hood?
After 12 years of living in SF, I recently moved to Longfellow in North Oakland. I love my new neighborhood and don't see myself leaving any time soon.
2. What's your hands-down, last-meal-on-Earth, absolute favorite thing to eat in Oakland?
Since we're talking about a last meal, I'd probably go a little crazy: I'd start with the nigiri specials at B-Dama, then walk over to Dopo and order everything off the menu. If I were still hungry, I'd head to Berkeley for bacon-wrapped mochi at Ippuku and a slice of Cheeseboard pizza, for good measure.
3. What's your perfect night in The Town?
I'd head to Mountain View Cemetery for a beautiful sunset, followed by dinner at one of the above last-meal spots, and end the evening sitting under the trellis in my backyard–all in the company of my dude, of course.
4. When you need a low-key afternoon, where do you go for down time?
A hike at Sibley, Joaquin Miller, or Redwood Regional Park, or cruising Oakland streets on bike.
5. What's your favorite place to go on a day trip from Oakland?
The Russian River when it's swimming weather, Marin for a hike, San Francisco when I'm feeling nostalgic, and anywhere with a good thrift store.
6. Quick-fire round:
Burrito or Burger?
Burger. Definitely a burger.
Fenton's or Scream Sorbet?
Both. Scream for its inventive sorbet that's almost better than ice cream, Fenton's for its old-school style.
Lake Merritt or Lake Temescal?
Lake Merritt, especially at night.
The Paramount or The Fox?
The Paramount is the last place I saw Morrissey, when I still cared about him.
Bakesale Betty's or Brown Sugar Kitchen?
Ooh, a toughie! I'll go with Bakesale Betty's because I can walk there from my house.
First Fridays or The Oakland Museum?
The Oakland Museum; I moved here to get away from crowds.
A's or Warriors or Raiders?
I'm not going to pretend to like sports, but I'll always root for the underdog. Go Oakland!
7. Three words that describe your life in Oakland?
Mellow, neighborly, down-to-earth.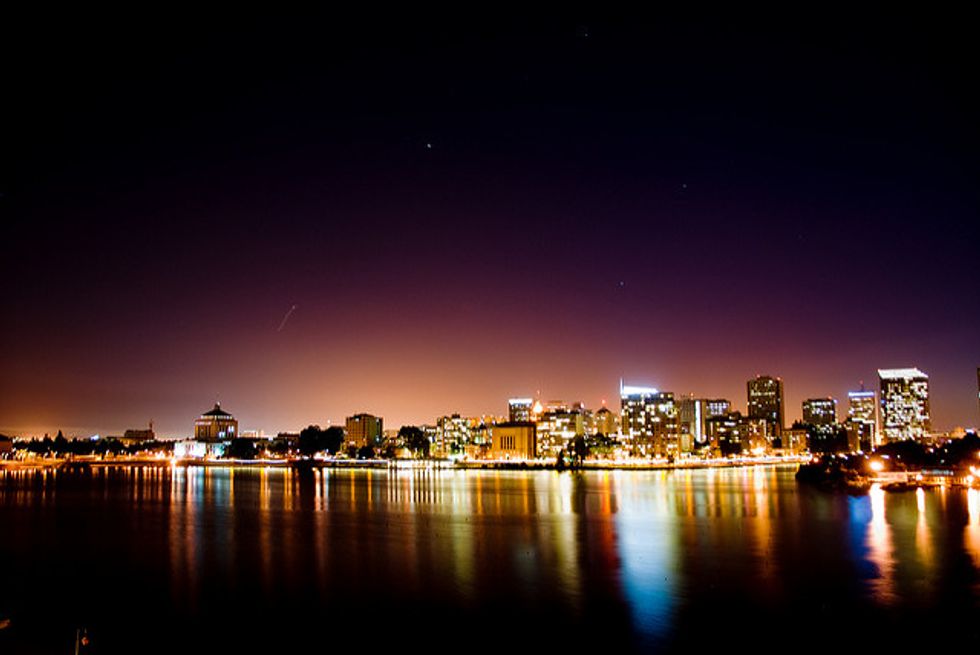 Lake Merritt at night. Photo by Flickr/hensever.

Want more Sarah? Here's how to find her: