Our city is chock-full of interesting people and wild personalities. Overwhelmed by the coolness? Every week we'll pick one standout local we'd love to be friends with to answer seven essential questions about their life in San Francisco.
---
Virgin America is taking off. The only U.S. airline based in California has trounced its domestic competitors with numerous best-in-class awards, no doubt for its high-tech amenities like in-flight WiFi and power outlets, touch screen entertainment, no black out dates frequent flyer program, and sexy mood-lit cabins, among other boons. More importantly (to us), the carrier continues to frequently add new and relevant routes for Bay Area travelers.
In 2013, barely six year-old Virgin America opens new direct routes from SFO to Las Vegas, Newark, and Anchorage, and this week marked the airline's maiden voyage "from Silicon Valley to the Silicon Hills" of Austin, TX, a launch that involved an in-flight performance by Austin psychedelic rock group The Bright Light Social Hour, free strong margaritas, and a handful of B-list celebrities onboard. The company embodies its work hard play hard reputation. 
So who's in command of these birds? We gabbed in-flight with San Francisco denizen David Cush, President and CEO of Virgin America. Who wouldn't want to be friends with this guy?
What neighborhood do you currently call home? Would you ever move or are you happy in your 'hood?  
I've lived in my place in Russian Hill for four years. It's a 1904 building with a great view. Before that, I spent two years in a furnished apartment one block away. I really needed my own furniture. The woman I was dating at the time said I looked like I was still in college! That was the catalyst I needed to move. My current place is my sanctuary, I wouldn't move voluntarily. It's the best place I've ever lived.
What's your hands-down, last meal on earth, absolutely favorite thing to eat in SF?
I was introduced to Slanted Door when I first moved to San Francisco. It's a great scene with interesting people watching, the food is healthy, and I love the Ferry Building location. Also, the staff is so gracious, kind, and welcoming. We try to be the same way at Virgin America. You can't always say yes, but you try to find a good way to say no. When I walk out of Slanted Door, I'm happy. Though I guess I wouldn't be happy for long if it was my last meal!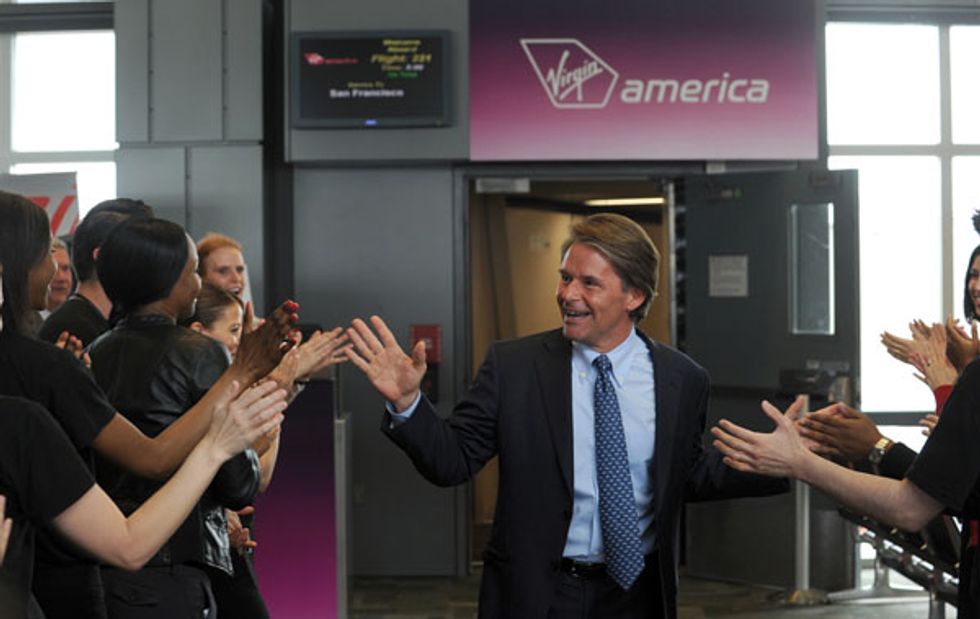 David Cush arriving in Austin on the inaugural flight from SFO
What's your perfect night on the town?
It would be a nice, cool, crisp (but hopefully windless) evening that involves eating a great meal at a place with a friendly vibe, maybe Slanted Door or Cafe Zoetrope, followed by a leisurely walk home that involves a couple of miles and a few hills. You never know what you are going to see and you don't always need a plan; sometimes the plan finds you. I'd make a couple of stops along the way. Finally, end up hanging out at my place and enjoying the view. I'm old and boring! (laughs) 
When you need a low-key afternoon, where do you go for down time?
On mellow afternoons, I usually hop on my bicycle and ride across the Golden Gate Bridge. I'll meander to Tiburon to go have beers at Sam's, and then I take the ferry back to Pier 39. When I feel slightly less mellow, I'll ride up into the Headlands to do a few hills. I like to get down to the beach, but I don't like the way back uphill! It's a moment of truth when you're at the top looking down at Stinson.
What's your favorite place to go on a day trip from the city?
Stinson Beach. Hop in the car, pop the top down, hang at the beach for a couple of hours, grab a bite to eat in town, then drive home. That's a good day.
Quick-fire round:
Burrito or Burger?
Burger
Presidio or Golden Gate Park?
Golden Gate Park
BiRite or Mitchell's?
I haven't had either. Swenson's near my house is easy!
Bike or MUNI?
MUNI, I don't like to cycle in the city. You have to concentrate too much.
Fort Mason or Dolores Park?
Fort Mason
The Independent or the Fillmore?
Fillmore
Baker Beach or Ocean Beach?
Ocean Beach
Three words that describe your life in SF?
Happily enjoying life!