Get your weekend warrior on at these Bay Area happenings.
Friday, July 7th: Jazz up lunch hour @ Kaiser Center Rooftop Garden
---
When: Noon to 1pm
Where: 300 Lakeside Drive (Oakland), kaisercenterroofgarden.com
Why: Enjoy some free New Orleans bluegrass and jazz while eating your lunch in a rooftop garden. Don't forget the SPF!
Friday, July 7th: Laugh @ PianoFight
When: 7:30-9pm
Where: 144 Taylor St. (Tenderloin), pianofight.com
Why: Spend a ridiculously happy hour as One Night Only puts on an improv show that's interactive with the audience. Go early to eat and drink.
Saturday, July 8th: Spike Your Summer @ Piers 30-32
When: 9am to 6pm
Where: 599 The Embarcadero (The Embarcadero), avp.com
Why: Check out some of America's finest volleyball players at the San Francisco Open, with matches much of the afternoon. Feeling peckish? Look for light and beachy cuisine ($25 per person) from 8:30am to 6:30am.
Saturday, July 8th: Full Moon Paddle Kayaking @ Jack London Square
When: 7-10pm
Where: Oakland Estuary, calkayak.com
Why: Because kayaking on glassy waters beneath the light of the full moon is a refreshing way to catch your breath at the end of the week. Price ($69) includes all necessary equipment; reserve your space online.
Saturday, July 8th: Pig Roast @ Stay Gold Delicatessen
When: 3-8pm
Where: 2635 San Pablo Avenue (Oakland), staygolddeli.com
Why: Check out one of Oakland's best-kept secrets and treat yourself to some damn good barbecue on the eclectic patio.

Sunday, July 9th: Toast @ Dogpatch WineWorks
When: Noon to 4pm
Where: 2455 3rd St. (Dogpatch), dogpatchwineworks.com
Why: Cap off the weekend at this Dogpatch Winemakers tasting event, with 12 varietals for sniffing and swirling. Tickets are $10 at eventbrite.com
Sunday, July 9th: Get Spooked @ Downtown Napa
When: 8-10pm
Where: 825 Brown St. (Napa), napaghosts.com
Why: Take a two-hour walk with some of the best ghost hunters anywhere in California and learn all about the hidden (and haunted) past of Downtown Napa. Tickets start at $28 at fareharbor.com.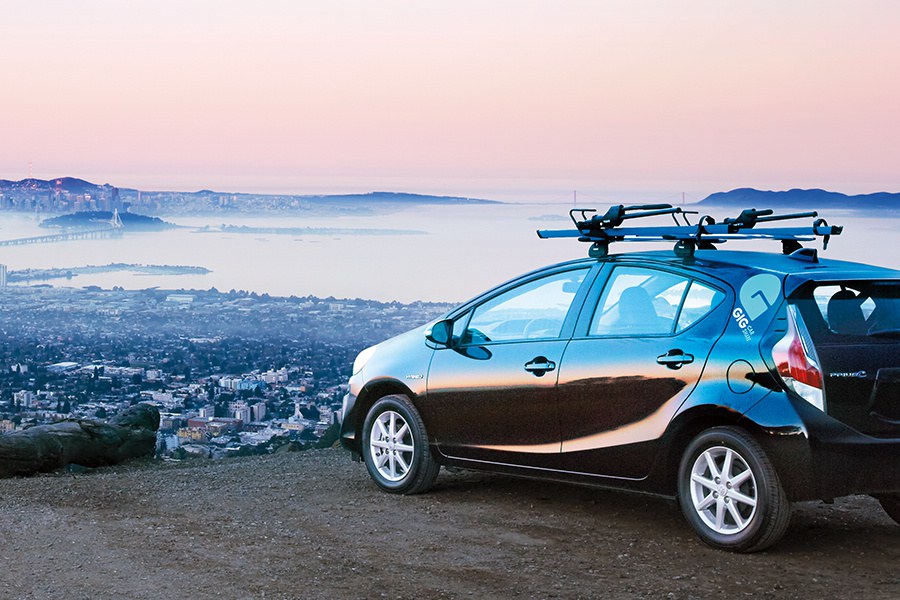 (Courtesy of Gig Car Share)
Need a ride? Gig Car Share promises super flexible access to a ride, with affordable rates by the mile, hour, or day. Just download the app, hop in a Gig, and get going—the car is fully tricked out with a bike rack, gas, and it even comes with insurance (restrictions and limitations apply) and 24/7 support. When you've slayed the weekend, hop back in the car and park it almost anywhere in the Oakland or Berkeley HomeZone. You'll be home in time for Sunday supper. // gigcarshare.com
(Special thanks to our partners at Gig Car Share)