It's a weekday in Union Square, and passersby pause at the corner of Grant and Geary streets to glance at a lithe blonde in velvety green shorts over black leggings. Hipsters in cardigans and men in tailored suits swivel their heads. Bathed in sharp afternoon light, the model wiggles into fur-lined boots as a woman in a parka teases her hair. A production crew idles nearby with racks of clothes, light stands, and photo gear.
---
In this moment, Union Square feels like the city's go-to fashion mecca, an image it has laid claim to for decades. Yet in the past couple years, this same block of Grant Street has seen more than its share of shuttered shops. Guess, agnes b., Christian Audigier, and locally owned A-B Fits closed (though it retains its North Beach store). James Perse took over the agnes b. space but then moved to Maiden Lane, where it now occupies the storefront where Sur La Table stood for five years.
Meanwhile, a short walk away, Target is opening in the Metreon, and XXI Forever has moved into the former Virgin Megastore's three stories. It might seem as though this anchor neighborhood is on its way to becoming another big box-store center—Anywhere, USA.
But these thrifty retailers aren't the only measure of Union Square's economic climate. Recently, London-based Graff Diamonds, one of the world's most exclusive fine jewelry retailers—which famously purchased a 24.78-carat pink diamond ring for $46 million in 2010—opened its California flagship store on Post Street. Meanwhile, Bottega Veneta expanded, and Dior Homme opened.
While it's not hard to believe that XXI (Forever 21's new spin-off) was filled with tweens the moment it opened in January, you have to wonder who's buying the $3,250 bags at Bottega Veneta. Who's shopping for an engagement ring at Graff? Clearly, the Bay Area has its share of wealthy patrons, but it turns out that the customers that many Union Square luxury retailers seek live a continent away.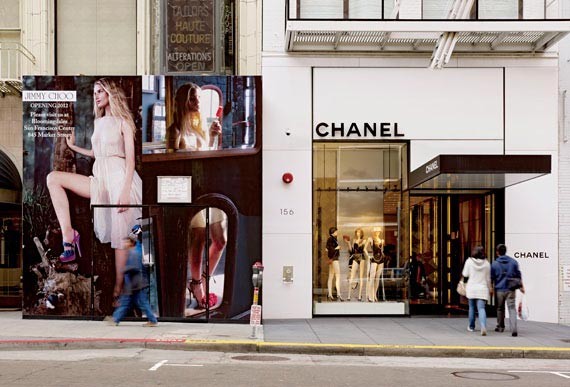 Neiman-Marcus' Rotunda has long been ground zero for ladies who lunch. At the glassed-in fourth-floor aerie, society matrons with coiffed hair and big, round sunglasses, businessmen in pinstripes, and well-heeled Asian tourists chatter while eating popovers with strawberry butter. Through economic ups and downs, old-money shoppers have remained the restaurant's mainstay. According to general manager Andrew Generalao, one such group of women has lunched here 450 times through the years.
After the 1906 earthquake, when the square was remade as the city's primary shopping district, Union Square became the place to go for independently owned department stores and high-fashion boutiques. Through the 1960s, every corner was independent, says Ellen Magnin Newman, whose family ran I. Magnin & Co. department stores until the 1980s. Newman has worked in and around Union Square for more than 50 years. She's witnessed the disappearance not only of her family's stores but women's apparel shops, such as Ransohoff's, Nelly Gaffney, and Maison Mendessolle, and menswear purveyors, such as Roos Brothers and Bullock & Jones. At any one of those stores, members of the owner's family were always on hand, Newman recalls.
The area's wide array of entertainment and dining options helped stave off the worst of the urban flight that affected much of the nation after the 1960s, but the independent retailers began to die out by the late '70s. Over the years, as in most of the country, San Francisco saw its local retailers bought out or replaced by national corporations. While 
sentimental for the past, Newman says Union Square's current assortment of international brands is a step up. "I think it's changed for the better," she says.

Not everyone has been as enthusiastic about the changes. Annie Kim, a commercial real estate agent, ran a Union Square jewelry shop for 20 years. She closed up in 1999 partly because of what she considered a loss of unique flavor in the area. "It started to look like any big shopping mall or big city with the same brand stores," says Kim.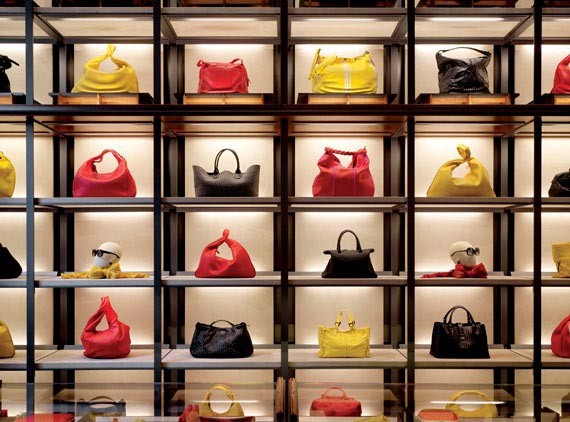 The sheer foot traffic—about as many people traverse the first block of Powell Street as New York's Times Square—is enough to ensure that Union Square suffers the same disparities as other major urban shopping districts. At the corner of Stockton and Post streets, a grizzled-looking man proffers a paper cup and says to whoever will listen, "I'm trying to raise a down payment on a cheeseburger." Nearby, a smartly dressed woman walks into a Cole Haan store.
The contrast between haves and have-nots is nothing new here, and the proximity of the low- and high-end retailers can be jarring too. Here, you'll find Louis Vuitton next door to Macy's, Chanel two doors down from Sunglass Hut, and Nike next to Giorgio Armani. This may reflect a recession marked by relative stability among the wealthiest. But why does Union Square continue to attract shopping hordes in an era when department stores and malls seem increasingly obsolete? What about locals' preference for neighborhood boutiques and independently ownedbusinesses?
The answer might be a matter of practicality. "[Shoppers] won't always find everything they're looking for at a local boutique," says Quan Nguyen, formerly the assistant manager of the Theory store on Maiden Lane. Nguyen has worked at various Union Square retailers and claims the area has more than enough mid-level shops such as Ted Baker, Banana Republic, and John Varvatos.
Jennifer Margolin, a personal shopper, brings her clients to Union Square to create wardrobes that mix high and low—J. Crew T-shirts and Burberry leather pants, for example. "Style is becoming more about how you put your outfit together and how you accessorize," Margolin says.
Left to her own devices, Margolin frequents Maiden Lane. "I love it because you can feel like you're walking down a cobblestone street in Paris," she says. "And there are so many great places."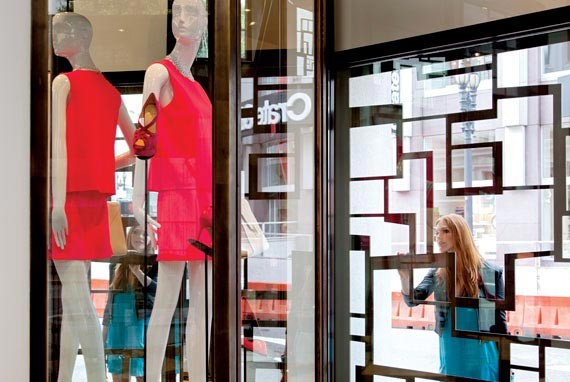 Over white wine and a lobster club sandwich at the Rotunda, longtime Union Square designer and tailor Gus Harput waxes ecstatic about the area's shopping options. "If you like fashion, you have to come here," he says. "Everything is here."
Harput, who has moved his business from storefront to storefront since taking up in Union Square in 2009, says business is good in the Geary Street studio he's temporarily sharing with tailor Shanghai Chow. In fact, Harput is negotiating to lease a new space nearby, down on Maiden Lane.
Harput isn't the only one planning a move. Since November, Jimmy Choo and Mulberry have announced plans to open new spaces in the Union Square area.
The flurry of retail real estate deals is not so unusual, according to Harput, who points out that closings at stores such as Kenneth Cole and Guess are likely more related to corporate restructuring than Union Square's vitality. Some brands open in the area and then decide they are more at home in malls instead of urban settings. Beyond that, Harput says it's all just natural market evolution. But as far as pressure on smaller independent businesses like his, Harput is blunt. "Everyone just shifts around. Different streets get hot," he says. "The rents are high, and if you don't have your shit tight, you're not going to make it."
Retail space right on the park can go for more than $400 per square foot monthly, according to Kazuko Morgan of commercial real estate firm Cushman & Wakefield. A block away, rents generally drop to between $325 and $350 per square foot. In the past two years, vacancy has decreased significantly, and store revenues have increased an average of 20 to 30 percent, according to Morgan, who cites a strong local economy and an influx of tourists.
The ever-higher rents are frightening news for independent store owners. "Your uber-expensive retailers and your giant, inexpensive chains are the ones that have the money to pay the rent," says Sheri Evans of boutique Metier on the 300 block of Sutter Street. Metier, which specializes in midrange to high-end designers for hip, urban women, has done well for most of its 20 years, and Evans is thankful to have a five-year lease and an agreeable landlord. Still, she can't help but rue the loss of independent shops such as Gimme Shoes and deVera jewelry. "They were here for a long time," says Evans, "And then they were gone."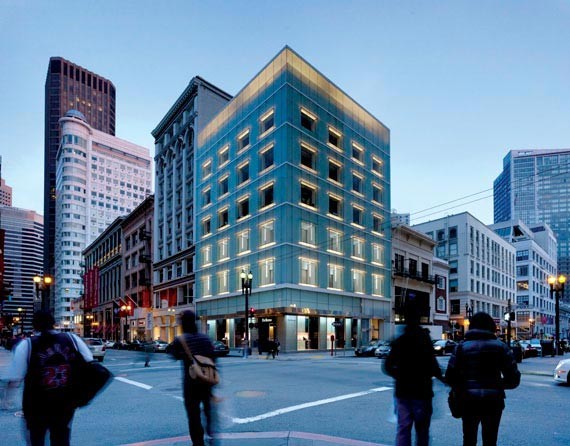 A few doors up from Metier, Arthur Louie is happy with business at his six-year-old shop, The Archive, which sells niche brands for men. According to Louie, sales have increased annually. The only advantage for small shops is the customer service and special tailoring they can offer, says David Yahid, owner of Couture men's clothing shop on Sutter Street. During the past 10 years, however, that hasn't been enough to keep menswear stores such as Park General and Barcelino on the block. While Yahid has had the good fortune of a loyal clientele, he says Internet retailers and low-end purveyors will be the death of independent stores: "You won't see us in five years."
What you will probably see in five years are more big-brand stores, more high-end labels and more luxury-hungry tourists. Retailers will continue to covet the lucrative local market. Old money isn't going anywhere, and Silicon Valley's ranks of tech millionaires are growing. In November, a Kiplinger's magazine story placed San Francisco and nearby San Jose in its list of 10 U.S. cities with the highest percentage of millionaires. According to the census, the median income for San Francisco residents is $71,304. In San Jose, it's $79,405—53 percent higher than the national median.
The smell of lucre is especially strong among rebounding luxury retailers. Tiffany & Co., which recently signed a 15-year lease on its Union Square property, reported earnings of 23 to 25 percent per share for the fiscal year ending next January 31. LVMH, parent company of Union Square denizens Marc Jacobs, Thomas Pink, and Louis Vuitton, reported revenue of almost $21.4 billion during the first nine months of 2011, an increase of 15 percent over the same period in 2010.
Other retailers are a mixed bag. In 2011, Forever 21 pulled down $2.6 billion in revenue—18 percent more than in 2010—while local giant Gap saw its sales fall 2 percent to $3.59 billion in the third quarter. For some big-name brands, being in Union Square makes advertising sense regardless of their store's success, according to commercial real estate agent Kim. "They're using their space to have a presence on Union Square," she says. "[The area] has a global exposure."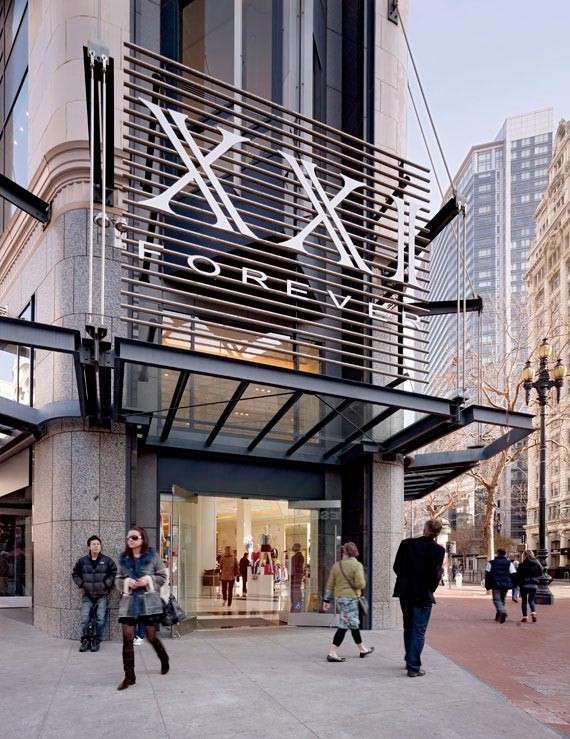 As to who is shopping here, it depends on whom you ask. Random surveys by the Union Square Business Improvement District put the locals-to-tourists ratio at about 70 to 30, but that can change depending on the season or the store. Whatever the breakdown, Union Square is by far the most popular neighborhood destination among tourists, according to the San Francisco Travel Association. Increasingly, that means label-conscious Chinese tourists.
The number of Chinese tourists coming to California increased nearly 50 percent between 2009 and 2010 (the most recent year for which data is available), according to the California Travel and Tourism Commission. Of the 401,000 who traveled to the state, over half of them visited San Francisco, and more than 90 percent went shopping. On average, they each spent nearly $1,000 on gifts and souvenirs alone. The trend will likely continue. The U.S. Department of Commerce forecasts the number of Chinese tourists will increase 274 percent between 2010 and 2016, far outpacing tourists from any other country.

A block north of the photo shoot at Geary and Grant streets, shoppers speaking Mandarin tote luxury label bags and pour into the expansive Prada store. Across the street, jewelry store Shreve & Co. employs salespeople who speak Mandarin and Cantonese, has signs in those languages, and displays colorful decorations during the Chinese New Year. Even the area's hotels have bilingual staff. "San Francisco is a natural fit given our current client base," says CEO Henri Barguirdijan of Graff Diamonds. "Our patrons are residents and tourists alike. Many are tourists from Asia—China in particular."
The Chinese influence—whatever it comes to—will be just another chapter in Union Square's up-and-down story. This part of the tale seems to favor big-money companies that have fueled the expansion of the area's retail space by about 3 million square feet (including the Westfield SF Centre) in 10 years, according to Helen Bulwik, president of retail consultancy New Market Solutions.
Of course, the added space makes the area vulnerable to empty storefronts during economic downturns, as Donna Ficarrotta, deputy director of the Union Square Business Improvement District, knows well. "Two years ago, we were scrambling trying to dress up 
storefront windows [during the holidays] because it was looking 
kind of dismal," she says. But what goes around tends to come around, and Union Square clearly hasn't exhausted itself as a fashion center just yet.
This story was published in the March issue of 7x7 Magazine. Click here to subscribe.