Finding a new spot to add to your beach getaway list is always a plus. But when it's a stretch of coast that's not crowded, more sunny than foggy, and with parking just steps away from the sand, you've hit the beach jackpot. Even if you can't pronounce it, Cayucos is worth checking out on your next trip to California's Central Coast.
---
Pronounced Ki-YOO-kus,  this small beach town is located in San Luis Obispo County, about halfway to Los Angeles. From Highway 101 in Paso Robles, you jump on Highway 46 and head to the coast. The drive is the relaxing sort, passing through vineyards, avocado groves, and an assortment of animal life. It may be new ground for some, but in reality you're only about half an hour's drive from Pismo Beach. Cayucos is one of ten lesser known destinations that together call themselves Wine Coast Country. In this case, "lesser known" means less crowds and more sand and sun to yourself.
Cayucos State Beach
Pull right into easy street parking and step on to the sand. No meters, no time limits. If you've got a surfboard, bring it. Same goes for a fishing pole, dogs, and kids. The biggest decision is which way to walk on the beach. The 950-foot pier will keep you sand free while offering a great place to wander, watch surfers, hunt for dolphins, otters, and an assortment of other sea critters.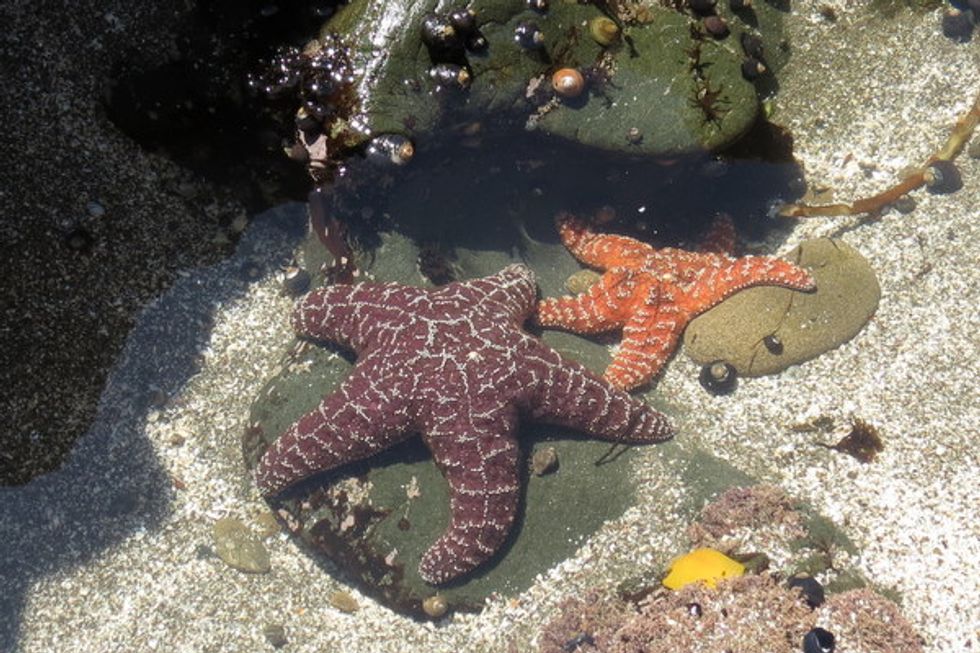 Cayucos Sea Stars
If you stick to Cayucos State Beach and head under the pier, rocks at the end of the beach combine with the waves to make for great tidepooling. Dogs are as common a sight as people. If you're traveling with kids, there's a playground and swings at the top of the beach, not far from the pier. Lifeguards are on duty during peak summer months.
For a town with a population of about three thousand, Cayucos has an impressive main street-oriented downtown. Just one block from the sand, there's a little bit of everything on Ocean Avenue–think gift stores, antiques, jewelry and some tasty choices fit for foodies. Duckie's Chowder House attracts the chowder crowd, seafood is the focus at Schooners Wharf, (try the ahi and fresh veggie egg rolls) or pick up a smoked albacore taco at Ruddell's Smokehouse. You can see the beach from all three venues, so a beach picnic is always an option. An extra bonus: Outside seating makes them all an easy place to grab a bite to eat with your dog.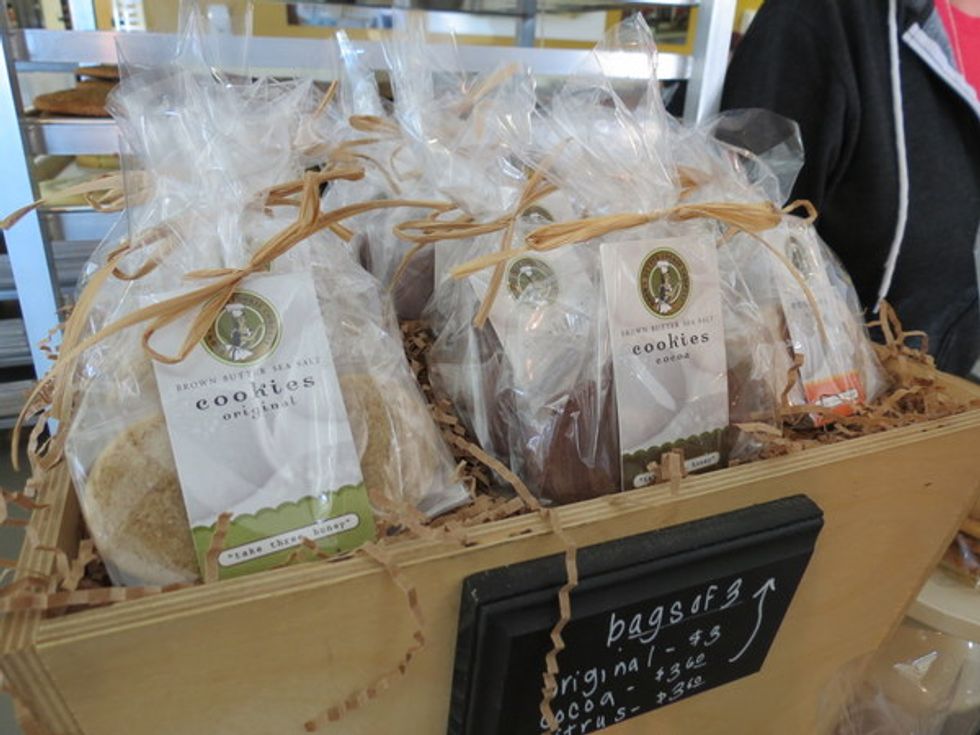 Addictive Brown Butter Cookies
If you've got a sweet tooth, look for the bright red building on Ocean Avenue and head straight for it. Home to the Brown Butter Cookie Company, they're always handing out samples of their brown butter sea salt cookies. Owned by two sisters, the cookie company makes about five thousand brown butter cookies a day, six days a week. There's a big open baking area, so you've got a good shot at seeing bakers in action.
The one thing Cayucos does have in common with other beach towns is its dress code. Layers. Lots of layers. Summer days aren't really what you'd call hot, and winter days are rarely very cold, but your best bet is to be prepared for either end of the thermometer and just shed layers as the sun comes out.
Dana can be found on Twitter @drebmann
Dana's trip was hosted by Wine Coast Country, but as always her thoughts and opinions are her own.