It's time to skip town. Get your bathing suit out, pack the sunscreen, and head to any of these rivers—all within four hours of SF—in towns where the temps soar well above 80 degrees all summer.
---
1. Canoeing Down the Russian River
Where: Healdsburg
Driving time from SF: 1.5 hours
Average July high: 90 degrees
There are two ways to canoe the Russian River. If you wait until the Healdsburg sun is melting the SPF right off your back, you'll be cruising down the river among throngs of people toting boats full of Budweiser, hooting and hollering, and having a grand old time.
But if you set your alarm and arrive at River's Edge Kayak & Canoe Trips—the best canoe and kayak rental company in town—before the crowds show, it's likely that in the slight chill of the morning, you'll have the river almost to yourself. Surrounded by thickets of brush that cloister the river from the homes nearby, you'll hear only the tinkling of the water meeting the bow of the canoe as it carves its way through the placid river. This is the time of day when you'll see the blue herons wading out and look up to notice the red-tail hawks circling over. For a moment, you're not from the city. You're Pocahontas.
That is if your husband, sitting in the rear, isn't screaming at you in a panic to paddle backward as you both head toward a tree branch. (Hint: Duck forward calmly. Shrieking and leaning to the side will make you tip over.) They don't call the canoe the divorce boat for nothing. Using your oar for splashing is a great way to get back at know-it-all canoe partners and is essential for cooling down as the day becomes sweltering, as is a swig of chilled white wine—we are in Wine Country after all. Also, pack cold watermelon in ice and rustic baguette sandwiches made with salami and butter.
When your arms tire, look for Camp Rose, a sandy and less-populated beach. Pull up, spread out the picnic, and take some time to skip rocks and float down the river on your back. If you're doing things right, you should have miles ahead of you, a sun that's nowhere near its set, and what feels like all the time in the world.
Where to Canoe
River's Edge Kayak & Canoe Trips offers two options. Families will want to take the shorter route, while everyone else will prefer the 11-mile trip with a few mild rapids. They rent classic canoes and sit-on-tops, and their van drops you at the river and picks you up at the end of the day. Hint: Those who pick up trash along the way are given free popsicles upon return. 13840 Healdsburg Ave., 707-433-7247, riversedgekayakandcanoe.com
What to Pack
Clif Family Winery's wine bags come with Chardonnay or Cabernet and are made for outdoor activities. Glass isn't allowed, but stacking green acrylic wine glasses from Crate & Barrel (crateandbarrel.com) are, as is 479° Popcorn (available at Peet's Coffee, 479popcorn.com), which just released individual bags of its gourmet flavors, including the black truffle–white cheddar. It's a watertight, gourmet snack.
Where to Stay
Although there are plenty of fancy hotels like the Hotel Healdsburg, the local pace is best enjoyed in a house, sitting out on the deck, and soaking up the sunset. Riverhomes.com offers houses for rent like Tallulah's Shack, which is located in downtown Guerneville and bucks the usual granny cabin decor for chic yet comfortable modern amenities.
Where to Eat
After a day of sweat, dust, and river water, it's nice to shower and sit down to a nice dinner—though nothing too fancy. Try Shimo, the new noodle bar from celebrated chef Douglas Keane (of four-star Cyrus nearby). You can get a bowl of ramen or soba noodles topped with everything from a slow-cooked egg to wagyu beef. 241 Healdsburg Ave., 707-433-6000, shimomodernsteak.com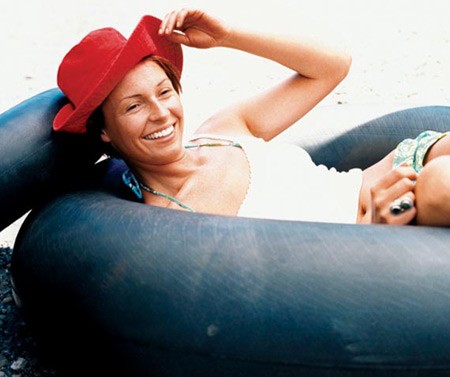 2. Chilling at the Eel River
Where: Mendocino County
Driving time from SF: 3.5 hours
Average July high: 86 degrees
Tell people that you're headed to the Eel River, and you'll often see a question mark over their heads. Despite its gorgeous landscape and proximity to San Francisco, it's a lesser-known river. Unlike the Russian or, say, the American, the party doesn't stop here. This is a good thing. Those in the know come for a true getaway.
Drive up Highway 101 for about four hours until you begin to feel miniscule among the towering trunks of giant redwoods. The Eel River itself snakes its way through nearly 200 miles of both Humboldt and Mendocino counties, offering plenty of secluded campgrounds and swimming holes along the way. When you reach Myers Flat, pitch a tent at Hidden Springs Campground (707-943-3177), just five miles away from the visitor's station at Humboldt Redwoods State Park (humboldtredwoods.org). A trail leads to a prime swimming spot where the sun-soaked banks are balmy—a nice break from the protective canopy of trees and a popular destination for river-goers looking to drop in a raft or canoe. Toward the end of summer, be sure to check in with the local ranger, or heed the signs about water quality that day, as low water levels can sometimes breed algae that can be harmful to dogs.
On your way home, stop in Leggett to visit Drive Thru Tree Park (drivethrutree.com), where yes, the name says it all. Embrace its tourist appeal—driving through Chandelier Tree makes a grand entrance. If you have an extra night available, set up camp under some of the world's largest redwood trees.
What to Pack
Your bum will need a break, as will your tender urban feet. Get yourself to REI (840 Brannan St. [at 7th], 415-934-1938, rei.com), and pick up the low-rise Alite Monarch Butterfly Chair and a pair of unsexy (but essential) Vibram Fivefingers KSO Multisport shoes. Then park yourself riverside, and do some easy summer reading. For a good laugh, pick up My Korean Deli (Henry Holt & Co.) by Ben Ryder Howe.
Where to Stay
Though there's plenty of camping, up the ante a bit with Big Bend Lodge centered on the South Fork of the Eel River in the town of Leggett. The nine-cabin lodge, owned by a pack of local Mission District families, grants you exclusive access to one of the most tube-worthy portions of the river, plus a tire swing and a private swimming hole. Rent one cabin, or get a group of friends together and take them all. 63260 Big Bend Lodge Road, Leggett, 707-925-2440, bigbendlodge.com
Where to Eat
Stop at Geiger's Long Valley Market (44951 Highway 101, Laytonville, 707-984-6911) for a deli sandwich or locally raised meats to throw on the grill. Also, rivers are best paired with old-school fries, burgers, and shakes. Get it all at the 101 Drive-In (100 N. Main St., Willits, 707-459-1010).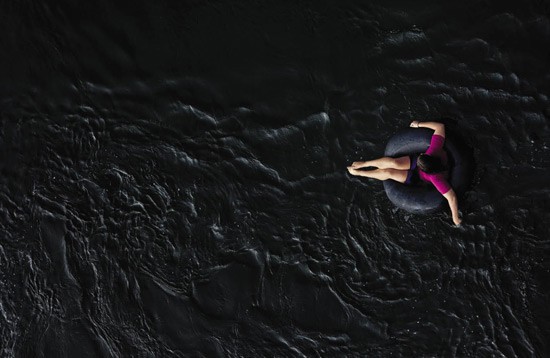 3. Floating Down the Sacramento River
Where: Chico
Driving time from SF: 3 hours
Average July high: 93 degrees
The Sacramento River is fed by Big Chico Creek, which cuts directly through the cute college town of Chico. Last year, as many as 15,000 hit the river to celebrate Labor Day with live music on the shores. But if you aim for somewhere between July 4 and August 17, when Chico State goes back into session, the crowds should be mellow.
This is a river that begs for tubing. The most popular place to launch is just outside of town at Woodson Bridge in Corning. Take off together, linking your friends' inner tubes with bungee cords or simply hanging on to each other when you get to faster waters. Let your legs dangle in the river (watch out for hidden boulders), and pass the time dragging your fingers through the current.
For the duration of your two- to three-hour float, your only orders are to apply sunscreen and repeat. You've got your Blublockers on, so every once in a while, you look down and see sturgeon and rainbow trout swimming past. Just don't miss the landing point, a little dive bar called Scotty's Landing, where beer, burgers, and live music will refresh your river-soaked self.
The next day, head into town for a dip in Big Chico Creek. The creek goes right through downtown, where a small dam holds enough to fill an outdoor, cement-lined swimming hole called Sycamore Pool. The water's always clean since it has a slow, gentle current, and after a swim, it's fast to warm up on the grassy knolls on either side. Bonus: It's steps away from the Saturday farmers market and Main Street's restaurants and shops.
Where to Float
Pile your friends, deflated inner tubes, and a hand (or electric) air pump into two cars, and head north up Interstate 5. As you come into Chico, take Highway 32 for another 12 miles until you get to Scotty's Landing (12609 River Road, 530-710-2020), where you'll want to drop off one of the cars so you have a ride at the end of the day. There, you can rent inner tubes for $3. For a quick float that takes less than an hour, drive the second car on Highway 32 to Hamilton City, where you can launch at Irvine Finch River Access on the west side of the river. If you want more of an all-day float, launch further north at Woodson Bridge in Corning, about 20 miles up Highway 99. From there it takes about two hours from the bridge to get back to Scotty's Landing.
What to Pack
Pros show up with their own tube. The Solstice RiverRough Tube (at REI, 840 Brannan St. [at Seventh], 415-934-1938, rei.com) has thick handles, which you'll need to climb on—or hang on. You'll want a hat that will protect you and not fall off into the river. For this, try Coolibar's Beach Comber Sun Hat (coolibar.com), which has four inches of brim and a chin cord.
Where to Stay
Chico is full of B&B's, but for a little more service, try the remodeled Victorian Hotel Diamond, which is right downtown, a half mile from Sycamore Pool. The rooms are big, newly appointed with plush beds and private balconies, and start at $139. 220 W. Fourth St., 866-933-3100, hoteldiamondchico.com.
Where to Eat
Sierra Nevada Brewery's taproom and restaurant have a lovely patio, thanks to the wisteria vines. Chef Micheal Iles' burgers and steaks come from the brewery's locally raised herd and are cooked over almond wood. So are the pizzas and flatbreads. And of course, there are beers on tap. 1075 East 20th St., 530-345-2739, sierranevada.com