While air travel has much of its roots in America, it has been other countries around the world that have been innovating the flying experience. Nonetheless, the latest U.S. airport terminals show encouraging signs. The recent opening of SFO's Terminal 2 is a good example and represents a shift in America to make the flying more enjoyable. Here are a few of the best airport terminals in the U.S.
San Francisco International Airport, Terminal 2. It shouldn't come as a surprise that Richard Branson's Virgin America is behind the spiffy new Terminal 2 at SFO. Virgin has been trying to put the fun back into flying, from an exhaustive in-flight entertainment system to cheeky in-flight videos to unique airplanes, including planes out of San Francisco that don Brian Wilson's beard. While travelers' senses are heightened as soon as they walk into Terminal 2 with its bright, open space, it's really after passing through security that the experience takes a turn as travelers are immediately greeted with a sign pointing to the yoga room. Just beyond the yoga room, travelers will find local restaurants, including The Plant, Lark Creek Grill, and wine bar, Vino Velo. Other amenities include vintage high-back chairs, a children's play area, free WiFi, and a station for renting laptops.
New York City's John F. Kennedy International Airport, Terminal 5. Shocker, right? New York City airports have consistently been ranked among the worst in the world. However, if you want a more desirable flying experience in New York City, plan on flying JetBlue through JFK. In a recent article by Frommer's of the best and worst airline terminals in the world, T5 was the only U.S. terminal to make the list of best terminals. It's simply much more aesthetically pleasing, both inside and out, as compared to most terminals. As pretty as it is, it's the food that stands out at Terminal 5, with over 20 food and drink merchants. If you're going to have a delay and have to shell out a lot of money for food, you might as well eat well. It also has free WiFi, which can be hard to come by at the airport.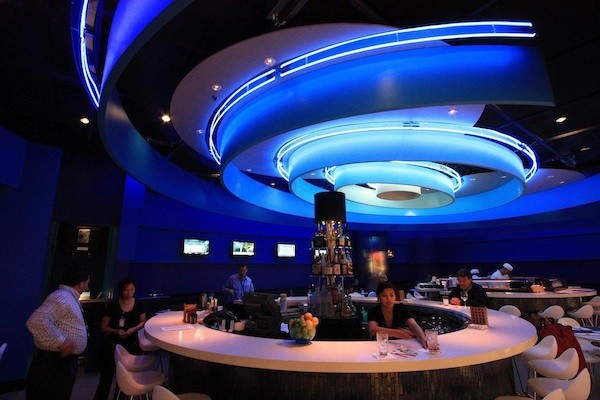 Photo courtesy of tedmurphy/Flickr
Raleigh-Durham International Airport, Terminal 2. While many of the airports on this list are major connecting airports that frequent travelers are likely to find themselves in, RDU is not. If you're in the Raleigh/Durham area, it's probably either for business or to rent a car and head east to the beach. And it's for this reason that the experience is so desirable, because RDU doesn't have the same traffic and delays that travelers may face in many other airports. However, the best part is the food. RDU is home to one of my favorite burger joints, Five Guys, and has a wide-range of other restaurants, including Jason's Deli, California Pizza Kitchen, and 42nd Street Oyster Bar, which is one of the South's most famous oyster locales, serving oysters since the early 1900s.
Miami International Airport, South Terminal. One of the draws of Miami International Airport is that it's so close to downtown. If you wake up hungover and running late to your flight, it's just a short cab ride, rather than an hour drive. The South Terminal's architectural design has much of the look of a brand new terminal, although it's been open for a few years now. It only makes sense that the terminal would feature notable art exhibits when the city of Miami is known for its art scene and unique architecture. The South Terminal includes a business center and over 40 restaurants and shops. For one last hurrah on your South Florida vacation, arrive to the airport early and head to the Jetsetter Spa.
Sacramento International Airport, Terminal B. For Bay Area and Northern California residents, Sacramento International Airport's Terminal B is a dashing alternative. Just a few months old, the new terminal is a sleek replacement to its 44 year-old predecessor. Terminal B caters to the tech traveler with free Wi-Fi throughout, pod seating with electrical outlets and USB plugs, and some seats with built-in cup holders. Wining and dining in Terminal B includes multiple national and local restaurants, including Vino Velo, Famous Famiglia, Jack's Urban Eats, and Esquire Grill, which is a popular downtown Sacramento restaurant.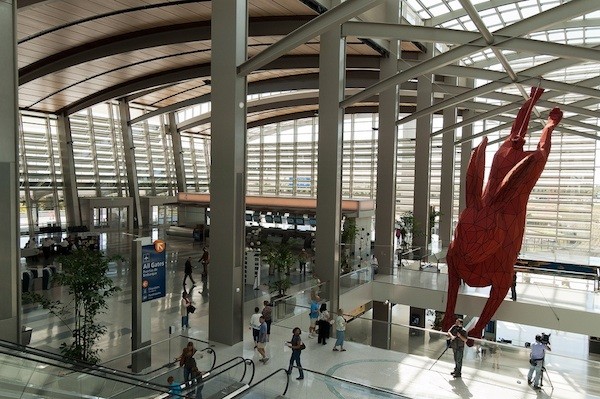 Photo courtesy of John Pastor/Flickr