Summer in the city can feel like a slog. It's hot, loud, and teeming with tourists. But some of Canada's biggest and best cities are actually magnificent urban oases, meaning you can experience culture, nightlife, and a bit of relaxation all in the same place.


If your stress levels are up, consider a wellness escape, where travel and adventure combine with health, clean eating, and self-care. All you need is a few days—your mind and body will thank you for it.
---
Wanderlust in Whistler, BC and Mont-Tremblant, Quebec
(Wanderlust in Whistler; Courtesy of Ali Kaukas)
You can't go wrong with either of these mountain resort cities, especially when both host the jam-packed Wanderlust Festival. This international yoga festival is perfect for music aficionados, with musical mountaintop meditations and sweat-inducing main stage performances. Both Whistler and Mont-Tremblant also boast the Scandinave Spa, which is worth checking off any travel bucket list. Rooted in age-old Scandinavian tradition, the spa offers the benefits of hydrotherapy as you hop from steam room to ice-cold bath. And don't miss out on the shopping and dining experiences in both the Mont-Tremblant pedestrian village and the charming Whistler Village.
(Vancouver Seawall; Courtesy Johann Wall)
Canada's yoga capital is the place to get your Shavasana on. This health-addicted city is a prime host for the annual international event—part of a worldwide initiative led by the United Nations—which brings yoga masters and novices together for workshops and practice. During your stay, stop by the regal Rosewood Hotel Georgia for their Discover Vancouver experience. You'll start with a visit to the Stanley Park Seawall, followed by a trip to hotel's Sense Spa for a full-body treatment and a very apropos Canadian Maple pedicure. The Swedana treatment at Vida Spa is an equally luxurious choice featuring a West Coast cedar steam cabinet with aromatic herbs.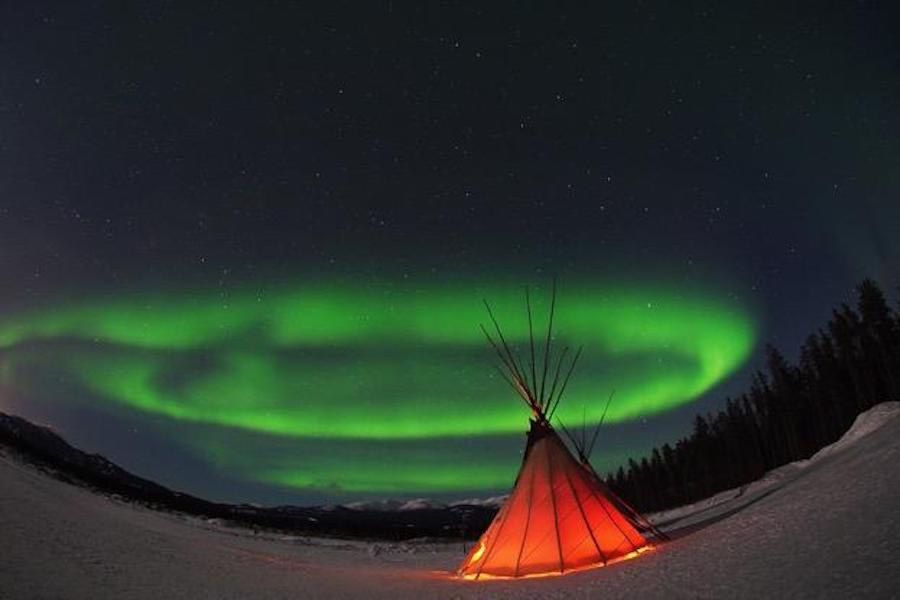 (Courtesy Arctic Range Adventure)
As you head into Canada's northern territory of the Yukon, you're met with serenity and natural beauty that exists nowhere else on the continent. Revitalize after your flight to the capital of Whitehorse by visiting the Takhini Hot Pools, where you can relax in natural mineral water hot springs. Then, journey onwards with Arctic Range Adventure to the Aurora Centre, where you can camp in a traditional yurt and stargaze under the breathtaking Northern Lights.
(Bloom Festival; Courtesy of Jenn Clara Photography)
Alberta's capital is renowned for the river valley that winds through the heart of the city. And you'll be right in the middle of it at the four-day Bloom Festival, which takes place at the Shaw Conference Centre—perched just along the valley's banks in the downtown. A few blocks away is the City Market on 104th Street, filled with some of Edmonton's best shopping and food. After a day of connecting with wellness experts and taking part in a massive yoga class, retreat to the valley's lush trails for some hiking or meditation. If you're feeling adventurous, rent a canoe and enjoy an escape from the downtown bustle. You're guaranteed a prime view of the city.
Lole White Tour in Toronto, Ontario and Montreal, Quebec
(Bota Bota; Courtesy of Tourism Montréal / Sid Lee)
Canada's two biggest cities both host this spectacular yoga and meditation event, which unfolds as the sun sets and draws in thousands of participants dressed in white. There's no shortage of wellness activities in either locale. The beautiful Elmwood Spa is an oasis in downtown Toronto and offers unique siam and sea flora treatments. The Miraj Hammam Spa nearby is a portal to Marrakech, with deep mahoganies and rich Persian rugs. If you're in Montreal, check out Bota Bota at the Old Port, a contemporary spa that's fashioned in an old ferryboat.
(Banff Yoga Festival; Courtesy of Des Iles)
No setting's more idyllic—and jaw-dropping—than the Canadian Rocky Mountains in Banff. It's the ideal scenery to wake up to at this three-day conscious living festival. After a day of meditative practice, you'll also be close to some world-famous sites. A must-do are the Banff Hot Springs, which offer a surreal view of the mountain peaks as you soak in steaming, naturally hot waters. The water in the springs is heated geothermally and—if you can believe it—reaches the surface from 1.8 miles below the earth's crust. For something even more out of the ordinary, consider a sound bath at the Amaryllis Crystal Garden. At this meditative oasis, healing tones emit from alchemy crystal bowls, providing a one-of-a-kind meditative experience.
Not only will these six wellness adventures have you saying om at the top of a mountain, or finding your zen in a coastal spa. They'll let you explore our beautiful neighbor to the north, whose breathtaking views and natural wonder are rejuvenating all by themselves.