By
"Second Thursday" doesn't seem to roll off the art world tongue quite like last week's kickoff, but that does not make the upcoming fleet of SF gallery openings any less exciting. From Lucy Pullen's vibrant perceptual playground, to the poignantly off humor of Carol Selter's "Animal Stories," to Katherine Westerhout's photographic uncovering of once grand, now disused American architectural space, another weekend of exhibitions brims with character, philosophy and spunk. Here are the six to see.

HUE (above)

Neoteny (noun): the retention of childlike attributes in adulthood: idealism, experimentation and wonder. In Lucy Pullen's solo exhibition, HUE, the Canadian artist thrusts color, a miracle of perception too often relegated to the background of adult seeing, into a positively neotenous state of immediacy.

The show consists of four sculptures, four Plexiglas wall works and a video, all of which compel the viewer to slip out of the practiced art-stance and into a state of dynamic bodily engagement. This labyrinthine study of primary colors, transparency, opacity and reflection is to be circumnavigated, photographed and in all (reasonable) ways, explored.

HUE runs through February 11 at Romer Young Gallery, 1240 22nd Street, Opening Reception Thursday, January 12 from 6 – 9pm.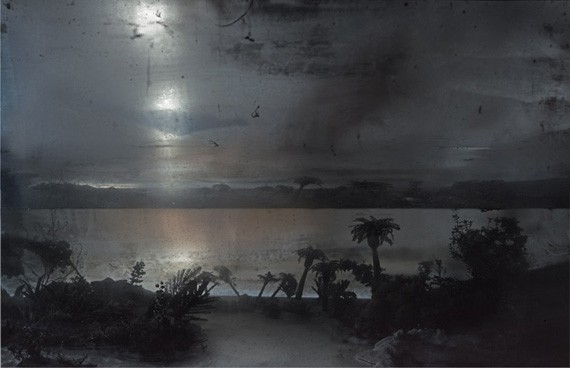 Kim Keever, Palm 18, 2005. C-print, 13 x 19 inches. Courtesy of Mark Wolfe Gallery
Controlled Environments

The relationship between interior and exterior comes under surreal scrutiny in this intriguing group exhibition – and, so often the pleasure with art, that's not just talking literally. Controlled Environments' peculiarly disarming works are just as much a consideration of outdoor and in, nature and artifice, as that less cut-and-dried divide: physical/psychological.

Controlled Environments runs through February 24 at Mark Wolfe Gallery, 1 Sutter Street, Suite 300. Opening Reception Thursday, January 12 from 5:30 – 8pm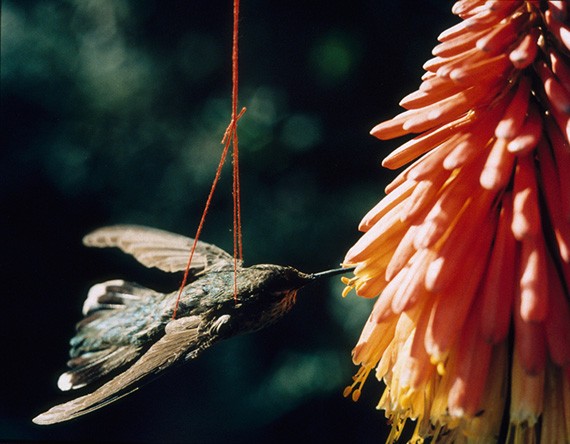 Carol Selter, December, The Hummingbird, courtesy of Gallery 16, San Francisco
Carol Selter: Animal Stories

In this somewhat unconventional nature show, SECA award winning artist Carol Selter presents photographic, sculptural and video-based bodies of work depicting critters in their natural habitats. Should something about them seem ever so slightly off to you, chances are you have stumbled upon the exhibition's uncomfortably hilarious linchpin: the stars of this show are dead, stiff and stuffed.

Dropping this farcical oddity as bait, Selter proceeds to craft a compelling show concerned with issues both timely and serious, including habitat destruction, pollution and over-harvesting.

Animal Stories runs through February 29 at Gallery 16, 501 3rd Street, Opening Reception Friday, January 13 from 6 – 9pm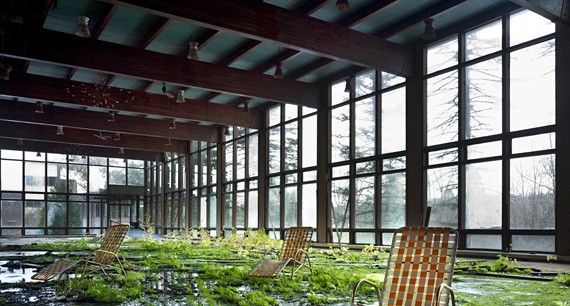 Katherine Westerhout, Grossinger's Pool, Catskills, archival pigment print, 2011, courtesy of Electric Works Gallery
At Long Last

Photographing America's disused architectural spaces, Katherine Westerhout holds herself to staunchly documentarian standards: only natural light, no staging whatsoever. Arrestingly stark, detailed images result.

From Grossinger's Catskill Resort Hotel, a once glamorous destination now empty and overrun with (what should be) outside vegetation, to the decaying opulence of Gary, Indiana's Palace Theater, Westerhout offers a provocative, humbling look at a bygone America.

At Long Last runs through February 18 at Electric Works Gallery, 130 8th Street. Opening Reception Friday, January 13 from 6 – 8pm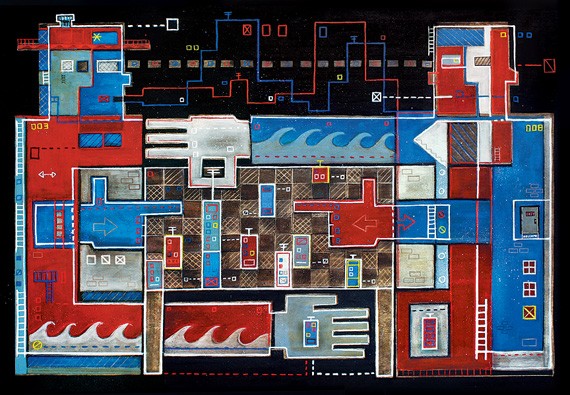 Courtesy of White Walls Gallery
Playground Tactics

Brooklyn art duo Skewville, composed of rambunctious and enterprising twin brothers Ad and Droo, are a force to be reckoned with in the world of American public art; anyone who witnessed the widespread materialization of fake wooden sneakers slung over NYC telephone wires will attest to that.

This time, they're breezing through San Francisco with a 30+ piece exhibition on a subject near and dear – the inner-city playground. The specifics of the show remain largely a mystery, but a few things are sure: the works will be large, and the brothers' penchant for dynamic, site-specific installation pieces is likely to all but transform White Walls' ample Tenderloin space.

Playground Tactics runs through February 4 at White Walls Gallery, 835 Larkin Street. Opening Reception Saturday, January 14 from 7 – 11pm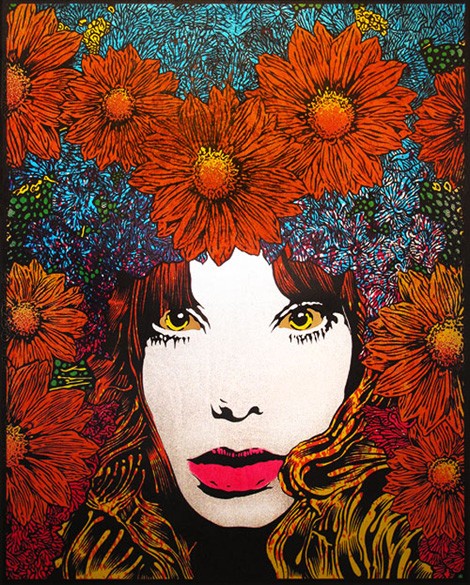 Chuck Sperry, Mind Spring, 36" x 44" handpulled screen print, courtesy of Varnish Fine Art, San Francisco
Mind Spring

Continuing to develop his now famous style of rock poster-like silk-screening, San Francisco artist Chuck Sperry directs his gripping iconography toward this year's Occupy Movement and its antecedent in the Arab world. Our socio-cultural lexicon grew in leaps and bounds this past year, and here we have one of many exciting attempts to image it.

Mind Spring runs through February 18 at Varnish Fine Art, 16 Jessie Street, #C120. Opening Reception Saturday, January 14 from 4 – 7pm
DON'T MISS A BAY AREA BEAT! SUBSCRIBE TO OUR NEWSLETTER.