Here are some eventful activities beyond feasting on turkey and stuffing.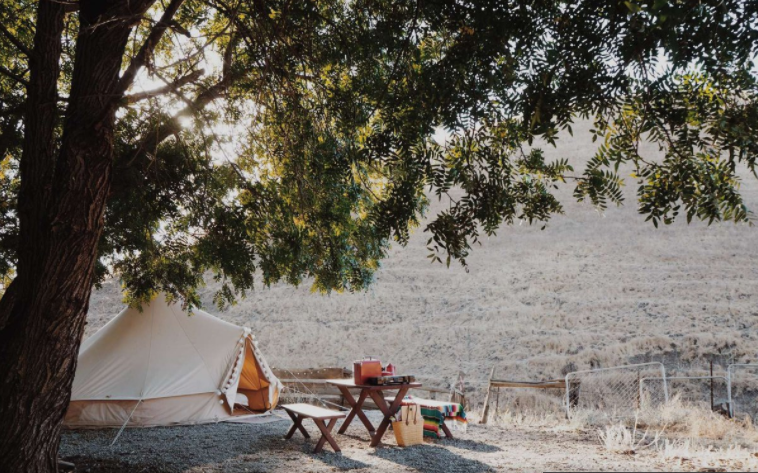 Camp Pauli at Whiskey Ranch.(Courtesy of HipCamp)
---
Monday, November 20th: Spend a Night With a James Beard-Nominated Chef @ Russian Hill
When: 7:00pm to 10:00pm
Where: TBD (will be released upon ticket purchase), feastly.com
Why: Let your Monday woes fall to the wayside, replaced, instead by a plate brimming with tasty, scrumptious, James-Beard-Award-worthy entrees and appetizers; courtesy of a foodie evening spent in the presence of the culinary up-and-comer Ryan Willow. Tickets ($100) can be bought on Feastly.
Tuesday, November 21st: Break Bread Over Claw Meat @ Homestead
When: 5:00pm to 10:00pm (Come and go as you please)
Where: 4029 Piedmont Ave. (Oakland), homesteadoakland.com
Why: Celebrate the official start of crabbing season at Homestead's annual dungeness crab feast this Tuesday evening, shamelessly sucking out every last bit of claw or leg meat. Tickets ($65) can be made by either calling the restaurant at (510)-420-6962 or at opentable.com.
Wednesday, November 22nd: Belt-out Your Best Mulan @ Milkbar
When: 7:00pm to 2:00am (come and go as you please)
Where: 1840 Haight St. (Haight-Ashbury), milksf.com
Why: Dance, sing, and live-out your inner Disney Princess at Milk Bar's Badd Hippie Disney Princess Karaoke Night this Wednesday, belting through any Hump Day lethargies you might be holding on to. Admission is free, but an RSVP on Eventbrite is highly recommended.
Thursday, November 23rd: Help Give-out Thanksgiving Dinners @ Meal On Wheels
When: TBD (depends on sign-up time)
Where: TBD (depends on drop-off locations in San Francisco), mowsf.org
Why: Before sitting down for Thanksgiving dinner, help deliver already prepared Thanksgiving meals to those who would otherwise be turkey-less this third Thursday in November. Sign ups for Meal On Wheels delivery can be made at mowsf.org/signup; if you can't deliver dinners, they also need help cooking and preparing holiday dinners.
Friday, November 24th: Camp Under the Trees and Not in Line for Black Friday @ Nationwide
When: TBD (depends on trip booked)
Where: TBD (depends on trip booked), hipcamp.com
Why: Get outside instead of standing in line this Black Friday, courtesy of Hipcamp waiving all service fees via an online coupon (FINDYOURSELFOUTSIDE) that you can apply to your booking at checkout. The digital money saver can be applied on any and all reservable campsites, including these getaways.
Saturday, November 25th: Find the Perfect Present @ Pier 35

When: 12pm to 5pm
Where: 1454 The Embarcadero (Embarcadero), facebook.com
Why: Embrace everything hand crafted and holiday cheer at the 5th Annual SF Etsy Team Indie Holiday Emporium at Pier 35 this Saturday afternoon, perhaps even find that one perfect holiday gift for a loved one...or yourself. Admission is free, but be sure to have cash as a few vendors on-site will be operating cash-only purchases.
Sunday, November 26ht: Sail Off Into the Sunset @ Sausalito Yacht Harbor
When: 3:30pm to 6pm
Where: 100 Bay St. (Sausalito), schoonerfredab.com
Why: Sail off into the sunset, dotting around some of the San Francisco Bay's most iconic sights, from the wooden deck of the famous Schooner Freda B sail boat this Sunday in Sausalito. Tickets ($65) can be bought on Eventbrite—and, yes, bubbly and hors d'oeuvres can be had out at sea.