Were you that kid who was always cutting off all of Barbie's hair or melting her limbs with matches? The 8th Annual Altered Barbie Exhibition at Shotwell 50 Art Space is right up your alley. They're putting on a slew of Barbie-centric events until the end of the month to celebrate everyone's love and hatred of the most iconic doll in history.
This Wednesday, September 15th, at 7pm catch a wild conversation about the creative process of why and how artists of all persuasions love altering Barbie Dolls. Thursday, September 16th is the day to really live out your Barbie fantasies by attending A Date With Barbie Artist Reception, from 5 pm to 11 pm. Come dressed as your favorite Barbie or Ken doll, meet artists who have ingeniously reinvented Barbie dolls through the years, view Barbie films and enjoy refreshments.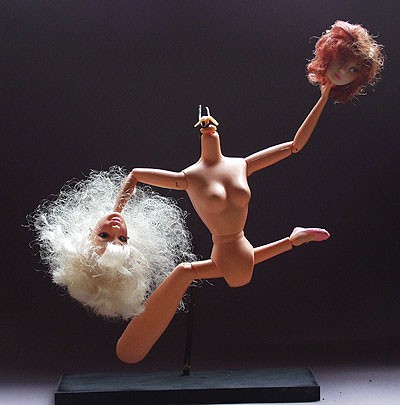 Feeling inspired yet? This Saturday at 50 Shotwell Art Space, SCRAP Workshop wants you to alter and recycle your own Barbie or Ken dolls with art materials they'll provide. And don't miss next Thursday the 23rd's free Barbie poetry night featuring spirited Bay Area poets from 7 pm - 10pm.
The full month's schedule and tickets for events are here. All events take place at Shotwell 50 Studios, at 50 Shotwell between 14th & 15th Streets, (415) 863-9673.