A Bounty of Outdoor Riches (and Snow!) Awaits in Sun Valley
Sun Valley was once a snowy playground for the rich and famous, but that bygone era has passed. Now, the region lures visitors with its superlative outdoor pursuits amid jaw-dropping surroundings; but, it's the impressive food scene coupled with the hamlet's easygoing charm that make this destination so enchanting, you may never leave (and many don't). 
An hour and 15-minute flight from SFO dropped me in Idaho's stunning backyard at the base of three prodigious mountain ranges (Pioneer, Boulder, and Smokey). The 3,000-resident town of Ketchum and its Old West architecture provide the backbone for Sun Valley, a term which refers to the general region rather than being a town itself. This is the locale where Marilyn Monroe, Lucille Ball, and JFK vacationed, actors Clark Gable and Gary Cooper skied, and Ernest Hemingway finished For Whom the Bell Tolls (and later committed suicide). The village is a sociable place where people say hello on the street and wave while driving. Everyone from the bartenders to my fellow lift-riders to the hotel doormen took an interest in who I was and where I came from, and if you also hail from San Francisco, nearly all have a story to tell about their time spent in the Bay. 
Experienced skiers and snowboarders head to Baldy, an illusory mountain that's more massive than it appears. Half-pipe lovers and beginners play on Dollar Mountain, a couple miles up the road. A day boarding on Baldy meant I covered three to four times as much terrain as a Tahoe-going Californian is used to. The runs are long and the lines are, well, non-existent, so most of my day was spent speeding down its dizzying terrain. Sun Valley has the largest snowmaking system in North America so if natural snow is elusive, they still have loads of fine snow, freshly groomed and ready to tear up. And though skiing is definitely the norm here, the steepness and lack of catwalks make it a snowboarder's paradise where knuckle-draggers are happily welcomed and certainly not shunned. The mountain has come a long way since the world's first chairlift was installed here in 1936.
Sun Valley Resort makes a tremendous effort to bring the public behind-the-scenes of its extensive mountain operations, and I highly recommend these unconventional experiences: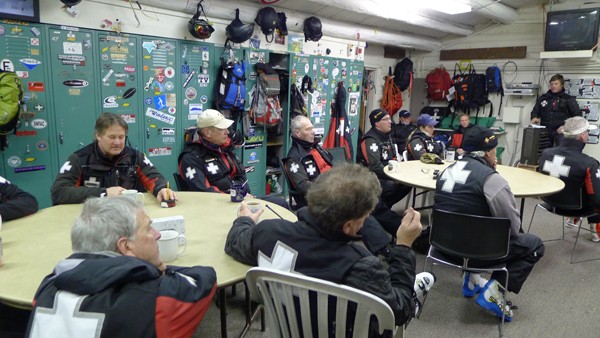 Ski patrol headquarters
Patrol 101 –   Ride the gondola just as dawn begins to crack to get a taste of ski patrol life. While I explored their headquarters (a communal hut at the highest peak), they shared their coffee, muffins, and breakfast burritos before the morning briefing of weather, ski, and lift conditions. Then, I set out with my jovial ski patrol guide to help prep the mountain for the deluge of thrill-seekers. This involved erecting fences, drilling orange SLOW signs into the ground, and searching for an avalanche beacon in their test field. My hilarious guide also showed me his favorite runs and unlikely spots to find fresh powder. The best part? I got the first tracks of the day an hour before anybody else. Pretty awesome, and it's FREE. Just sign up on an iPad at the River Run Lodge or at the sports center in the Sun Valley village.
Ride the Beast – The minute the lifts close, seven snow cats climb up to preen the choppy slopes, smoothing them out in prep for the next day's adventures, and now you can go along for the ride. The fun begins with an informative groomer's meeting at 4 p.m., then your driver is assigned. Jump into the space-age cockpit and head up leaving a smooth descent in your path. The cabin is comfortable in temperature and the groomers let you out to take pictures of the amazing scenery and sunset. The ride ends at The Roundhouse, where a memorable dinner and drinks await on what feels like the top of the world. After you sign up at River Run Lodge, a lottery decides which lucky soul gets to go. Unbelievably, this is also free!
Heli-skiing – If Baldy's terrain isn't enough to sate your adrenaline, consider heli-skiing. Sun Valley is the birthplace of U.S. heli-skiing after all and there are those three other untapped mountain ranges to take advantage of. $1,250 gets you a seat in the copter for one day with a world-class guide, first-timers welcome. 
Galena Lodge - 23 miles north of Sun Valley, this day lodge is a pleasant afternoon excursion. Explore part of its 50 km trail network via snowshoes or cross-country skis, then warm your toes by the fireplace and grab a bite, a brew, an espresso, or cocktail.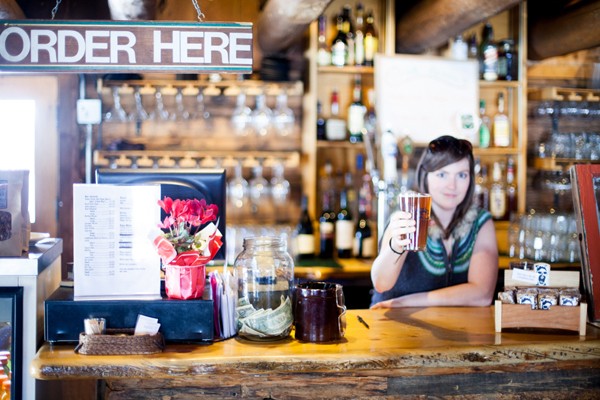 Sample a local brew, like River Bend Ale, at Galena Lodge. Photo courtesy of Mark Oliver
After burning 4,000 calories at 9,000 feet, fuel options on and off the mountain are equally notable and will satisfy elevated Bay Area palates. Sun Valley definitely has an up on its Western ski resort neighbors with it's unfailingly scrumptious food.
Enoteca – One-year old Enoteca is definitely the hip spot du jour and it's easy to see why. The bustling restaurant and wine bar boasts exquisite small plates like bacon-wrapped dates and burrata, Napoletano-style pizzas, and savory mains like pork osso buco and duck confit with risotto. The Idaho trout was the freshest, tastiest trout I've ever consumed in my life. An extensive wine list complements the flavorful fare.
Rickshaw – Operated for nearly ten years by the newly elected mayor and her chef-husband, this intimate spot dishes out small plates inspired by their annual trips to Asia. Expect piquant renditions of Thai, Vietnamese, Chinese, and Indian street food dishes (quite the novelty in this area). The outdoor firepit adds to its cozy appeal. 
Konditerei – Fill your belly before you strap on your skis at this Austrian-inspired café with free-flowing coffee, attentive staff, and outside-the-box breakfasts like gruyere and prosciutto crepes alongside hearty egg dishes and Belgian waffles. 
Trail Creek Cabin – A former Hemingway tippling haunt, half the fun of this snug romantic restaurant is getting there. Take a sleigh ride across the field from the Sun Valley Lodge for comfort food like house smoked trout on potato latke with dill, acorn squash filled with farro and barley, warm Brussels sprouts and hazelnut salad, and dense and decadent meatloaf. 
Lookout Lodge taco bar – Perched atop the 9,000 foot peak where three lifts converge and wind reaches its max MPH, the Lookout claims one of the most impressive taco bars I've ever seen with more than a dozen tasty topping options. Two tacos piled high with fixings cost a mere $7. 
The Roundhouse – A comfy on-mountain spot with an understated elegance, you won't find greasy burgers here. Instead, a salmon BLT floats on crusty French bread with thick and crispy applewood smoked bacon, delicate watercress, and a red pepper aioli alongside a pile of shaved potato chips. It was one of the more dignified midday breaks I've taken in my 30 years of skiing. Lunch or dinner here is a must.
Apples – A quintessential après-ski scene at the bottom of Warm Springs lift, the bar and grill serves up classic burgers as well as lighter bites like quinoa salad and a halibut sandwich.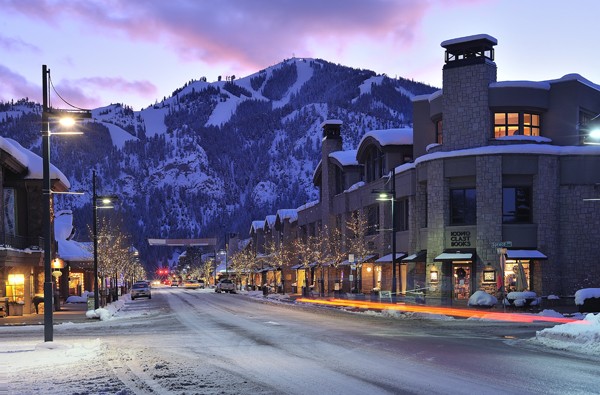 Downtown Ketchum. Photo courtesy of Tory Taglio
When you first roll into town, get your bearings and grab a drink at the superb Visitor's Center, a former bank which houses one of the only chains in town, a Starbucks' franchise (the Starbucks' founder owns a home in Sun Valley). Helpful staff advise on various activities in the region while standing among gorgeous, towering dead standing beetle kill Douglas Fir trees.
Pioneer Saloon – Stop in here for plenty of taxidermy and a rotating selection of beers on tap. Don't deny a sip of the Sawtooth brewery selection (at press time it was a Pale Ale). Remarkably, they're also pouring Delerium, a smooth Belgian-style trippel. Also hit up The Cellar for pub food, drinks, and a cheery atmosphere.
Zenergy – With 43 Olympians (dead and alive) in the Valley, naturally there is a world class fitness center. Soak in the outdoor Jacuzzi or do a few laps in the heated outdoor pool, then bliss out with a massage. Class junkies have their pick of various yoga, pilates, and spinning classes, all hosted in state-of-the-art studios. There's also a juice bar with healthy snacks. 
Sun Valley Lodge – Built in 1936, this luxury hotel oozes history and is packed with amenities. Once you tear your self away from the truly incredible black and white photo collection gracing the walls (legions of celebrities and dignitaries obviously had a lot of fun in Sun Valley!), relax in the heated, glass-enclosed circular pool (an original when it was built), grab a cocktail at Duchin Lounge, bowl in the basement, or skate on the year round ice rink. In the summer, the nearby outdoor pavilion hosts live concerts and performances. The comfortable rooms are slated to get a more modern renovation in the next year or two. The greater village also contains condos, the Sun Valley Inn, various restaurants, and a movie theater. 
United launched a daily direct flight in December. Click here to book.
The local shuttle system Mountain Rides provides free, extensive color-coded bus transportation around Ketchum The silver and blue routes go to and from the Sun Valley Lodge.

Upcoming Events
Sun Valley Film Festival, March 13 - 16, 2014. Get more info here. 
Sun Valley Wellness Festival, May 22 - 26, 2014. Get more info here.