Kris Branco had long been Erin Thacker's secret crush, and she had been his. But she lived in San Francisco, and he lived in Providence, Rhode Island. They saw each other infrequently when visiting friends, so it didn't seem to be in the cards. But while dancing at their friends' wedding, they couldn't deny their feelings for each other. "I knew that I loved him the moment my hand touched his," says Erin. "He kept whispering 'you have no idea,' so I knew he felt it too." Two days later, she delayed her flight to SF for four hours just so they could be together at the airport. They parted in tears, but it was just the beginning. Their relationship was conducted long distance until he joined her in San Francisco. Last year when he proposed, he said "I think you may have some idea," as he pulled a green diamond ring out of his pocket.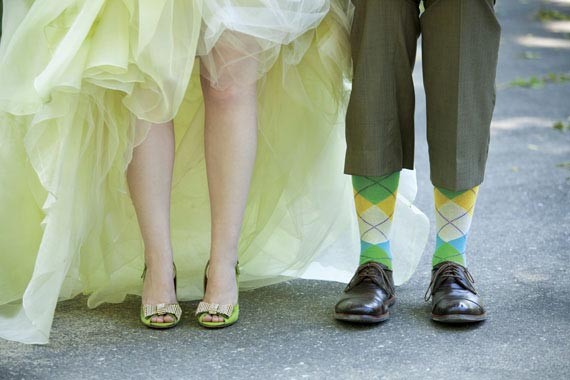 When Erin tried on a white wedding dress, it was a bit of a nightmare. "It just didn't feel like me," she says. She found the green Didi dress by Vera Wang on a website where former brides sell their gowns and knew immediately she'd discovered "the one." For the ceremony, the couple wanted a quintessentially California spot with big trees and little attitude. They found it at Dawn Ranch Lodge on the Russian River. The 15 acres of private gardens at the resort are lush with organic bounty and are spacious enough to accommodate all of the guests for the weekend. Erin doesn't favor white dresses or diamonds, so a rare green diamond in a white-gold band was a perfect fit.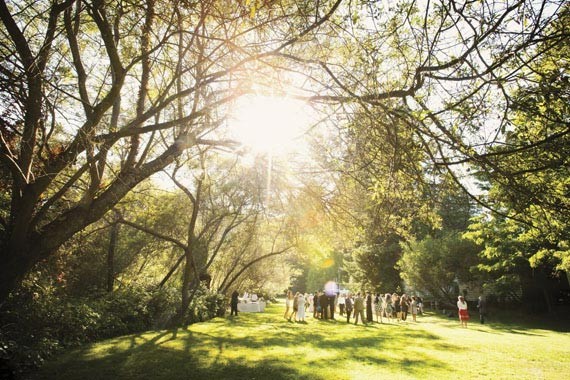 Erin melded completely into the woodland landscape when she donned her dress. "I felt like myself," she says. The setting and the gown didn't call for a veil, so the bride had a floral headpiece crafted for the occasion. "We aren't a traditional couple," says Erin. The proof is in the shoes (and socks). The bridal party was allowed to wear whatever they liked. Kris called his sister Shanon Chassie his best "wo-man," and Erin chose her friend since grade school, Maggie McCory Mermilliod. Erin discovered her green shoes when she randomly wandered into a Kate Spade store. "I couldn't believe that I found shoes in the exact shade of green as the dress," she says. "It's as if these shoes were made to go with that gown."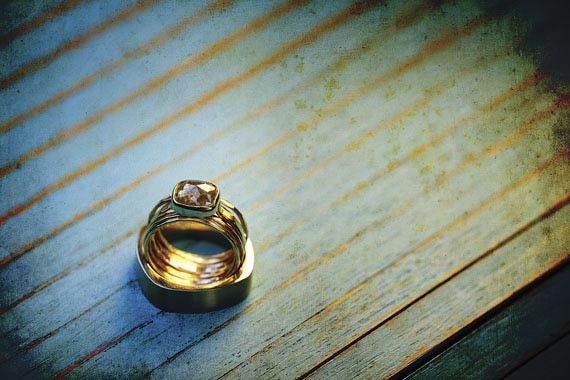 Seven varieties of mini cakes and three kinds of cookies, crafted by Miette, were perched on cake stands the couple either scored at a flea market or made from candlesticks, cups, and vintage plates. Assembling the 85-person guest list was easy. "We limited it to the people we would invite into our home," says Erin. For the floral arrangements, bouquet, and boutonniere, the couple wanted the look and feel of wildflowers. For vases, they opted for an eclectic array of jars. Rustic wooden signs that called out the patisserie and bar tables were found at the Alameda Point Antiques Faire.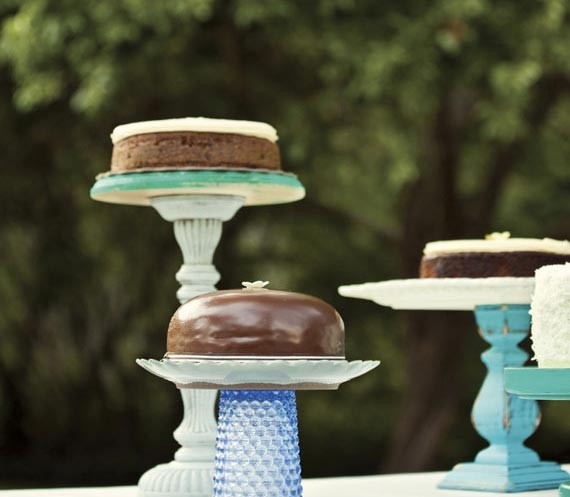 In their vows, the bride and groom promised to "talk, listen, and laugh," as they did when they shared a moment before the ceremony. Music selections—ranging from Cat Stevens to Queen—were an important part of personalizing the event. Here the bride boogies with Luke Thacker, her nephew and ring bearer for the wedding ceremony. The couple handcrafted many of their wedding items, including the escort cards and the colorful clothespins that attached them to a string. The couple's first dance—"That's the Way Love Goes" by Willie Nelson—played out on a dance floor under the trees. "The evening was more fun than I ever thought it would be," says Erin. "I wish we could relive it again."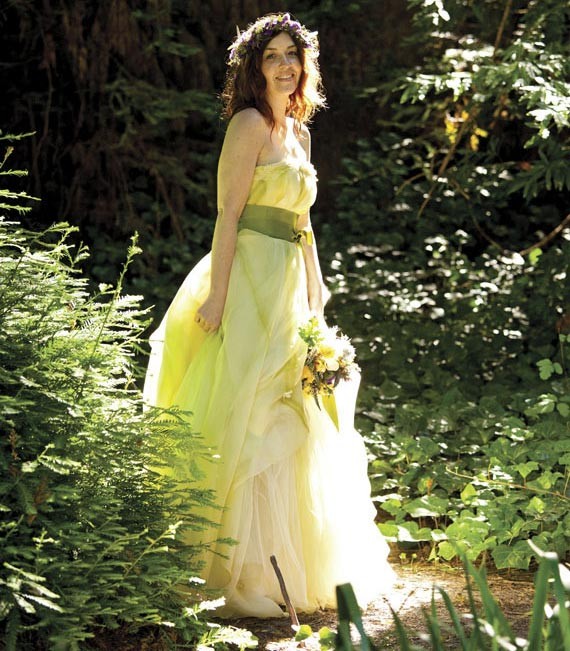 SOURCES
Catering: Dawn Ranch Lodge
Cakes & Cookies: Miette
Flowers: Studio Choo
Stationery: Designed and crafted by couple; papers from Paper Source and BHLDN, 
paper-source.com
Photography: Choco Studio
Gown: Didi by Vera Wang
Suit: Al's Attire
Bow Tie & Tie: tuxandtulle
Lighting: Twilight Design
Rentals: Hartmann Studios