Stand up paddle boarding (SUP) has been reeling in some A-list devotees for some time now, likely because of its toning promise. Balancing on the board keeps your legs and core engaged while paddling adds cardio and strength training for a low impact, full body workout.  SUP started decades ago in Waikiki as a way for beach guides to keep tabs on tourists, and is now one of the fastest growing sports in the world. It's easy to learn, versatile and great exercise. And above all, it's a ton of fun. 
Below, our guide to getting out for a paddle in Tahoe and the Bay Area's waters:
TAHOE
The best place for beginners to start is Tahoe. Warm temperatures and relatively calm waters make it easy to get comfortable on the board and familiar with the technique.
And exploring the lake's 72 mile shoreline by board gives an intimate perspective on Big Big that other crafts simply can't offer. The lake stays flat and calm before 10 am and winds typically lighten towards sunset, so morning and early evening are your best bets for not falling in. Barefoot is the way to go if you're paddling in front of the beach but bring water, snacks, sandals and sunscreen if you're out for any tour over an hour. And keep your sunglasses off the bottom of the lake with some Croakies.
North Lake
In King's Beach, head to Adrift Tahoe. Designed as a Sierra surf shop, Adrift has a Mollusk in the mountains feel and the full range of gear and guidance you'll need to get started. Yogis can take their practice waterbound with Adrift's Thursday morning yoga class for $15. Taught by instructors from Mountain Lotus Yoga, the class starts with a warm up on the beach then moves to the boards for a sequence of poses — much like a floating alpine studio. If you want to head out for a paddle, rentals come with basic instruction and run $25 per hour and $75 for the whole day on a first-come, first-serve basis. They also offer weekly tours and SUP classes. (8338 North Lake Blvd, Lake Tahoe, www.AdriftTahoe.com, 888-676-7702)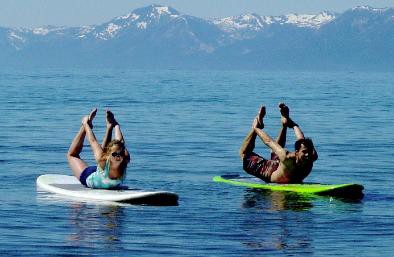 Farther down the road in Carnelian Bay is Waterman's Landing, which opened just a month ago. The shop's just a few feet away from the lake, and is owned and operated by Jay Wild and Ronnie Ayers, some of the of most knowledgeable and respected guys in the sport. Here, you can rent boards (standard, non-race boards for $20 an hour, $50 for half-day and $80 for full day) and grab lunch (or a breakfast burrito) in their in-store cafe after your paddle. (5166 North Lake Tahoe Blvd, Lake Tahoe, 530 546-3590)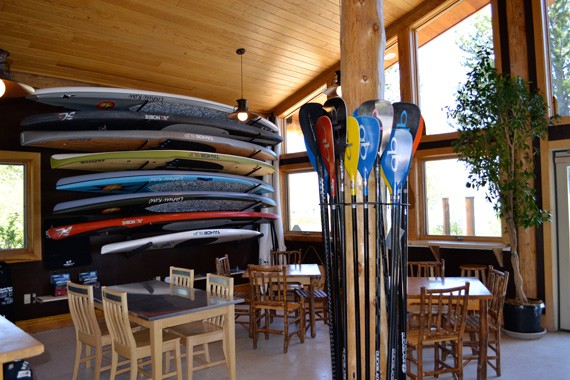 East Lake
Tahoe City Kayak rents boards out of Sand Harbor State Park next to the boat launch. Crowds are a factor during July and August, but a paddle to the historic Thunderbird Lodge along the granite boulders shouldn't be missed. They have over 20 boards for rent at $20 per hour, $40 for half and $60 for full day, but definitely get out early and call ahead for reservations. (521 North Lake Boulevard, 530-581-4336, www.tahoecitykayak.net)
West Lake
West Shore Sports across from Obexer's Marina near Homewood has some of the cheapest rental rates on the lake. Their lighter, soft-foam trainer boards (which run $15 an hour and $55 for the day) are ideal for first-timers and the balance-challenged (traditional boards, which are built for longer-distance paddling, go for $18 an hour and $70 per day).  It's first-come, first-serve and price includes basic instruction and launch from Obexer's across the street. (5395 West Lake Boulevard, 530 525-9920, www.westshoresports.com)
South Lake
South Tahoe SUP has South Lake covered with a fleet of over 60 boards from top manufacturers for rent and sale along with tours, lessons and weekly race competitions on Wednesdays at Regan Beach. Rentals start at $35 an hour and $120 a day for touring boards and $50 an hour and $150 per day on a race board. They offer full-day tours from Regan Beach to Emerald Bay from 8 am to 4 pm for $300, a half-day option from 8 am to 12 pm for $100 and a sunset option during the summer starting at 5pm for $100. Each includes board rental and mini lesson. 
In South Lake, have the crew point you towards Trout Creek, a South Shore secret. Here, you can paddle through narrow bends between high grasses as you check out a Sierra habitat brimming with colorful native plant and bird species. Check out the video below for a preview. (3115 Harrison Avenue, Lake Tahoe, 530-416-4829, tahoestanduppaddle.com)
BAY AREA
Take a trip over the bridge to Sea Trek in Sausalito. Here, you can rent boards seven days a week for $20 an hour and paddle through seal hangouts and to check out the house boats and fancy yachts in Sausalito's harbors. Set up in sheltered Richardson Bay since the 80s, Sea Trek offers instructional, fitness and yoga classes and guided tours around the bay, including a full moon and under the bridge paddle. (85 Liberty Ship Way, Sausalito, 415-332-8494, www.seatrek.com/)
For a truly authentic coastal California paddling experience, sign up for the intro class at CoveWater in Santa Cruz. Work on your technique as you paddle around sea otters, through kelp forests and above schools of fish.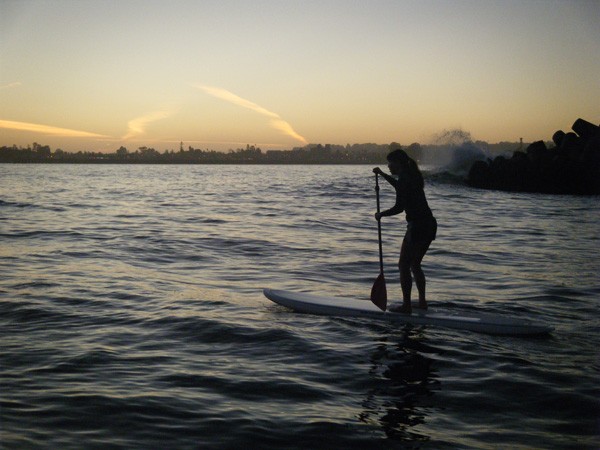 CoveWater is a dedicated SUP shop with a deep inventory of specialized boards, accessories and gear. If you're looking to buy a board, this is your place to do it.  They also do rentals, fitness classes (including yoga) and lessons. (726 Water Street, Santa Cruz, 831-600-7230, covewatersup.com)
Farther north, Tomales Bay is a great spot for a leisurely paddle (followed by oysters). You can rent a board at Blue Waters Kayaking or Clavey Paddlesports or if you're bringing your own, launch from Heart's Desire Beach
Remember to check the weather or call ahead for conditions and what to bring before heading out for a paddle in the Bay or on the coast. Only bring things you don't mind getting wet, cause falling in's part of the fun.
Have somewhere else in the Bay or Northern California you like to stand up paddle? Let everyone know in the comments.