In the early '90s, I wrote for Vogue. But as a freelancer based in San Francisco, I didn't have to worry much about being fashionable. The only thing I had to dress up was my telephone voice. "This is Laura Fraser with Vooooo-gue," I'd say, making calls from my kitchen table while wearing sweatpants, a Ramones T-shirt, and cowboy boots. My highlights in those days looked like a starfish had landed on my head. "If they could see you now," my then-boyfriend would snicker.
---
Having grown up in suburban Colorado, my style could have been defined as "cowgirl punk" (the cowgirl part was not ironic). My sense of fashion was so uneven that one San Francisco editor said he never knew whether I'd walk in looking like Debbie Harry or Mary Tyler Moore. But every so often, I had to go to New York to schmooze with my editors. That's when I panicked about what to wear.
Each time I went to Manhattan, I tried desperately to wear the right thing. I'd buy a navy Ann Taylor suit and look like someone's corporate secretary. I'd wear a yellow floral baby-doll dress with fishnets and Dr. Martens and look like I'd just stepped off of Haight Street, which I had. Once, when I finally decided to play it safe, I wore what all fashion editors and designers wear—in other words, all black. I did my best in loose black pants (with an elastic waist!), a fuzzy cardigan, and a black Gap T-shirt like Sharon Stone wore to the 1996 Oscars. I met my editor at the swanky Royalton, where Condé Nast types eat lunch. Seated at a table way in the back, where the kitchen door bumped into our seats, I could just make out Anna Wintour in the distance. Once our waiter recognized my editor, he apologized and offered to seat us nearer to the action, glancing at me by way of explanation for his faux pas. My editor gave me the once-over. "Maybe you should wear something a little more structured," she suggested. In response, I went straight to Armani—in Bologna, Italy.
Though I was intimidated by the chic, minimal surroundings, I didn't mess around. I told the saleswoman I was a writer in need of sartorial CPR: "Io scrivo per Vo-gue." In Italian, Vogue actually has two syllables. She handed me a lovely, creamy green suit in a light spring wool that made me look long, lean, and Anna Wintour-worthy. In return, I handed her a month's rent.
The next time I visited New York, it was winter—unfortunately no time to wear my lightweight suit. When the opportunity to wear the Armani finally came two years later, I walked into Condé Nast feeling like an Italian sophisticate. As I stepped into the elevator and pressed the button for Vogue, two genetic freaks clad in thigh-high black miniskirts and dominatrix heels towered next to me. They looked like they'd stepped out of a Versace ad. They glanced at me and shared a meaningful look. When they got off the elevator, at Self or Glamour or Brides, I heard it. "Shoulder pads?" They both cracked up.
I gave up—and then I found my personal style in a pocket-sized boutique in Hayes Valley. Owned by Marijke, a tall Dutch woman with a wacky sense of style—she has since closed shop and moved to France on her psychic's advice—the store was filled with treasures in luscious fabrics and off-beat silhouettes from edgy European and San Francisco designers, including Isabel de Pedro, Rundholz, and Cop-Copine. I would caress a black sweater, and she'd hand me a pink tulle skirt. I'd hold up a gray scoop-neck shirt, and she'd pick out a bright orange hand-knit sweater fastened with a giant safety pin. "You're an exuberant person," she finally told me. "Why do you dress so boring?" I explained that I needed clothes to fit in at fashion magazines in New York and that I didn't want to look too San Francisco. She wrinkled her nose. "But we're in San Francisco," she said. "You can wear whatever you please."
Living a block from Haight Street, I should have known that. But Marijke's words liberated me. She became my style mentor, encouraging me to mix my boring black basics with extra helpings of fun. I stopped buying scads of dull, safe clothes on sale and learned to buy fewer pieces of higher quality and timeless style that reflected my taste and flattered my body—never mind whatever was in fashion that season. Marijke taught me to wear great clothes any old time and not to let a fabulous skirt languish in my closet for lack of a dress-up day. When I complained that something made me look fat, she'd frown and say, "You're a woman with a woman's body. Own it." Eventually, Marijke would call me when that fluorescent green Ivan Grundahl bubble dress went on sale or give me a birthday discount on the gray silk Krista Larson dress I coveted. In turn, I started wearing my clothes with a lot more confidence and attitude.
Later when I went to New York, I packed whatever I pleased. At one meeting with fashion editors dressed in their little black suits, one interrupted. "We're all in black, and you're blooming in your orange and turquoise," she said admiringly. "San Francisco," I shrugged. Then at lunch, my former Vogue editor asked where I'd found my fabulous skirt. "San Francisco," I said in a tone that dismissed New York, Paris, and Milan. "I always find everything in San Francisco."
Read Laura Fraser's latest book, All Over the Map, a travel memoir.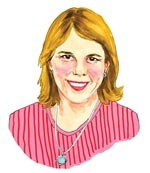 Calling all SF writers: Submit your story for consideration to ledger@7x7.com.
This article was published in 7x7's March issue. Click here to subscribe.