Brian Marcinek was attending a charity event in Seattle for disadvantaged children around the globe, but he was thinking locally. Specifically, his mind was on the woman across the room wearing a form-fitting pair of Alice + Olivia black pants. The wearer of the pants, Malissa Rackley, was a stranger to him then, but she would soon be his fiancée.
His opening line was: "Where have you been hiding?" Her initial comments were not as suggestive. "We were talking in a group and somehow the conversation turned to his hair," she says. "He said he was wearing it combed over so he would look older, and I said 'the operative word there is old.'"
After the event she ended up giving him a ride, and her friend (who was a bit tipsy) asked him to a birthday party the following evening. Just five months later he proposed to Malissa over breakfast in Cape Town, South Africa. "It was a fast engagement," she allows. "But he's 39 and I'm 37. At our age, when you know, you know.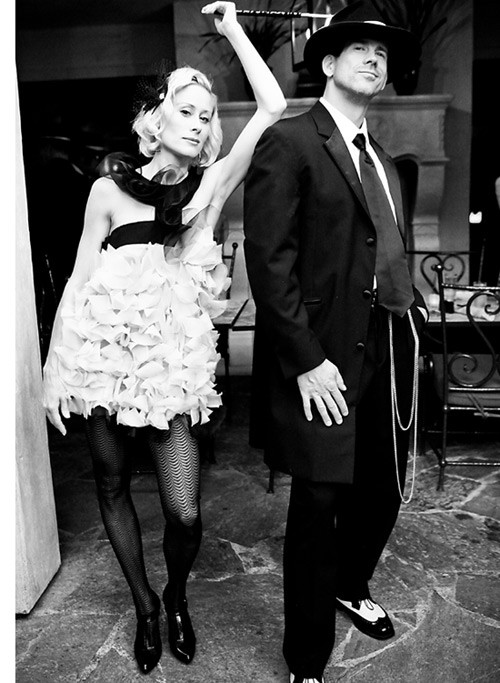 Perhaps Malissa had some inkling of the future when she and Brian vacationed at the Kenwood Inn and Spa in Sonoma several months earlier. She was so captivated by the spot she told Brian: "I'm getting married here, maybe not to you, but I am getting married here."
Given Brian's penchant for playful clothes and costumes, the wedding was destined to be remarkable. It started with a 1920s flapper-meets-gangster, black-and-white themed rehearsal dinner. "Brian's family has always loved dressing up for any occasion," says Malissa. The couple carries on the tradition, sometimes wearing wigs to brunch "just because."
On the wedding day, the bride donned an elegant strapless gown and the groom dressed in a purple-lined tux he already owned, accessorized with neon-striped socks. "I bought all of the groomsmen Happy Socks," says Malissa.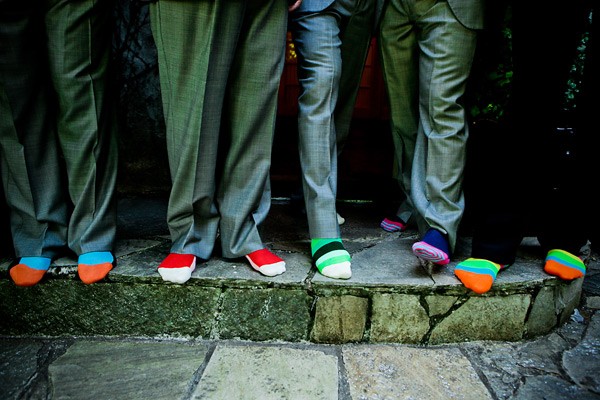 For the ceremony itself, the style was more reserved. The couple let the ivy-covered walls of the inn provide a decorated-by-nature backdrop. In a glamour in the wildness decorating move, the dinner tables were dressed in platinum and pink tones, a mirrored table runner, and crystal accessories.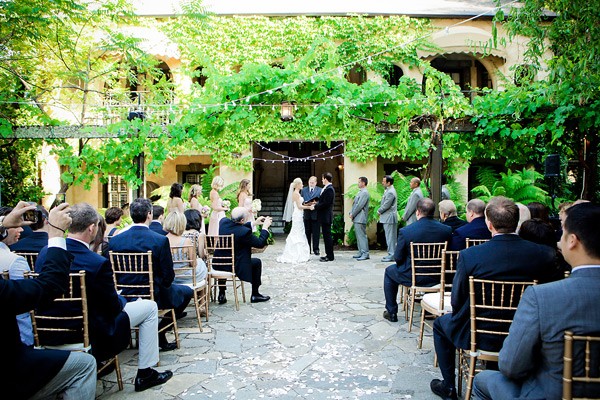 After the meal, the couple and their friends and family danced into the wee hours of the evening, and then tried to bribe the DJ to keep going. "The entire weekend was better than I ever imagined," says Malissa. "We were surrounded by friends and family in a wonderfully romantic spot."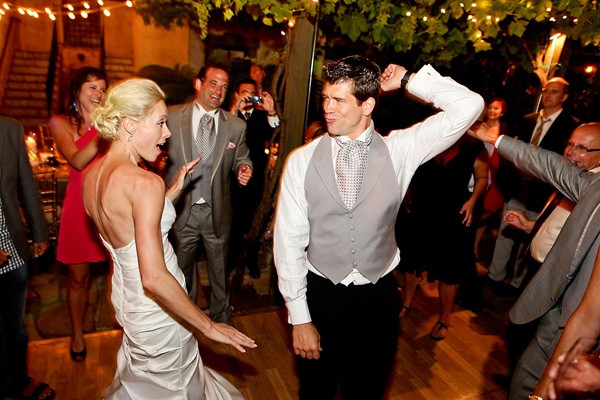 It's proof positive that fit—the right man, the right spot, and the right pants—matters.
Flowers: Anne Appleman
Officiant: Dan Melligan
Rentals: Classic Party Rentals
Linens: La Tavola
Cake: Perfect Endings
Lighting: Illusion Lighting