Welcome to our weekly 'Ask a Vet from the SF SPCA' feature on 7x7.com. Dr. Jeannine Berger, DVM, DACVB is a board certified veterinary behaviorist who counsels guardians whose pets' issues are beyond the scope of training. Think of her as a pet shrink…at your service. Ask your own questions in the comments!
It's super important to know what your cat is saying about how she's feeling. You can tell what's going on in that feline head and heart of hers from her body postures. Below is a guide to how to read your cat's body language (click on this link to download it as a PDF).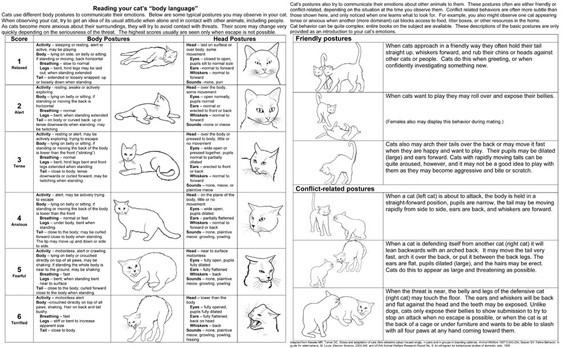 If you want to know more, come down to the SF SPCA to ask Cat Daddy himself, Jackson Galaxy, this Saturday, May 19th from 12:30-2 pm. He will be presenting his famous Cat Mojo workshop and then signing books, his newly published Cat Daddy, available for sale at the event.
No purchase necessary to attend the workshop and no registration required. Visit sfspca.org for more information or call 415-554-3000.