The Provençal dish brandade, a mixture of salt cod and potatoes, whipped with milk, olive oil, and garlic, has been around for centuries as a cheap and modest meal. Although elementary at its core, chefs around San Francisco are now taking this peasant dish and creating unique interpretations of it. But the beauty of this dish still remains in its simplicity, because it gives the salty cod and creamy potato the chance sing. Head to the restaurants below to get a taste of this savory dish.
1.  Foreign Cinema: 2534 Mission St. (pictured above)
Foreign Cinema takes a very straightforward approach to brandade.  Presented in a cast iron skillet, the mixture is hot, creamy, and hearty.  The salt cod and potato puree is served with house-pickled vegetables, which gives the dish a nice acidity, along with warm, grilled bread for dipping.
2.  Trick Dog: 3010 20th St.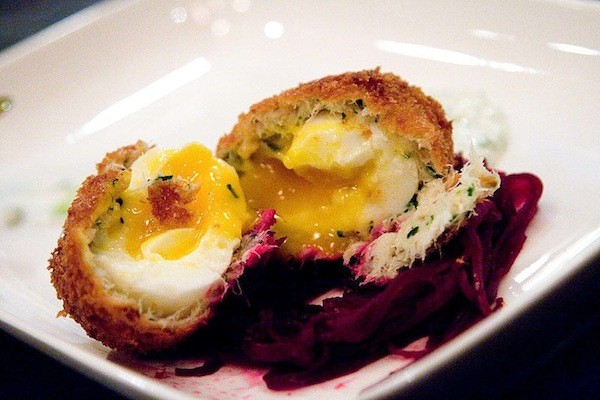 Scotch Egg from the Dapper Diner
Trick Dog combines different styles, flavors, and dishes in their Scotch Egg wrapped in brandade. A perfectly soft-boiled egg is enveloped in a crispy brandade, served atop beet confit, with salmon roe and crème fraiche.  
3.  Andalu: 3198 16th St.
This Spanish-style tapas restaurant exemplifies simplicity at its finest with their salt cod brandade. Their brandade is served with sourdough toast points for dipping. Order it a la carte, or opt for their wine-pairing menu, which serves the brandade with steak tartare and matches it with a light, white Cotes du Rhone.
4. Skool: 1725 Alameda St.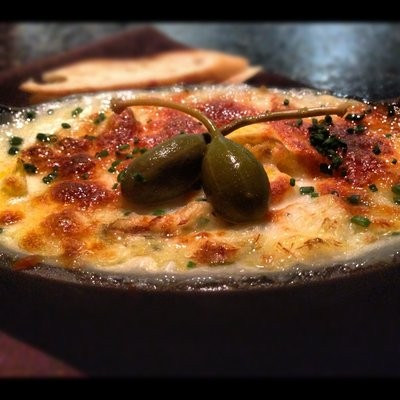 Crab Brandade photo courtesy of Yelp
Skool offers a spin on the traditional salt cod brandade with their crab rendition. It showcases Dungeness crab, mozzarella, Parmesan, and creamy potato puree baked in an iron skillet with cauliflower and caper berries, served with baguette.
5.  Waterbar: 399 The Embarcadero
Waterbar is the ultimate establishment for delicious seafood dishes. Their oak-roasted white gulf prawns come in a saffron brot,h and are accentuated by brandade and asparagus. The brandade adds a saltiness and creaminess to the dish's white wine broth.