Yesterday, I dropped in on Butter Love Bakeshop's new pop-up shop at Adorabella's (4401 18th St.) in the Castro, and owner and head baker Esa Yonn-Brown immediately got to work cooking one of her new yeast-risen waffles for me. Just after peeling the golden, light-as-air confection from the iron, she gave it a healthy shellack of soft maple butter. And with good reason:  "If you've got 'butter' in our name," says Yonn-Brown. "You kind of have to do the butter thing right." 
---
Because Butter Love got its start (and its huge five star Yelp following) as an underground pie delivery service, I was here to try pie. Yonn-Brown's internet club kept her more than afloat for the first six years in business. In 2010, The New York Times tapped Yonn-Brown for a pie trend piece, and she knew it was time to "go legit." She got a commercial kitchen, and filed for an LLC.
Now you can find Butter Love baked goods at Haus (3086 24th St.), Coconut Club (4033 Judah Street), and Trouble Coffee. Yonn-Brown still does delivery and she provides desserts for some of our city's leading caterers. "I don't think they'd want me to tell you their names though," she says, deflecting my next question. 
I loaded up one ample personal size chicken pot pie, an asparagus galette, and a few "cuppies," which are Butter Love's signature pies in cupcake form. Yesterday's flavors were strawberry apple and pear blackberry.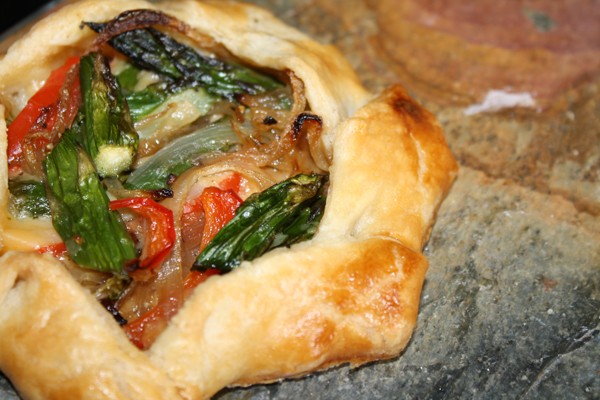 I popped everything in the oven as soon as I got home, and after a few minutes at 350, my house smelt like a butter bomb, magnetically pulling my nostrils to the oven door. I started with the chicken pot pie, and immediately noticed the complexity of the dough. Evidence of sound technique: it flakes just like buttery shale, but it's also got a bit of very lovely gumminess, and a spot-on balance of character from browning and a tangible hint of salt. I have to admit I fell in love for a second there. 
The fillings in the "cuppies" taste far more sophisticated than the name implies. They're not cloyingly sweet or tangibly thickened, so they taste purely of fruit, and that chewy-flaky-buttery-salty crust comes through with each bite.
Finally I'm calling the galette into the spotlight. Yonn-Brown threw it in my bag as an afterthought, so I didn't expect a complex smoked Mornay-like sauce to be hidden under the shards of asparagus and red bell peppers. Not to mention it looks just beautiful on the plate. Now I know Butter Love Bakeshop lives up to its name. 
Find Butter Love Bakeshop at Adorabella's on Wednesdays and Fridays from 10 a.m. to 2 p.m. Hours might increase once the neighborhood catches on.