By
It's summertime in SF, which means you're going to be craving refreshing cocktails more so than ever! We've been particularly keen on negroni lately, a cocktail traditionally made by mixing one part gin, one part vermouth rosso, and one part Campari, garnished with an orange peel (for those unfamiliar). But like most other things in the Bay, there's always someone coming up with a way to take tradition one step further. In this case, that someone is us! In spirit of Negroni Week 2014 we've rounded up some of the best mixologists in the city to create the ultimate Beefeater Gin Negroni. 
Each week, we'll present a different, specially made negroni from one of our seven chosen mixologists, along with the recipe and the story that inspired it.
Be sure to sample all the cocktails over the next four weeks and vote for your favorite below. The bartender with the most votes will be celebrated in an upcoming feature on 7x7.com. 

Must be 21 and over to vote.
#NegroniWeek #BeefeaterNegroni
Mixologist:
 Gabriel Freiberg of 
Cavalier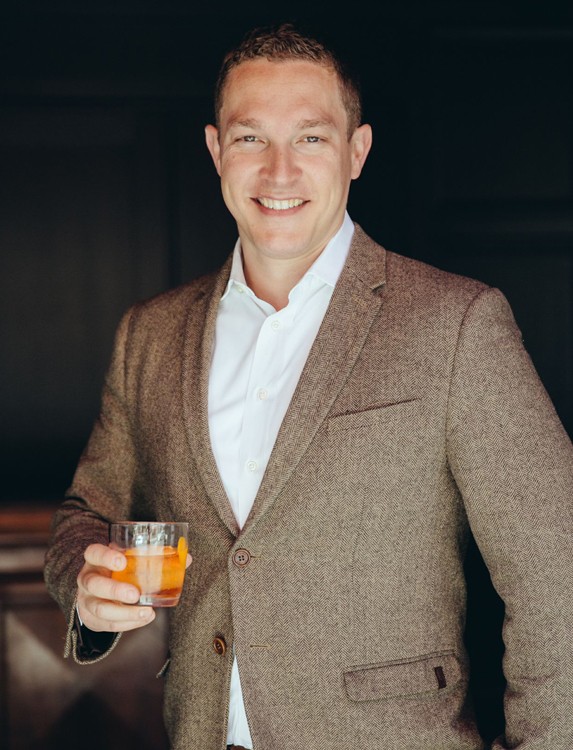 Cocktail Name: Yeoman's Bitter
Note from the mixologist: "This cocktail is named after the iconic ceremonial guards that grace the Beefeater bottle."
Recipe: 
- 1 oz Beefeater Gin
- 1 oz Aperol
- 1 oz Tempus Fugit Grand Classico
- 2 dashes Grapefruit Bitters                                                                                     
Combine all ingredients into a mixing glass, and stir for 30 seconds to temper and dillute. Strain over a king cube, into a rocks glass, garnish with an orange twist.
Mixologist: Dominic Alling of Beretta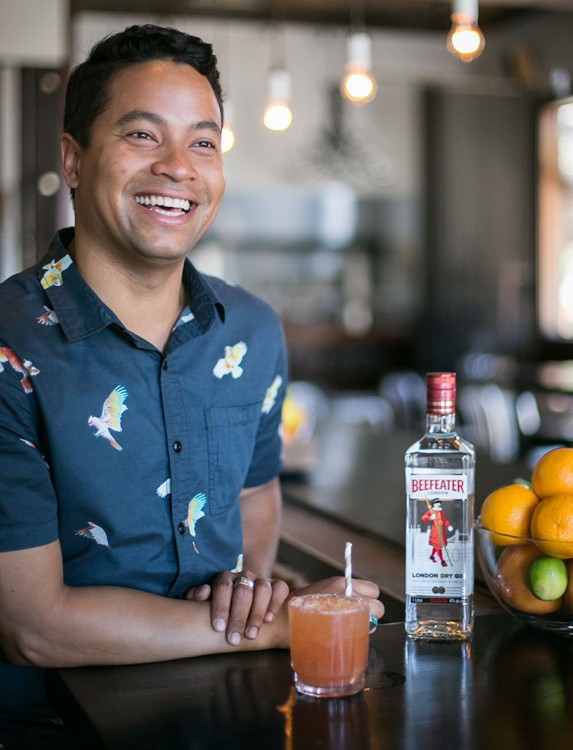 Cocktail Name: Strange Weaver
Note from the mixologist: "As for variation of a negroni I've been really into shaken negroni's lately. In order to do so I added a little bit of citrus. With summer around the corner I wanted to create a great warm weather negroni and pull inspiration from the tiki gods. I added rum, tweaked the default recipe a tiny bit and shake over crushed ice. Then I layer the top with a orgeat foam and orange zest to give it that snow cone look and feel."
Recipe: 
- 1 ounce Beefeater Gin
- 1 ounce El Dorado Rum
- .75 ounce Cocchi Torino
- .5 ounce Campari
- .5 ounce lemon
- Crushed ice
- Orgeat foam
Mixologist: Larry Piaskowy of Alembic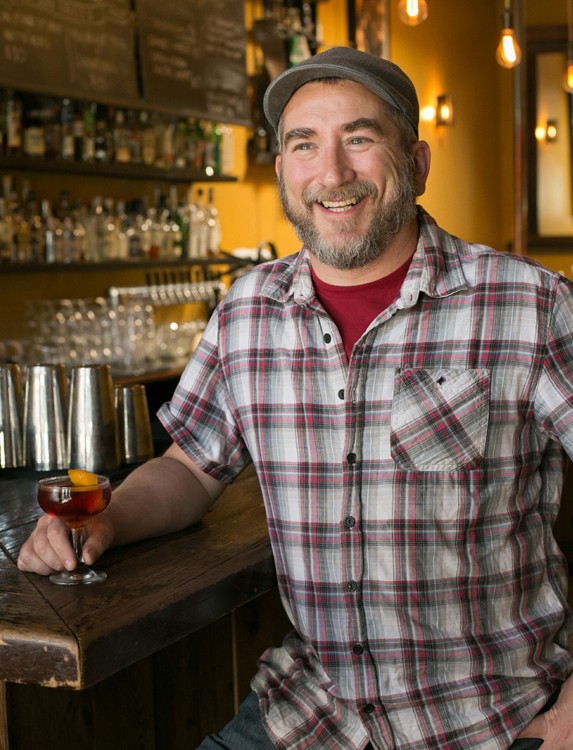 Cocktail Name: The Sloe Boat to China
Note from the mixologist: "We think you'd want to spend a lot of time with this drink - sort of a 'Sessionable Negroni.'  Well known among poker players for someone who loses steadily and handsomely, this Sloe Boat to China is a game you'll only lose when 2 am rolls around."
Recipe: 
- 1 oz. Beefeater Gin
- 1 oz. Plymouth Sloe Gin
- 1 oz. Carpano Bianco
- 2 dashes Fee Brothers India orange bitters
- 2 dashes Regan's orange bitters
Stir. Serve up with an orange twist.
Mixologist: Dan Stahl of Bloodhound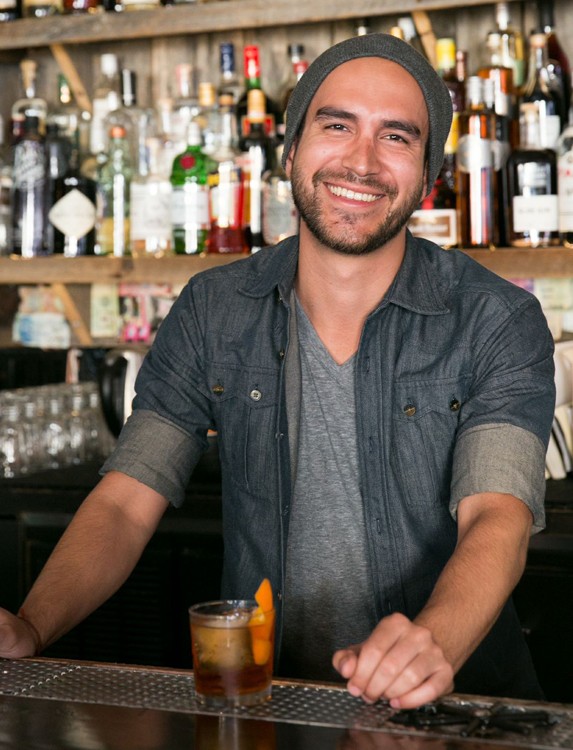 Cocktail Name: Intercontinental Negroni
Note from the mixologist: "Intercontinental refers to the provenance of the 4 ingredients: Plymouth (England), Cappelletti and Martini (Italy), and Becherovka (Czech Republic).  Becherovka is a bitter honey liqueur from Czech."
Recipe: 
- 1 oz Beefeater Gin
- .75 oz Cappelletti Aperitivo
- .75 oz Martini Rosso Vermouth
- .25 oz Becherovka
- Orange Peel                                                                                                                                                             
Stir first 4 ingredients for 20 seconds over fresh ice. Strain into a rocks glass full of fresh ice and garnish with an orange peel and press the oils from the peel over the top of drink.
Mixologist: Kevin Dowell of Foreign Cinema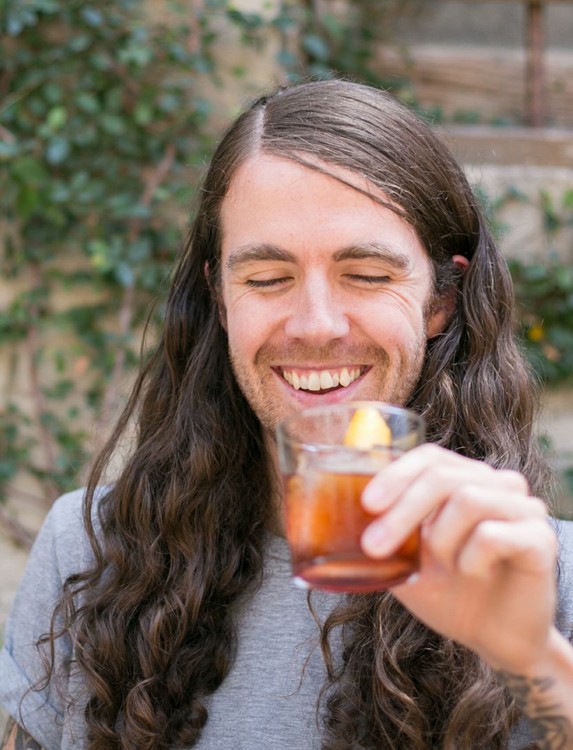 Cocktail Name: Depth Charge No.3
Note from the mixologist: "The Depth Charge was created with one of my favorite things in mind - coffee. Every morning I grab a black coffee with a shot of espresso at my neighborhood spot, Trouble Coffee (Outer Sunset), which they call a "Depth Charge". Since the Negroni is getting a similar treatment to my morning coffee, I figured it'd only make sense to give a nod to the best coffee shop in the city and name it the same."
Recipe: 
- 1.25 oz Beefeater Gin
- .75 oz Punt E Mes
- .5 oz Campari
- .5 oz House Spirits Coffee Liqueur (feat. Stumptown Cold Brew)
- 3 drops Sea Salt Tincture (1 part sea salt to 10 parts water)
Build in mixing glass and stir. Strain into a rocks glass over a big cube and garnish with an orange peel and a coffee bean.
Mixologist: Isaac Shumway of Tosca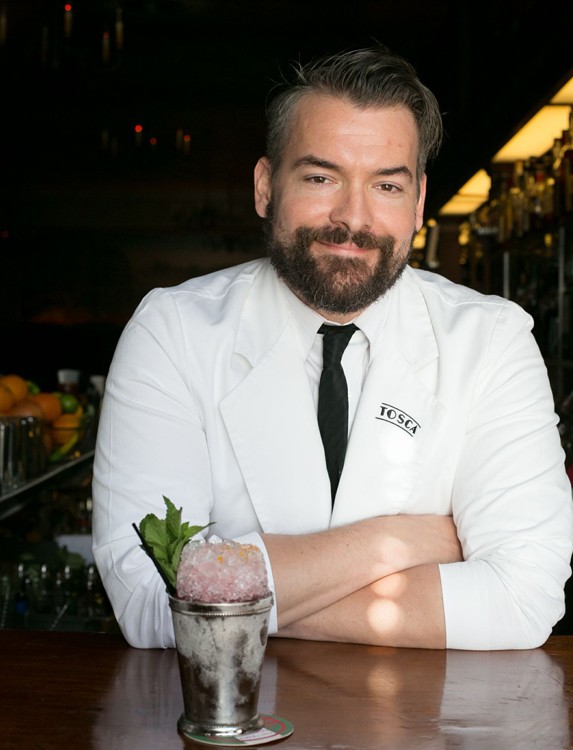 Cocktail Name: Cavalieri
Note from the mixologist: "How to make saline solution: Fill a jar with sea salt, add hot water, and shake. Let it sit until the crystals that do not dissolve settle to the bottom and fine strain."
Recipe: 
- .5 oz Beefeater Gin
- 1 oz Hidalgo manzanilla la Gitana Sherry
- 1 oz Campari
- .5 oz Chareau liquor
- 3 drops Saline solution
Put all ingredients in julep cup, reserving 1/4 oz Campari, discard orange peel into julep cup reserving 1/4 oz Campari for garnish. Add crushed ice, swizzle. Top with snow cone. Pour 1/4 oz Campari over top. Grate orange peel over top. Garnish with mint sprig.
Mixologist: Claire Sprouse of The Square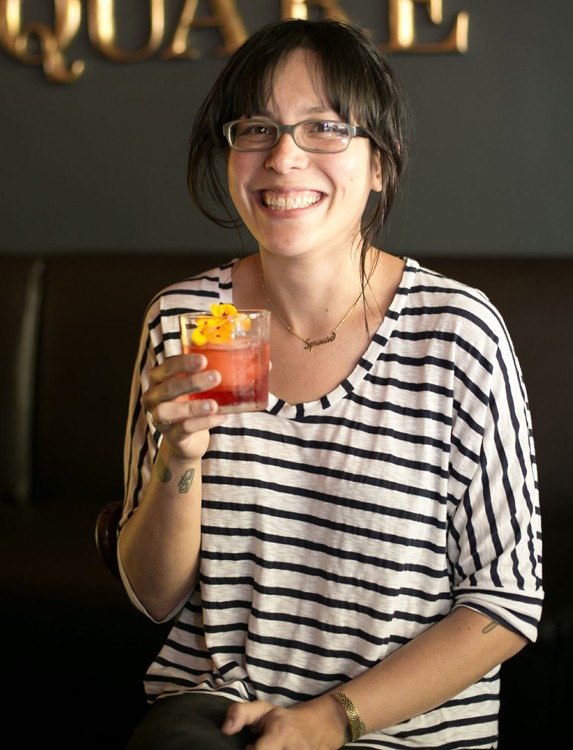 Cocktail Name: The Penny Pitch Negroni
Note from the mixologist: "The old Wash Bag was the former tenant in our restaurant space. They started a fundraiser called The Penny Pitch, and the neighborhood would gather at the bar to raise money for the St Anthony Foundation. The fundraiser ended up running for 30+ years. In the spirit of Negroni Week, we are paying homage to The Penny Pitch with our cocktail, and donating to St Anthony's."
Recipe: 
- 1oz Beefeater Gin
- 1oz Nasturtium-infused Vermouth*
- 1oz Campari                                                                                                                                                      
Combine all ingredients and stir with ice. Pour over a large-format ice cube into a double old-fashioned glass. Garnish with a nasturtium flower.
*Nasturtium-infused Vermouth: 30g fresh picked nasturtium flowers, leaves, and stems, 1 750ml bottle Dolin Rouge Vermouth. Combine nasturtium and vermouth and let sit for 48 hours in refrigerator. Strain out flowers and keep refrigerated.
DON'T MISS A BAY AREA BEAT! SUBSCRIBE TO OUR NEWSLETTER.