The Workout: The 25-Mile Cross-City Ride

The Experts: The staff at NoPa's Mojo Bicycle Café and shop (mojobicyclecafe.com) enjoy a hard ride without the bikier-than-thou attitude.

I usually equate the Ferry Building with good eating, but on this windy day, the Mojo crew suggested it serve as the starting point for my cross-city ride. The flat Embarcadero is perfect for intervals and got my legs pumping right out of the gate. Heading north, I turned onto Beach Street and up to Fort Mason.

I practiced more intervals in the Marina. In the distance, kite boarders raced across the white-capped waves while I rode yet another hill. Finally, a downhill.The speed limit past Baker Beach is 30 mph. My speedometer read 42, and I briefly considered slowing down. Briefly. Lincoln gave way to Camino del Mar and the beautiful gates of Lands End. I felt strong, like the windswept cyprus beside me.

But Ocean Beach brought vicious headwinds and scattered sand on the highway, which made me a bit skittish. When I finally turned the corner onto Skyline, I was greeted with a placid Lake Merced. I treated the 5-mile lake like a track—fast in the straightaways and slower on the curves.

I checked my map for the next direction and saw a shakily drawn section labeled Portola, meaning only one thing: Twin Peaks. I took a shot of energy goo. Winding my way up, I was oblivious to everything but my burning legs. I clicked into my lowest gear and pushed my way to the summit.

Even though the ride wasn't over, the real work was done. I stood on the stone wall to get a look at what was to come. Ahead of me, I could make out the smooth-sailing green Market Street bike lanes which would lead me back to the Ferry Building—and some well-deserved treats.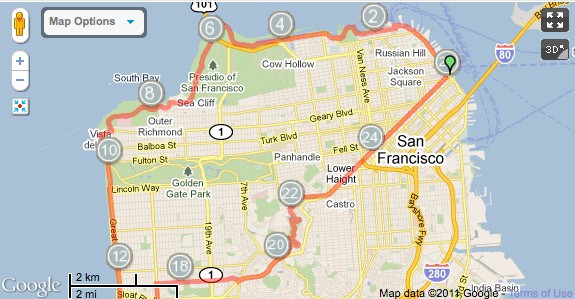 Share maps of your own tried and tested bike rides in the comments below. Once we have enough, we'll make a gallery of the best routes.