The Workout: The 10K Big-Hill Run

The Expert: Dave Parrish, cofounder of K-Stars Running Club (malvina.com/kstars), offers free Saturday training and Thursday track workouts at Kezar Stadium. He came up with this killer run.
It was raining—as if Dave Parrish hadn't already set me up for enough of a challenge with his top-o'-the-Castro running course. The six-block walk from my house to the start of the run at Buena Vista Park had left me soaked. I tucked into a bus stop to consult the route.

Parnassus Street dealt me the first gradual hill. Then came the real deals—Willard and Edgewood. It took a few minutes to find them, though. My fingers were too wet to navigate my phone's GPS. I went old school: the postman.

"Edgewood into the park?" he asked. "You sure you want to do that?"

I wasn't. But the dense eucalyptus groves offered protection from the rain and I gleefully raced the muddy paths. I took Edgewood into Mt. Sutro Open Space Reserve, crossed the road to Historic Trail, and then followed South Ridge to the top of Mt. Sutro. On the way down, I took North Ridge to Fairy Gates and then a really steep trail to Belgrave Avenue. In a comical twist, I passed the same postman on Belgrave, who shook his head at my haggard appearance.

Tank Hill served as the next hurdle. I clamored my way to the top. The dense fog made me feel like I was at the edge of the world.

I sailed down the Pemberton steps.

An older man in a suit mumbled, "Dismal," followed by an unexpected, "You go, girl!" The compliment carried me up Kite Hill. I was feeling alive. But as soon as I took to the concrete, I lost all motivation. To the south, the vertical rise of Noe Street loomed, and passing my house in Duboce Triangle felt cruel.

I pushed myself up Corona Heights (full disclosure: I walked). By this point, I was not having fun any more. Yet Buena Vista was now in sight. I kept my eyes on it as I slowly—really slowly—made my way back to the start. I pulled out my nearly disintegrated map. Did I really have to go to the top?

Of course I did. I shuffled up to the apex, stretched my exhausted legs, and raced back down, rewarding myself the luxury of taking a cab the remaining six blocks home.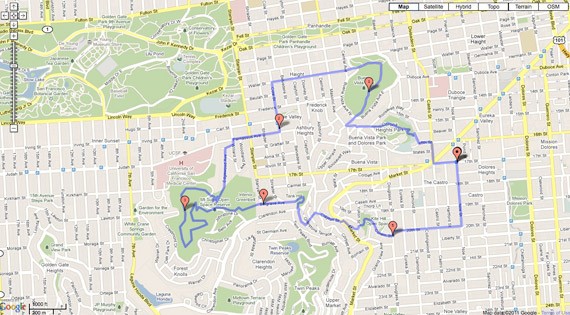 Show us your own 10K routes. Submit links below in the comments to maps you've created of your runs. Once we get enough, we'll make a gallery for the sharing.