I didn't post a blog last week. I was consumed with something else, a story being written by Ethan Watters that I'm editing. Watters is tackling something which I've been wanting us to write about—how tough it is to open a small business in this town. Our liberal city does independent business few favors. The story is for our upcoming April money issue and oddly (suspiciously!), the exact day I assigned the story, out came this article about the trials and tribulations Ice Cream Bar went through to open their doors. It was published in the New York Times (via The Bay Citizen). Yes, their title is kind of genius in that droll NYT kind of way, but our story will be even better—right, Ethan? Right.
Which brings me to the smallest kind of small business. A business run by one. Which is what baker Greg Mindel, whose last gig was at the short-lived Tell Tale Preserves Co. and Spruce before that, is doing with his brand new wholesale bakery called Neighbor which delivers to the likes of Four Barrel and Sightglass.
I first read about Neighbor in SFoodie and I had to try one of Mindel's croissants myself. They're pretty beautiful and not too big (my pet peeve). And it turns out delicious too. They've got a perfect honeycomb, which is what you see when you slice a croissant in half. They're simultaneously light and chewy. They have a good flavor. But most of all they make that noise that sounds like the language of love itself—the crackly sound of pockets of baked butter (Cremerie Classique it turns out) and flour breaking into tiny shards. If your croissant doesn't sound as good as it looks, you've been duped.
Mindel is doing more with his croissant dough than just croissants—though I think they're his best work as of yet—and our favorites were the savory selections including a mighty fine sausage pastry with caramlized onions and mustard. Caramelized onions might just make the world go 'round.
From my croissant breakfast, I went straight to Wise Sons Deli which is not exactly a juice cleanse. Not surprisingly, the 24th Street–based newfangled Jewish deli, which has gone from pop-up to storefront, has become an instant scene. I ran into Alice Waters' assistant who was there with Eric Wolfinger, the food photographer of the moment, who was shooting a story on the Mission for Vogue Entertaining + Travel in Australia. Bon Appetit was just here last week writing about the same thing.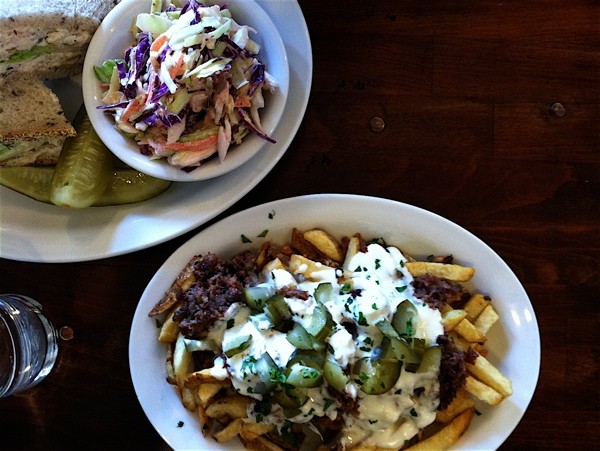 The food at Wise Sons is feeding this pastrami starved city of immigrants from places like NY and LA. People for whom the Jewish deli was a way of life growing up. In classic SF form, the boys make everything themselves, all the way from the corned beef down to the very decadent and addictive chocolate babka. They've even thrown a Chinese chicken salad on the menu for kicks. I didn't find it particularly balanced—it was a bit clunky—but being a big fan of that old-school salad, I absolutely love the idea of it.
The pickles are great here. And another truth: Though I enjoyed the pastrami cheese fries (above center), the burger made with pastrami ground into it (this city loves to gild the burger lily), the pastrami sandwich, and the soft and comforting smoked trout sandwich (above left), it was the balls of fried kugel in a little syrup that really made me swoon. They definitely buck tradition, they're absolutely not good for you, but wow, in a sick kind of way, they were really good. I wish I had a picture to show you.
What was the best thing you ate this week? Let me know in the comments.