One of the beauties of San Francisco is that you can dig up quality accoutrements in some pretty unexpected places--like a tiny garage in the Castro. We've recently become hip to Mid Century Mobler, a passionately-curated collection of gorgeous furniture hand picked by Julian and Gabe, two design-obsessed friends who work out of said Castro garage.
---
What are some of the coolest items you have right now?
At the moment, the coolest items we probably have in stock are an Adrian Pearsall couch, and a Dux couch, both in need of restoration. We also have a solid teak Neils Moller dining table with matching chairs as well. These items (although in need of some love) are marvelously designed and gorgeous to look at. We are constantly impressed by the design and construction quality of the pieces of the late 50's/early 60's.
How do you know a piece is fake?
Because of where we hunt for furniture, all of the pieces we acquire are authentic. Occasionally, we come across pieces which have the right lines, but they're a little too 70s for our taste. Materials like formica and presswood construction are pretty quick indicators that a piece probably lived in Carol Brady's house and not Don Draper's.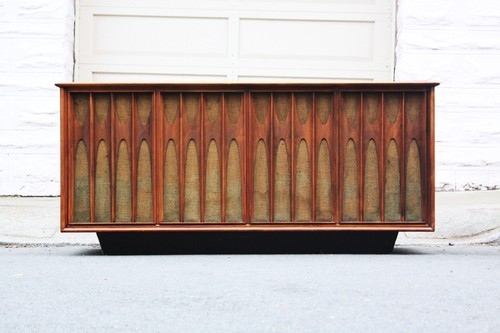 Where are your favorite place to dig for treasures?
Estate and garage sales are where we find most of our gems. It's tough though, as staying out late on a Friday, then dragging yourself out of bed early Saturday morning can sometimes yield little more than a funky stapler or an old Life magazine (when you go "garage sailin'", you always have to buy something, right?). On any given Saturday, we might hit 10-30 garage/estate sales, depending on the time of year. It's all a gamble, but that's the greatest part about treasure hunting.

What are your day jobs?
My official day job is Senior Producer, Ad Sales Marketing. I produce all of the sponsored promotional assets for air on Current TV. Everything from a :05 second billboard to a :30 second promo spot, I write it, edit it, produce it, and get it to air.

Gabe is an Associate Producer for Indigo Films, who produce shows for networks such as Discovery, Military, A&E and The History Channel. He is currently a location scout for a Discovery Network docu-drama series about fugitives called I [Almost] Got Away With It.  

Who is your favorite mid-century designer?
I'd say my favorite designer(s) are Adrian Pearsall and Finn Juhl. I admire the wild lines they infused into the majority of their work. I've always been a fan of design that's a little larger than life and out of the ordinary and I feel like both of these designers' work reflect that in different ways.

Gabe's favorite designers are Finn Juhl, Arne Vodder (a former student of Finn Juhl), Peter Hvidt, Grete Jalk and Ib Koford-Larsen. He is fascinated by their ability to transform a piece of teak wood into a visually "simple", yet intricately styled piece of functional furniture.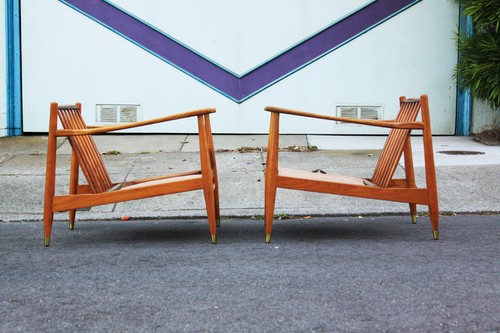 What do you get asked to find the most by clients?
I think the question we get asked most by clients is "Do you deliver?" Being that SF isn't a car centric city, most people don't have the ability to get the piece back to their place easily, so we provide delivery for a small cost. The second most commonly asked question is "What is the history of the piece?".  

Part of why people purchase mid-century is the fact that most of these pieces of furniture are still in use after 50-60 years says a lot about the quality and craftsmanship that went into most pieces of furniture back then. Something you don't really see in a piece from IKEA.
Another reason is because every table, chair, credenza, etc. has a certain history to it. Each piece tells a story, whether that be one of how it was designed, or who previously owned it, and how it got to where it is now. Every piece has qualities about it that tell you something about where it's been (stains, scratches, pieces of their personal history forgotten about in the back of drawers or forgotten in locked up desks), and I think people, including myself, find that one of the most interesting parts about collecting mid century furniture. That, and it looks really cool.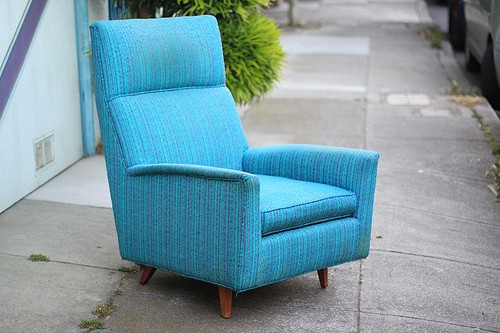 What's your best find ever?
Whew. Best find ever? That's a tough one. I think maybe our best find ever would be a Broyhill Brasilia set that we purchased at an estate sale a few months ago. We were doing our usual garage sailing rounds on a Saturday in Marin, when we came across a family that was getting rid of some of the furniture that came with their home, originally purchased in the 1960's. They had a Broyhill Brasilia double dresser and two matching nightstands in PERFECT condition with the original department store tags still on them, along with the bill of sale.

When we got them to our storage, one of the dresser drawers wouldn't close, so we reached behind it and started pulling out loads of old papers that had been in there since the early 60's. There was literally someone's whole wedding itinerary from 1963, a 10 page handwritten letter from the 30's, and old tax returns and newspaper clippings. Not only was the set in showroom new condition, but it had a huge amount of history sitting in it waiting to be uncovered. We find (and save) things like that in almost every piece we get, and gives us an intimate profile of the previous owner.