In the Napa Valley, crush doesn't just mean the time of year when grapes are harvested. It often translates to heartbreak—the kind that comes from rolling to a complete stop on Highway 29 in bumper-to-bumper traffic—which, in the popular month of October, is par for the course. So much for your relaxing Wine Country getaway. But there is a solution: Sail by on a bike.
---
Moving quietly across the valley at a slower speed allows you to experience more of its sights, smells, and sounds. 
Whether you want to pedal all the way from SF to Napa, drive up with your bike on a rack, or rent a two-wheeler when you arrive in Wine Country, we've stitched together a mellow 27-mile cyclist's loop of leisurely wine tasting. It can easily be trimmed to 20 miles, should you want to veer off and head back to the hotel for an early, guilt-free, and much-earned nap. After all, you've got to gear up for dinner.
DITCH THE CAR
If you want to entirely skip driving and ride your bike to Napa all or part of the way, you have options.
TAKE A FERRY
If you don't mind riding with traffic, take the Vallejo Baylink Ferry ($13 each way) from SF's Ferry Building or Pier 41 to the Vallejo Ferry Terminal. From there, pedal 16 miles along Highway 29 and 221 to Napa.
GET ON A BUS
To continue on public transit from the ferry, $1.35 in exact change allows you to hop on the Napa Vine No. 10 bus. It stops across the street from the Vallejo Ferry Building. On weekends, the bus comes every hour or two. Each bus has two bike racks.

View The Ultimate Napa Valley Wine & Bike Tour in a larger map
1. Napa River Inn : Start out by booking a room at the Napa River Inn (500 Main St., Napa, 877-251-8500). It's centrally located and quaint. It also has hybrid bikes on loan for guests. Get on your bike, and head north on Main Street through historic downtown Napa. Turn left onto Lincoln Avenue, and cross Highway 29. Then turn north onto Solano Avenue. In just under four miles, you'll get to Oak Knoll Avenue. About six miles into the ride, you'll notice a wind at your back pushing you along. It's the up-valley breeze, which is strongest in the afternoon.
2. Addendum's Fried Chicken: About three miles past Oak Knoll Avenue, turn left onto California Drive, and cross under busy Highway 29, which will put you in Yountville. Turn right onto Washington Street. Thomas Keller's comfort food restaurant Ad Hoc (6476 Washington St., Yountville) is just north of the intersection. In the back is the new counter window Addendum (Thursday through Saturday, 11 a.m. to 2 p.m.). Get the buttermilk fried chicken. For $17, it comes with two sides, such as succotash and potato salad.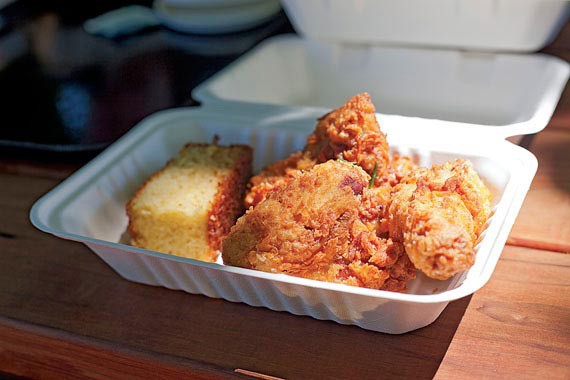 3. Silverado Vineyards : At the eastern side of the valley, turn right on the Silverado Trail, and head south one mile to Silverado Vineyards (6121 Silverado Trail, Napa, 707-257-1770). It's a steep climb to the massive Mission-style winery. The view from the tasting room is breathtaking. Try the 2010 rosato—a crisp, all-Sangiovese pink grounded with brisk mineral notes from the Soda Creek Ranch Vineyard, and the 2000 Stags Leap District Cabernet Sauvignon, a rich and sensuous wine.
4. Darioush: Turn right out of Silverado Vineyards, and continue south along the rolling hills of the Silverado Trail. In four miles, you'll see the left turn for Darioush (4240 Silverado Trail, Napa, 707-257-2345). You can't miss the winery—it's patterned after Persia's legendary sixth century B.C. palace at Persepolis. Winery founder Darioush Khaledi grew up in Shiraz, one of Iran's former prominent wine-growing regions, before immigrating to the U.S. in the 1970s. Darioush's Bordeaux-styled wines are lavish, bold, and opulent. Try the 2010 Signature Viognier or the 2006 Signature Cabernet Sauvignon.

5. Soda Canyon Store: As you exit Darioush, turn left on the Silverado Trail to continue south. In about a mile, grab a bite at the Soda Canyon Store (4006 Silverado Trail, 707-252-0285) to fuel up. Either head back to Napa now, or if you've got energy for a gradual 400-foot climb, continue three miles down the Silverado Trail, and turn left at Hagen Road. You'll leave most of the traffic behind as you ride into Napa's latest proposed appellation: Coombsville.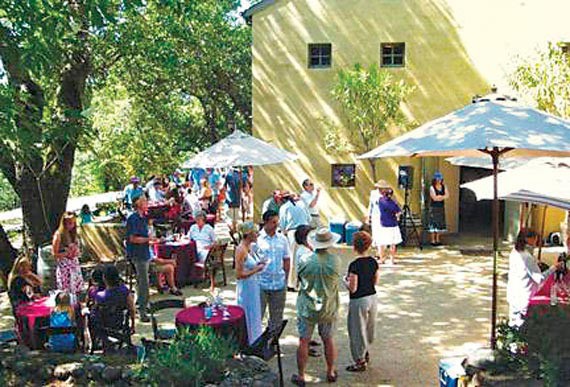 6. Farella Vineyard: From Hagen Road, curve right onto Third Avenue, and on the left you'll come to the turn for Farella Vineyard (2222 N. Third Ave., Napa, 707-254-9489). Head up the drive to the winery's green gate. To trigger the gate's sensor, lay your bike across the concrete circle in the pavement. Tom Farella is the grower and manager here, so tasting host is only one of the many tasks he performs. (You can visit the winery by appointment only, and email is best: info@farella.com.) Farella's wines are nuanced and built to age. The 2007 Road Block Syrah, a new addition, is ready to drink. Full of luscious and silky plum, its smoothness is balanced by light tannins and French oak spice.

7. Dim Sum Charlie's: From Farella, it's mostly downhill to Napa. Head to Silverado via Third Street and Coombsville Road, then turn left on First. As you approach the railroad tracks you'll see Dim Sum Charlie's (728 First St., Napa) Airstream trailer. Take a breather and enjoy some pork buns as you plan dinner—one good option is Kitchen Door (Oxbow Market, 707-226-1560), chef Todd Humphries' new self-serve restaurant.