From top comic Michael Che to the iconic Weird Al Yankovic, the San Francisco Bay Area will play host to some top quality comedy acts. Here's a guide to when and where you can get your fill of funny.
Michael Che
You've seen his comedy on VH1's Best Week Ever and he's been crowned as one of Rolling Stone's 50 Funniest People. He's also been on a boatload of shows on Comedy Central and has performed at every single comedy fest known to man. Now the Native New Yorker comes to San Francisco to share his brand of comedy.
When: Multiple show times through June 29
Where: Punchline Comedy Club, 444 Battery St.

The Romane Event Comedy Show
Lead by San Francisco favorite Paco Romane, the event is hosted on the last Wednesday of each month and features a rag-tag group of comedians. This month, Paco welcomes headliner Kevin Munroe, who is joined by Anita Dreisberg, Stefani Silverman, Mike Spiegelman, and Jesse Hett.
When: 8 pm, Wednesday, June 26
Where: Make-Out Room, 22nd St.

Tommy Davidson
You may remember him as one of the stars of the hit sketch show of the '90s In Living Color or from movies like Booty Call (in which he starred with Jamie Foxx). Before all that, he was a stand-up comedian – and that's the part he'll be playing at Yoshi's on Wednesday.
When: 8 pm, Wednesday, June 26
Where: Yoshi's, 1330 Fillmore St.

99% Gay Comedy Fest
This fest has been going on all month, but it closes with a big bang to celebrate San Francisco Pride. Hosted by GLAAD Award-winning comment, Marga Gomez will share the stage at this free show (although donations are accepted) with Natasha Muse and Portland's "Lez Stand Up" Comedy Troupe.
When: 8 pm, Thursday, June 27
Where: Esta Noche Nightclub, 3079 16th St.

Moonlighting SF in June
Local comedians host a live variety show that celebrates San Francisco art, culture, and everything else in between. That should be more than enough material to fill two hours.
When: 7 pm, Thursday, June 27
Where: 50 Mason Social House, 50 Mason St.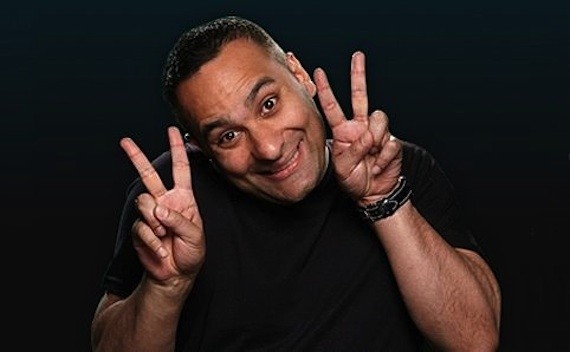 Russell Peters
Russell Peters
The superstar comedian brings his Notorious World Tour to San Francisco – but buy your tickets quick. He's known for selling out venues. He was the first comic to sell out Brooklyn's Barclays Arena. If he could do that, imagine how fast all the seats at Cobb's will be taken.
When: Various times, June 26-30
Where: Cobb's Comedy Club, 915 Columbus Ave.

Kurt Bodden's "Steve Seabrook: Better Than You"
Nothing is funnier than self-help in comedy form. Comedian Kurt Bodden conducts a show as Steve Seabrook, a "master motivator." During the show he will empower and nurture the audience so that they realize that they need to change their disappointing lives.
When: 8 pm, Friday, June 28; 8:30 pm, Saturday, June 29
Where: The Marsh, 1062 Valencia St.

Jim Jefferies
He's been on numerous comedy cable specials and now has his own show, Legit, on FX. The Aussie comedian makes a stop in the city for a couple of days to give us a taste of his storytelling humor – and it is quite good.
When: Various times July 5-7
Where: Cobb's Comedy Club, 915 Columbus Ave.

Weird Al Yankovic at the Alameda County Fair
Remember when people thought that Weird Al Yankovic was just...weird? Well, now he's a comedy icon. This summer, the genius who is the godfather of music parodies has decided to share his weirdness at the Alameda County Fair.
When: 7 pm, Friday, July 5
Where: Alameda County Fairgrounds, 4501 Pleasanton Ave.

Jacob and Sherry Sirof
A comedy duo is good, but a married comedy duo is even better. Jacob was brought up in San Francisco during the '80s comedy boom, while his wife Sherry is from a little town in Northern California. With their edgy comedy powers combined, they are a force that deliver double the laughs. It's a match made in heaven...or something like it.
When: Various times through July 2-6
Where: Punchline Comedy Club, 444 Battery St.

Sam Davidoff
He started his comedy career at the tender age of fourteen in San Francisco, and now he is a successful comedian who writes for the FX series, Totally Biased, has done numerous comedy tours, and has opened for many other comedians. Now he's opening for himself!
When: 8 pm, Tuesday, July 9
Where: Punchline Comedy Club, 444 Battery St.