I've got nothing but love for wineries with local style and California flair. But there is definitely something to be said for balancing farmhouses and modern marvels with wineries that feature global architecture and attitude. Get a taste of something different at these worldly spots with amazing wines:
Darioush (pictured above) looks like and feels like a Persian palace, and the hospitality will make you feel like a Shah. Keep your fingers crossed that you meet Shahpar and Darioush Khaledi, as they are some of the most welcoming hosts in Napa Valley, and wonderful representatives of the generous Persian culture. The wines are big and bold, experiences varied, and Darioush boasts one of the classiest and most cultural winery shopping experiences. 
Antica is owned by the Antinori family, who have been making wine for over 600 years. While the private experiences are purely Italian, it's the 30,000 square feet of caves that truly bring you back to the old world. Built before there were rules about spraying cave interiors in Shotcrete, these massive caverns are covered in mold and natural growth, which make you feel as though you've traveled to another country and time.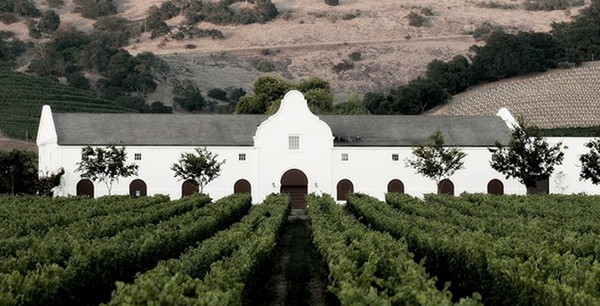 Image Courtesy of Chimney Rock
Chimney Rock stands out immediately amidst the wineries of Napa Valley, but it's not easy to put a finger on the origin of the architecture. My first guess was Spanish Mission, but as it turns out, the architecture and heritage are South African. This winery, along with Darioush and Antica, are all found off of the Silverado Trail.

Image Courtesy of Del Dotto
Del Dotto is another winery with heritage that doesn't jump out at you. But the fact that it looks just like a castle will transport you immediately to the old world anyway. With a name like Del Dotto, you can safely assume it's Italian, but go ahead and let your imagination choose the location. If you're into castles, none is more impressive than Castello Di Amorosa and V. Sattui is also worth a mention.
White Oak is the perfect Tuscan villa winery, makes stunning wines, and offers them at unbeatable prices. While the art gallery and interior may not scream "Italy", the look and feel is about as Italian as it gets. If Tuscan villa started your engines, you should also check out Andretti Winery, which is owned by famous racecar driver, Mario Andretti. 

Image Courtesy of Morlet Family Vineyards
Morlet Family Vineyards is about as French as America can be– from the old world winemaking to Luc Morlet's heavy French accent and charm. While their little Chateau is actually a Historic St. Helena Landmark, you'll feel as though you've taken a step out of Napa Valley and onto a French hillside.