In the past year, exotic street foods ranging from Indian kebabs to Chinese dumplings to Middle East shawarma have worked its way onto the menus of casual and fine-dining restaurants on both coasts. Combine that phenomenon with the surge of pop-ups that have taken over San Francisco, and you've got yourself a winning combination.
American Bao Bar, the creation of Chef Blair Warsham, recently joined the ranks of other well-received street food pop-ups throughout the city. Chef Warsham finds his inspiration from street snacks in Taiwan and Singapore, after a year spent traveling in the region, and strikes a harmonious balance between affordable street food and San Francisco bar culture. Through at least June, you can check out American Bao Bar at Nombe on Mondays and Southpaw BBQ on Tuesdays from 7 pm until the food is gone. 
I was privileged enough to experience American Bao Bar on its opening night. Despite being in its infant stages, our dinner ran without a hiccup. The small space accommodates only a handful of tables, so making a reservation is the best way to secure a spot. They encourage family-style dining, so round up a group of friends to share your soup dumplings, buns, fried rice and various other dishes with. No matter how many are in your party, you can be sure you'll leave with a full belly. For $35 a head (plus drinks), you'll get six unique, hearty, flavorful dishes.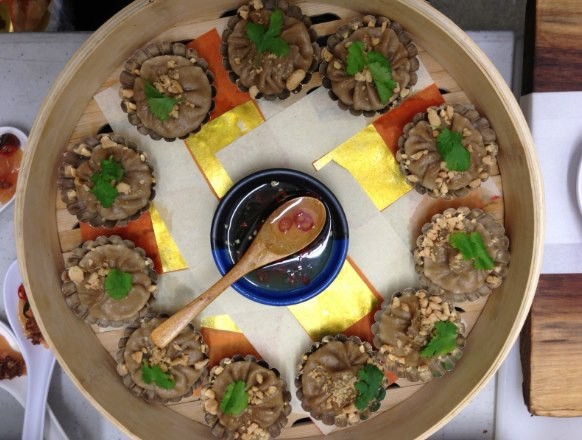 Red curry chicken XLB soup dumplings: from American Bao Bar Facebook page
It began with red curry chicken soup dumplings. Each modestly sized dumpling is packed with the flavor and complexity of a well-balanced dish.  The tangy broth bursts in your mouth as soon as you bite through the delicate, hand-rolled dough. The extensive beer choices provide endless options to pair with your meal. I chose a Sour Beer, which balanced nicely with the sweet and spicy food. Although we all agreed that one soup dumpling was six too few, we didn't have to wait long before we were faced with a giant tray of a variety of baos. 
Considering it's their namesake, we had high expectations for the "hot buns on a plate." They came in cumin lamb belly, crispy five-spice smoked pork, and grilled chili paneer (cheese). They did not disappoint. Each bun was tastier than the last, and no one could definitively pick out a favorite amongst the different flavors. What they all shared was a perfect equilibrium of flavors and textures: Spicy, sweet, sour, soft, crunchy, hot, and cold all at once.  Around this time, feelings of fullness and contentedness radiated throughout our table. But before we could recover our appetites, we were presented with course three: A Malaysian bouillabaisse of shrimp, pineapple, and coconut.  Reminiscent of Tom Kha (Vietnamese coconut soup), this bouillabaisse was a soothing transition course to prepare us for the dishes to come.    
The "fried rice" were presented as individual rice cakes with quail egg and topped with spring vegetables. The crunchy texture and light pop of the rice was a demure side dish to the unapologetic plantain wrapped chicken with banana sambal (a chili-based condiment). Sweet and savory, this chicken dish was unlike anything I've tasted before. Crispy, sweet plantains cradle a breast of moist chicken, which was presented on a cedar plank and accompanied by wok-tossed garlicky greens. This dish was a vision. And although the plantains made it sweet enough to be a happy ending in and of itself, we were subsequently offered an array of ice cream sandwiches by Batter Bakery: Coconut oatmeal cookies with lime sherbert and chocolate cookies with five spice caramel ice cream. Unique Asian flavors turned this typically American dish into an exotically sugary ending to our meal.   
All in all, the American Bao Bar pop-up was a welcomed success. Chef Warsham's flavors are bold, uncompromising, and unique. So far, the pop-up will only continue through March, so be sure to make a reservation soon, before they disappear for good! We're hoping they secure a permanent location so we can delve deeper into the stunning tastes of Taiwan and Singapore. 
Reservations for future dinners can be made by emailing americanbaobar@gmail.com