Growing up in Hawaii, you don't realize that other Americans aren't taking off their shoes before going into houses, eating sashimi for breakfast as a child, or learning to use chopsticks before a fork. Honolulu's deep Japanese roots go back generations, and with Japan only about nine hours away by plane (Hawaii is the top U.S. destination for Japanese tourists), you will find the best Japanese food anywhere in the world outside Japan in Hawaii's state capital. Which, of course, means that the ramen is the stuff of dreams. Plus, all the noodles are locally made. Below are the tastiest bowls in town.
Gomaichi, 631 Keeaumoku Street, 808-951-6666
This was the first ramen-dedicated joint in Honolulu when it opened in 1995, and it basically laid the ground work for Goma Tei, its main rival in town when it comes to tan tan men, a rich, nutty and spicy toasted sesame pork broth that is so good it'll make you forget there were ever other kinds of ramen out there. With noodles cooked perfectly al dente, the chashu (Japanese-style barbecued pork) cut just right, and quick service to get you in and out, Gomaichi is a great spot to hit up after hanging out at the beach all day, especially if you order a cold Kirin with your noodles.
Goma Tei, 1200 Ala Moana Boulevard, 808-591-9188 and 1450 Ala Moana Boulevard, 808-947-9188
Goma Tei sprung into existence when a former business partner at Gomaichi split to start his own ramen shop. GT's tan tan men is also killer (though it's a little more oily and doesn't have quite the same homestyle taste as Gomaichi's), but the thing we like here is that the chashu is thicker, meatier, and more tender and if you go the vegetable route, you'll receive a bowl with a heaping mound of stir-fried mushrooms, wakame, bamboo shoots and carrots to help you feel a little better about all those carbs hiding underneath. One thing to know before venturing to either location is that there will be a wait ahead of you, so bring a book.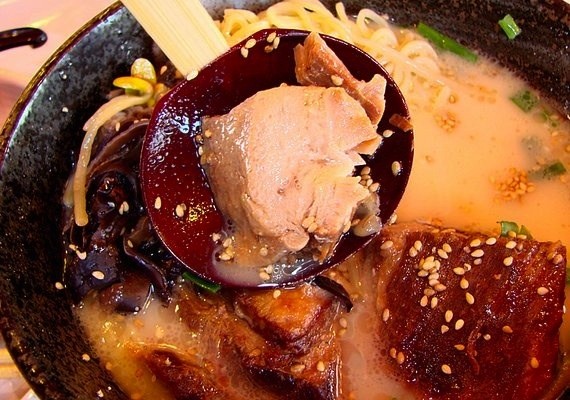 The paitan ramen from Yotteko-Ya, photo via Yelp user Pomai S.
Yotteko-Ya, 1960 Kapiolani Boulevard, 808-946-2900
Yotteko-Ya makes bold claims right on the front of its menu, saying their collagen-rich broth (made from "the choicest pork, the freshest chickens, and 10 different vegetables and spices" simmered for over 10 hours) actually helps prevent aging of skin and joints. If I still lived in Hawaii, I would gladly put that statement to the test. All medical assertions aside, the Paitan ramen is unlike any broth we've ever tasted. Made of simmered pork bones infused with chicken and vegetable stock, the depth of flavor in this creamy broth is insane. Get it with Japanese-style noodles (they're firmer than the softer local style) and plenty of their homemade chashu, which is our favorite of this bunch for its slightly sweet BBQ flavor and melt-in-your-mouth texture.
Lucky Belly, 50 N. Hotel Street, 808-531-1888
This new Chinatown spot is much more trendy, like you're in a blogged-about Brooklyn ramen shop, so don't expect a traditional bowl of ramen to arrive at your table. We recommend the Shrimp Kim Chee bowl for its perfectly grilled togarashi shrimp and spicy, sour dollop of kim chee to cut the rich broth, and the Beast Bowl for an ultra meaty meal, thanks to tender brisket, short ribs, and (our favorite!) succulent oxtail wontons.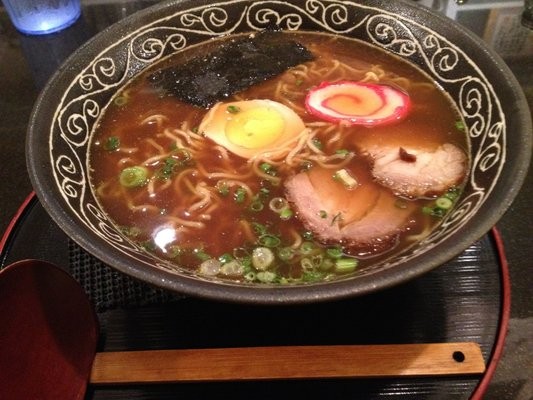 Menchanko-Tei's shoyu ramen, via Yelp user Nat N.
Menchanko-Tei, 903 Keeaumoku Street, 808-946-1888
People freaked when this Waikiki mainstay abruptly closed, but caught their breath again when they opened a Keeaumoku locale soon after. It's just that hard to live without some of the best shoyu and miso broth in town. Their shoyu-laden Kikuzo bowl sports delicate, earthy chicken notes and straight, sinewy Tokyo-style noodles to match. The Hokkaido-style spicy miso bowl, which arrives in a cast-iron pot and has thick noodles, is hefty enough to make you forget about ordering that side of gyoza.