Corn dogs, cotton candy and funnel cakes. The off-the-charts caloric combination can only mean one thing: the Sonoma County Fair is about to get cooking. It's an American pastime of sorts – eating, drinking, riding the Ferris Wheel and getting your "country fix" petting barnyard animals.  Running July 25 through August 12, (closed on Mondays) you've got 17 days to get your fair fill.
The Sonoma County Fair Concert Series
It's worth checking the Sonoma County Fair daily schedule before you make the trek north. This year's concert lineup has some names you just might recognize like Martina McBride, Third Eye Blind, Jim Belushi with the Sacred Hearts Band and if you've got kids, Miranda Cosgrove of iCarly fame. Tickets are on sale now at the Fair Box Office and online.
Live Horse Racing in Wine Country
Wine Country horse racing is a Fair time favorite. Races take place every Wednesday through Sunday of the Fair. Post time is 1:15p. Ground level racetrack entry is included with Fair admission. You can buy Grandstand tickets at the Fair Box Office and online.  If you want to learn more about racing and betting, free racing seminars are held on race days at 11:30am in Shade Park near the Racing Grandstand.  Ladies' Hat Day is a benefit for the Sonoma County Fair Foundation that includes trackside hors d'oeuvres, wine and a hat competition.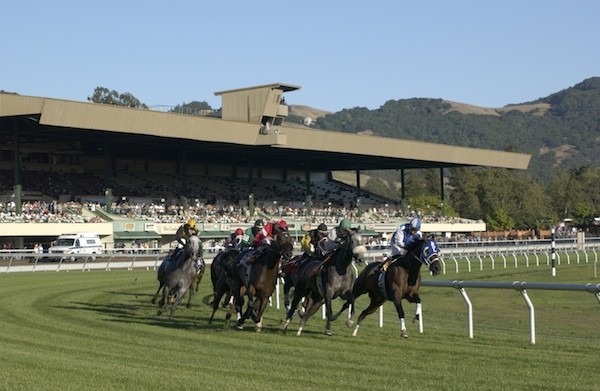 Barnyard Fun For All
Horses aren't the only animals worth your attention at the Fair. The heart of Sonoma County and the Fair is agriculture. Watch chicks hatch, learn how to milk a cow and if you don't already know, figure out what FFA stands for. There's shows almost every day covering everything from swine showmanship to the Commercial Heifers weigh-in. Check the Livestock Schedule for the full rundown of activities.
Fair Food
You'll find all the famed Fair food like candy apples and deep friend Oreos along with some un-expected extras like turkey drumsticks, gyros and sushi.  Mary's Pizza Shack sets up in the Showcase Café. They offer the expected menu of pizza, pasta and salads, but the best part is being able to sit down in a cool spot without fighting for a table. You can actually relax and recharge while you eat – a must if you've got kids in tow. Keep an eye out for Clo the Cow of Clover Stornetta Farms. Everyday there's free Clover ice cream cones to be had from 1-4 pm near the entrance to the Livestock Area on Poplar Avenue.
Fly High at the Classic Carnival
Carnival rides are divided into two areas at the Sonoma County Fair. The carousel, tall slide and the other tamer attractions that typically attract the younger and scaredy- cat set can be found in the Kiddy Carnival area, near the Mexican Village and Hall of Flowers. You can't miss the heart stopping, adrenaline boosting rides on the left as you enter the Fair's Main Gate. On Too Good To Be True Tuesdays, $20 gets you into the Fair and a Carnival Wristband good for unlimited rides and unlimited fun.