It's fun to be pleasantly surprised when you travel, especially when it's a the type of situation where you wind up enjoying a place much more than you anticipated. Here's my scenario; it's a trip to Old Sacramento with six teen girls, now officially high schoolers, celebrating the end of the school year. The possibilities are endless, yes?

First thing we did was check into our rooms on the Delta King. The Delta King is an authentic 285-foot riverboat, now permanently moored in Old Sacramento.

The King and her identical twin, the Delta Queen, were christened on May 20, 1927. Their daily 10 ½  hour voyages between San Francisco and Sacramento must have been quite an affair, including prohibition era drinking, gambling and eating.  A stateroom cost $3.50, but for a dollar and "your own blanket" the night could be spent on the Cargo Deck.

The completion of the Golden Gate Bridge and the Bay Bridge in the late 1930's ended the Delta King's river reign. Its history took numerous twists and turns. After being partially submerged for 15 months in the San Francisco Bay, in 1984 it was rescued and underwent a complete historical restoration.

The floating hotel hotel's original 88 staterooms are now 44 larger rooms. They're still small, but in a cozy way. (Families of four or more will need two rooms.)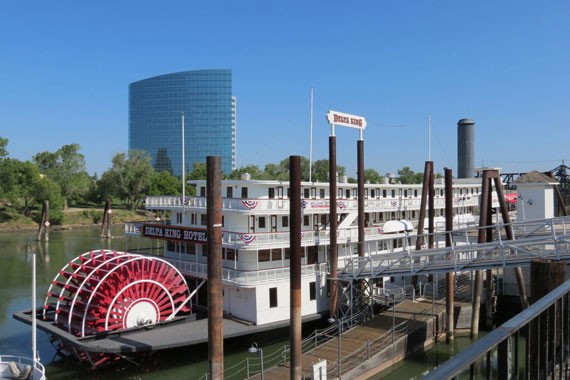 The Delta King is entertaining in its own right, but Old Sacramento is a fun place to simply wander and eat a great deal of food that isn't especially healthy. You name it, they stick it to a chocolate covered apple at Rocky Mountain Chocolate Factory. (Ok, I guess the apple is healthy.) At Candy Heaven, visitors can sample for free as long as they eat the goodies while in the store and at Sacramento Sweets I saw chocolate dipped red licorice for the first time.

The sign that hangs outside Evangeline's says it like it is – weird & wonderful gifts & toys. Think wigs the color of the rainbow, masks, superhero trinkets and bacon lip balm for that person in your life who must have everything. Even if you're not a shopper, chances are you'll see something here that will make you laugh out loud, or at the very least plaster a smile across your face.

Directly above the gift shop is Evangeline's Costume Mansion, and you have a pretty good sense what you're getting into before you step onto the elevator. Looming atop the elevator entrance hangs a life size diver mannequin entangled in the arms of a giant octopus. Step off the elevator and you're greeted by a knight in shining armor.

Masks line the walls, along with costumes you didn't know even existed. They're humorous, evil, angelic and those for adult eyes only have a room to call their own. There's also an in store scavenger hunt that entertained my teen cluster for close to an hour. The store is open March through Halloween, and by appointment the rest of the year.

It won't take the kids long to discover the swing set on Front Street. The bright yellow building next door is the Old Sacramento Schoolhouse Museum. Step inside the one-room schoolhouse for a glimpse at what a typical school day might be like for kids in the late 1800s.

If all the walking starts to put a damper on the day, jump aboard a horse drawn carriage for a different view of Old Sacramento.