As 101 winds north the changing scenery lets you know when farm country gives way to wine country. But a little more than an hour past the Golden Gate, a giant opportunity is tucked away to the west of all those distracting vines.
Take the River Road exit off 101 in Santa Rosa and head 15 miles or so to Guerneville. But instead of heading into town, hang a right on Armstrong Woods Road and explore Armstrong Redwoods State Natural Reserve.
More than 800 acres strong, the reserve is home to a grove of coast redwoods. These are more than just trees. They're awe-inspiring giants, some of which were growing more than 500 years before the Pilgrims arrived at Plymouth Rock.
The oldest tree is the Colonel Armstrong Tree, named after the lumberman who fought to preserve the grove. Want to feel young? Its approximate age is 1400 years old. At 308 feet tall, it's also just short of earning the honor of tallest tree.
The Parson Jones Tree wins that distinction, standing 310 feet tall. (For a little perspective, that's longer than a football field.) It's a youngster of sorts at approximately 1300 years old.
Part of the beauty of this area is that it's easily accessible. The Parson Jones Tree is a .1 mile walk from the park entrance. Colonel Jones is a half-mile walk from the park entrance. The trail is flat, making it an easy outing for a family with young kids, or someone in a pair of flip flops. The Discovery Trail has a wheelchair accessible pathway, information panels in Braille and a tree hugging platform. The Armstrong Nature Trail is also wheelchair accessible. Check out the map of Armstrong Grove before you head out the door.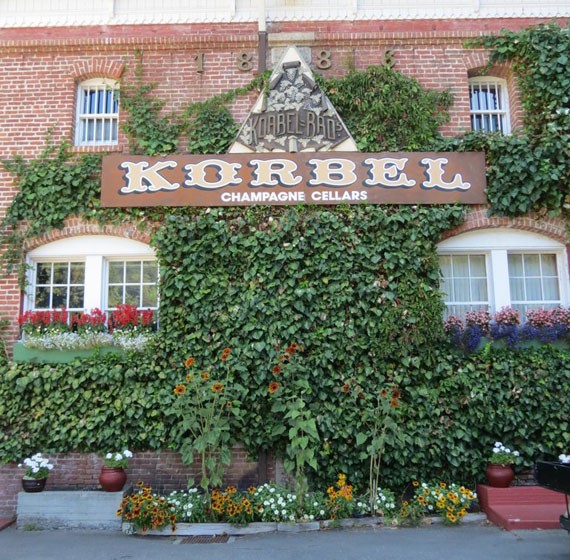 Look up early and often, and stop to listen to well …lots of nothing. There's the squawk of the occasional bird, but for the most part dead silence. Because the grove is so shady, there's little growing to offer food and shelter for animals. That said, don't forget a sweatshirt, all that shade makes for a chilly trail.
If you work up a thirst during the trip, Korbel Champagne Cellars is less then three miles down River Road. Winery tours run daily 11am to 3:45 pm. Korbel's ivy covered brick façade is striking, and the garden that surrounds it even more impressive. During summer months (mid-April through mid-October) garden tours are offered everyday but Monday.
Chances are you'll have to wait at least a few minutes before your tour, so head to the winery delicatessen for a snack or a hearty lunch. The assortment of sandwiches, salads and pizzas won't disappoint. The aroma is worth the visit.
When you start the trek home on River Road, if you should happen to decide this daytrip should turn into a weekend away, keep going with no worries. Vintners Inn is tucked away in vineyards just before 101.