At SoMa's brand new hangout known as Southside Spirit House, happy hour just got a lot happier. Now, you can roll through after work and indulge in their fresh "Spirit Hour," which is the revamped, more delicious version of their already-sweet happy hour ($1 off cocktails on weekdays from 3-7 pm).
What awaits you at the newly unveiled Spirit Hour? Think more drink specials, more music, and more of their signature snacks (seared beef sliders, deviled eggs, meat and cheese platters, yes please) and pizzas to keep you going all night long, from 11 pm to 2 am. You'll get $2 off their seasonally-driven, handcrafted cocktails and $1 off their beer and wine list, which includes cult favorites like Hitachino Nest, Stone Smoked Porter, and Charles Heidseick Brut Reserve, if you're looking to turn it into a night on the town.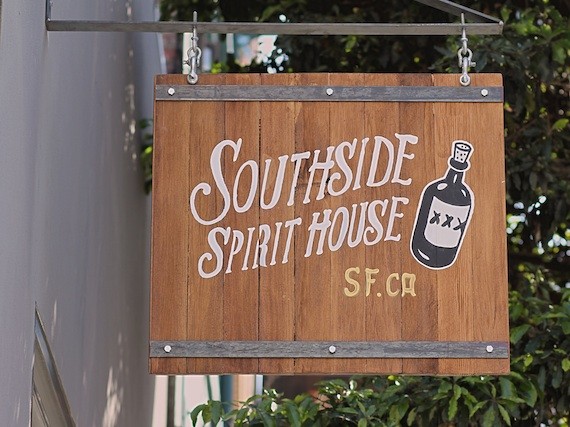 If you're just looking to get the job done, try their Gamut special: a shot of Jameson, a Hamm's, a pizza of your choice, and a shot of Fernet to wash it all down, for only $22. Don't mind if we do!
And let's not forget the ladies and gents who keep the vibe going strong until closing. On the first Thursday of every month, Sweater Funk DJs Kirk and Jon Blunk spin 70s and northern soul, while regular Thursdays mean "Shine it On 45 Club" DJs Beto, M. Ake, and Mendoza, who play strictly 45s all night to keep your spirit spinning throughout the evening. Friday finds DJ Lucy carefully curating the night with guest DJ Vinnie Esparza and Professor Brian Oblivion, and Saturdays showcase favorites from the 60s and 70s and 90s spun by some of the city's favorite DJs, including Tom Thump B Love, Boss and Friends, and Julio. 
Walk through the door, order a drink, and you'll find yourself having so much fun, you'll forget it's a school night.
Southside Spirit House, 575 Howard Street, 415-806-0075