Last night, the streets of Hayes Valley were filled with bike industry leaders, bike fashionistas, and a gaggle of Mission Cycling Club riders—all awaiting the launch of Timbuk2's latest, most local, product: The Mission Wallet.
Local bagmakers, Timbuk2, partnered with Mission Cycling Club to create this ultra-local, ultra-useful little product. The Mission Wallet is designed to answer the common cyclist's dilemma: How do you safely (and dryly) carry you cell phone and emergency credit cards and cash when riding? 
For most of us, the ziplock bag has been the answer. But Timbuk2 is hoping to class this up a bit. And they do. Their wallet is simple and low profile and lets you carry a few cards and some cash—the basic necessities. Best yet, it keeps your phone dry, even when pressed against your sweaty jersey (I rode the Headlands with it this morning). Plus, the thin plastic screen lets you use your phone without taking it out of the case, meaning you can use your GPS easily.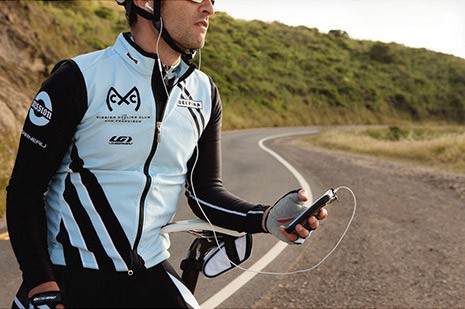 At $29 it's a bit more expensive than your plastic baggie, but it's a lot cheaper than having to replace your phone from sweat and condensation damage. The Mission Wallet is available at the Timbuk2 store in Hayes Valley and will be available at Mission Cycling Club's soon-to-open store on 21st street. Timbuk2 and Mission—talk about shopping local.