By
There were two San Francisco homecomings last Wednesday: One for the Giants, the other for Jay DeFeo, whose long overdue retrospective the Whitney Museum in New York organized but kindly allowed the artist's hometown institution, SFMOMA, to debut. Of course, one SFMOMA curator noted, were DeFeo, an avid Giants fan, still with us today, you can bet she would have skipped the exhibition opening for the parade.

Sadly, DeFeo is not with us today – she died of cancer in 1989 – and, indeed, recognition of her amazing oeuvre did not really take hold outside of Bay Area circles until after she was gone. Being a female painter in Beat-era San Francisco, she had little hope of penetrating the limelight that was focused on New York abstract expressionism, although her work certainly engaged with those boys'.

Still more criminal is the fact that, to this day, discussion of DeFeo's work typically comes second to her (admittedly riveting) personal narrative – in particular the story of brilliant obsession that is "The Rose," a monumental work on which DeFeo worked ceaselessly for eight years, and which languished behind a wall at the San Francisco Art Institute for the next twenty-five. DeFeo's name and this rather tragic behemoth would become confiningly synonymous.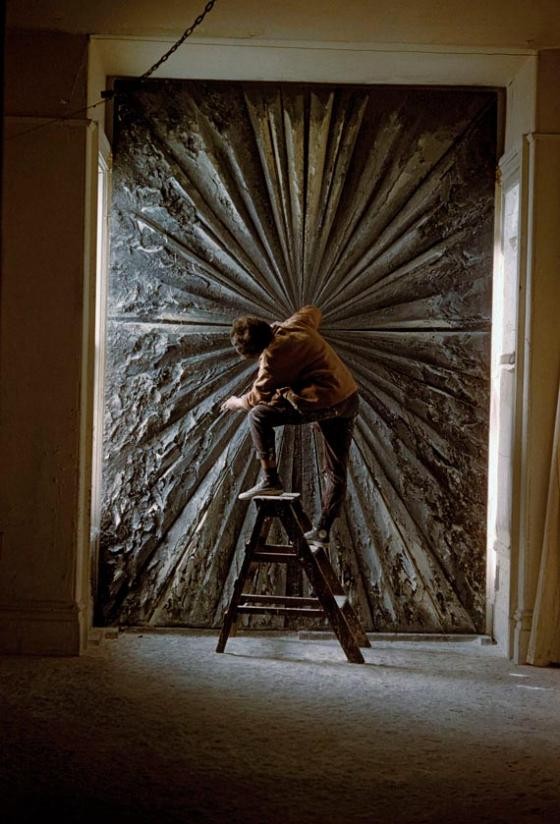 Burt Glinn, Jay DeFeo working on The Rose, 1960; © 2012 Burt Glinn/Magnum Photos
Ironically, DeFeo believed that her art, more so than her contemporaries, was best understood comprehensively. This statement is Jay DeFeo: A Retrospective's raison d'être, and it proves a compelling one.

The show begins with DeFeo's post-graduate work, which was heavily inspired by the religious symbolism and literal textures of old Europe, and from there progresses to her period of massive, abstract oil paintings-cum-sculptures, many of them (such as "The Rose") several inches thick with agglomerated pigment. Then there is a polar shift to flatness, consisting of photography, collage and gorgeously sharp, glossy acrylic paintings. Finally, DeFeo returns to oil, although with emphasis shifted from material and gravity to dynamism and form.

The progression here is almost Hegelian: a thesis, antithesis, and synthesis of sorts. This, the exhibition suggests, was hardly accidental. Unwaveringly concerned with her own artistic development, DeFeo thrust herself headlong out of her comfort zones. Take, for example, her turn to photography. The camera, she said, allowed her to see "the strength of the real, basic spatial statement, so I don't allow all the sensuousness of the paint to seduce me into thinking I've got something structurally strong when I don't." She continued to push herself in this way until the very end.
Jay DeFeo, Rear Window, 1982; mixed media on paper; 29 3/4 x 22 in. (75.6 x 55.9 cm); Private collection; © 2012 The Jay DeFeo Trust / Artists Rights Society (ARS), New York, photo: Ben Blackwell
DeFeo's synthesis of sensuousness and structure sublimates in perhaps her greatest, if not her most celebrated, work: Gorgeous paintings that somehow conjoin the material with the celestial, the everyday with the cosmic. Staring into the central apex of "The Rose" – a mesmerizingly geometric vanishing point, about which foot-thick pigment seems to crumble – one senses all of these artistic forces at work. It is only after a more comprehensive tour of DeFeo's oeuvre, however, that one is able to see "The Rose" for what it is: Not some sort of crowning masterwork, but rather a threshold to subsequent, increasingly sophisticated developments of a grand, lifelong project.

Jay DeFeo: A Retrospective thus inverts the subjugation of DeFeo's art to her personal life. Here the work is first and foremost, and if you look closely, you can see an exceptional life, motivated by an exceptional way of seeing things, unfold.

Jay DeFeo: A Retrospective runs through February 3, 2013, at SFMOMA, 151 3rd Street
DON'T MISS A BAY AREA BEAT! SUBSCRIBE TO OUR NEWSLETTER.