Bummed because you missed Bottlerock? Or did you love it and long for more? Good news! Wineries host a wide range of concerts all summer long. Here are our favorites, and the artists you can look forward to this summer:
NAPA
The Robert Mondavi Concert Series plays host to artists from Tony Bennett to O.A.R in an iconic wine country setting. The pricey (but so worth it) tickets include dinner in the vineyards, preferred seating, and copious amounts of wine. General admission means lawn seating, so come early with blankets and low-back chairs, and make yourself comfortable. Make sure to buy a bottle or two before the music starts, because lines grow long as the night goes on.
2013 artists include: Martina McBride, Lifehouse, Huey Lewis and the News, and Delta Rae.
Dates: June 29 – July 20
Tickets: $50 - $250
Long Meadow Ranch (LMR) is one of the most intimate and casual winery venues in the region. Musicians perform on a ground level stage while viewers relax on the lawn (bring a blanket), and enjoy LMR wines with gourmet cuisine from Farmstead, their restaurant. 
2013 Acts Include: Nicki Bluhm & The Gramblers, Longhorne Slim & the Law, and The Mother Hips.
Dates: June 2 – September 15
Tickets: $30 - $45 (there's even an occasional free show)

Image courtesy of Wente Vineyards. 
SONOMA
Rodney Strong Vineyards is known as much for their concerts and events as they are for their award-winning wines. While less intimate than other concert series, their events are casual yet classy, with a solid sound system (a must for any outdoors fest!), and world-renowned musicians.
2013 Artists Include: B.B. King, Michael McDonald, and Dwight Yoakam.
Dates: June 22 – September 1
Tickets: $60 - $115. Season Passes also available.
Gundlach Bundschu (GunBun) has a relatively small outdoor amphitheater that's surrounded by forest and vines. While they don't have a regular concert series, GunBun hosts events throughout the summer that often involve live music. One of particular note is the annual Huichica Music Festival (June 14 and 15), which includes twelve awesome bands, seven restaurants, and a farmer's market.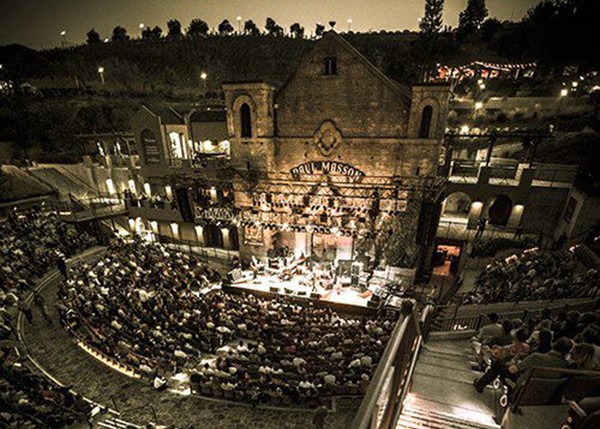 Image Courtesy of Mountain Winery
LIVERMORE and SARATOGA
Mountain Winery in Saratoga is a full-service concert venue with celebrated winery roots that extend all the way back to 1878. The concerts began in the 1950s and now include club seating, suites, premium parking, and posh dining options. The acts are diverse, world-class, and peppered with comedians.
Artists Include: Billy Idol, Bill Cosby, The Beach Boys, and Cyndi Lauper. 
Dates: May 24 - Oct 6
Tickets: $39 - $160 (season passes and packages available)
Wente Vineyards celebrates 130 years of family winemaking with one of the most prolific summer concert series in Wine Country. The concerts are well planned and executed, and while they may not be as intimate as others, the famous acts and gracious family hospitality balance the structured affair.
2013 Artists Include: Smash Mouth, Sugar Ray, The Counting Crows, The Wallflowers, Chicago, and Chris Botti.
Dates: June 26- Sept 12
Tickets: $105 - $311