Call it a superiority complex, but culture-obsessed SF has long labeled this sister city superficial—a navel-gazer that cornered the market on plastic surgery, smog, and alfresco power lunches. But in recent years, Los Angeles has grown up, cementing its reputation as a tastemaker in the arts, with major players flocking to 
the party.

In such a vast metropolis, the art scene is a study in sprawl, with little pockets thriving all over town. In West Hollywood, popular New York gallery titan Matthew Marks opened its doors earlier this year to a Peter Zellner- and Ellsworth Kelly-designed gallery that lets natural light stream in through openings in the ceiling. Now on view are never-before-exhibited sculptures made from refashioned objects by Charles Ray. While you're in the neighborhood, take in the Lawrence Weiner exhibition at Regen Projects/II through mid-June.
In Culver City, Blum & Poe has been the area's leader in contemporary art for more than 15 years. This month, look for moody paintings by Romanian artist Victor Man. It's the newcomer galleries, though, that are bolstering emerging artists. On the high end, there's Nye + Brown. Younger collectors should head to Carter & Citizen, where the work of Michelle Blade, a SFMOMA SECA Art award finalist, is on display this month. Downtown, anticipation is building for art patron Eli Broad's museum, The Broad, opening next year across the street from MOCA. The space will showcase Broad's personal collection of nearly 2,000 modern and contemporary art works by the likes of Cindy Sherman and Jeff Koons.
For museumgoers, the newest attraction at the Los Angeles County Museum of Art is Levitated Mass, an installation by Michael Heizer. The 340-ton granite megalith suspended over a 456-foot-long concrete slot on the museum's north lawn is so enormous that you can see it from the street, sans admission. On May 15, James Franco's pet art project "Rebel," with works by various artists based on themes from the 1955 James Dean film, opens at JF Chen. And now through August, fashion fiends can strut over to the Getty Center for "LA Style," a definitive retrospective on photographer Herb Ritts.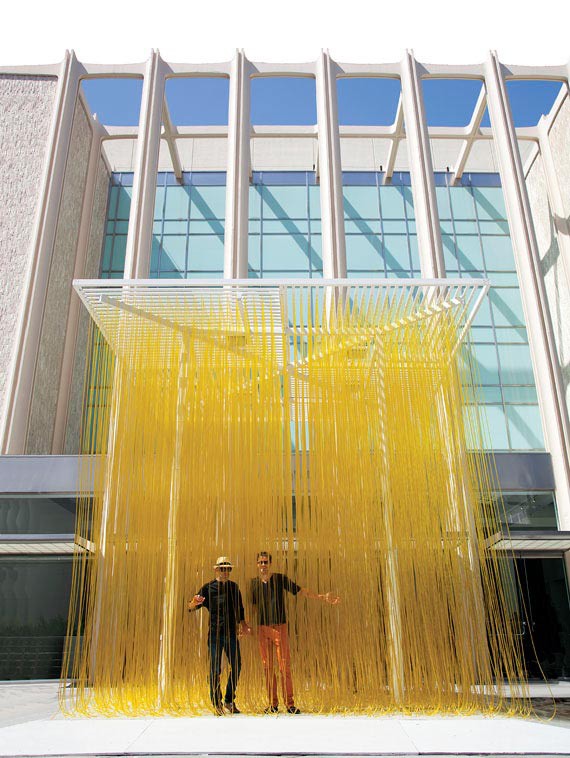 For a stay near the West Hollywood galleries, check into Palihotel (from $200), a European-style inn from Avi Brosh. Art and design lovers will appreciate fine art pieces from Brosh's personal collection, as well as global flea market curios and deconstructed closets (hangers suspended on ladders, that is). While there, shop an amazing selection of French dinnerware and home decor at Maison Midi, just a five-minute drive away, and make reservations at Son of a Gun, the seafood-centric second restaurant from chefs Jon Shook and Vinny Dotolo of LA's acclaimed "dude food" destination Animal.
If the installation at LACMA is at the top your list, book a room at the seven-story Hotel Wilshire (from $199), which lures posh business travelers with its slick residences, rooftop pool, and a panoramic vista of the Hollywood Hills. If you can pull yourself away, go one mile down the road to Ace Gallery, or drive five minutes to the DAP Art Books boutique inside Opening Ceremony, where you'll also find 10,000 square feet of designer fashion from Acne, Topshop, Band of Outsiders, and Opening Ceremony's private clothing label. For dinner, Short Order is a retro-tastic gourmand burger joint created by Chef Nancy Silverton (Osteria and Pizzeria Mozza, La Brea Bakery) and Amy Pressman, the founder of Pasadena's Old Town Bakery. Then, come home and tell your culture-vulture friends that the arts really are thriving in LA.
This article was published in 7x7's May issue. Click here to subscribe.