Summer's still hanging on, and although our gloomy San Francisco weather wouldn't show it, that means summer fruits are still in season. We're specifically talking all those plump, juicy melons that are crowding farmers markets, and bursting with color and flavor. It may be chilly, but try one of these summery dishes and you can almost picture yourself sunbathing at the beach:
Locanda (pictured above)
Locanda knows that when you find a good thing, why mess with it? Prosciutto and melon are a flavor combination that wins every time, so they pair sweet, ripe Zatta melons with salty La Quercia prosciutto for an appetizer that satisfies.
Known for its beautifully crafted housemade pastas and Neapolitan style pizza, Flour + Water is the place for a carb fest. But don't overlook their antipasti menu to start off your meal. This season, they're serving a marinated halibut with melon, poppy seed, cucumber, and caper-shallot relish. The salty fish paired with sweet, ripe melon is the perfect flavor combination to whet your palate.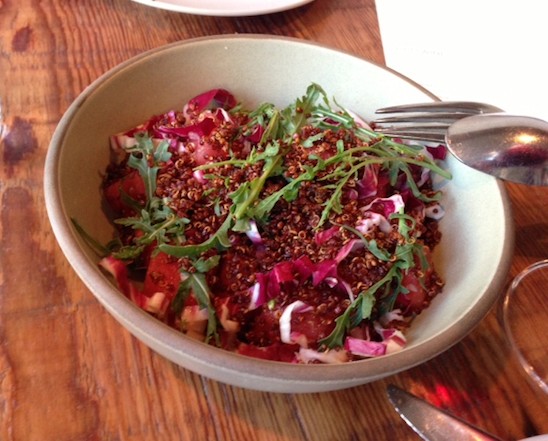 photo by Foodie Fool
Rich Table's unique flavor combinations never leave us disappointed. For a taste of summer, try the watermelon, arugula, and quinoa salad. Light and refreshing, this lemony mixture has the crunch of fried quinoa and the sweetness from the chamomile-dressed watermelon. 
Touted as the best Moroccan restaurant in the city by Michael Bauer, Aziza offers traditional Moroccan dishes with local, seasonal influences. This season, they're making a fruity, herby appetizer of melon with celtuce (a thick-stemmed lettuce), shiso, and tomato.
Union Square's premier seafood restaurant serves up more than just sinfully delicious oysters. Their Sharlyn and Ambrosia melon salad with duck prosciutto, verbena granite, and mission fig coulis is a decadent interpretation of a simple fruit salad.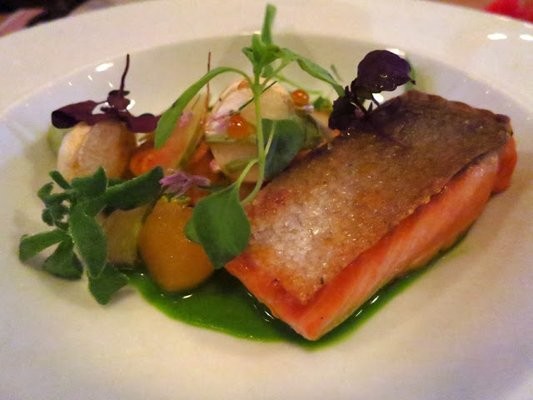 photo by Yelp user Regina C.
AQ's simple, seasonal-driven menu highlights fresh and local ingredients.  With every changing season comes a new menu, and this summer, it's characterized by ripe fruits, seafood, and bright vegetables. Their wild Pacific salmon, served with melons, truffle, white soy, and young turnips, is the perfect blend of summer flavors. 
Summer gazpachos are all the rage, but Cotogna takes a fruity twist with their Full Belly Farm melon gazpacho. This cool, summery soup is perfectly refreshing for the hot or cold days of San Francisco summer.