No one likes long layovers. But if you're subject to a long layover, LAX isn't a bad place to be. Nearby Manhattan Beach is a great place to spend a few hours or the evening, if you've got the time.
Getting there is easy and inexpensive if you use the Ocean Express. The bright red trolley is hard to miss as it circles its route near LAX. It has half a dozen stops on Century Boulevard all within walking distance from airport area hotels. Just $5 buys you a roundtrip ticket to Manhattan Beach.
The trolley drops you in prime Manhattan Beach shopping territory. If you've got room in your bags, go for it. Otherwise, keep moving and make a bee-line for the beach.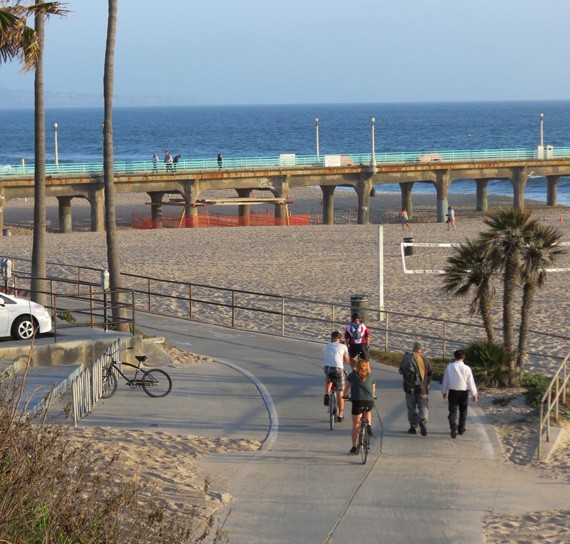 Manhattan Beach has a 928-foot-long pier at the end of Manhattan Beach Boulevard. The pier is popular with joggers, fisherman and families. Take a stroll out to the end and visit the Roundhouse Marine Studies Lab and Aquarium. At first glance it may look closed, but the entrance is actually on the left side of the building. Look for the big shark to guide the way. This quaint, tiny aquarium is a perfect for kids or anyone out wandering on a nice day.
On either side you're almost guaranteed to see surfers and volleyball players. Fishing is also a popular pastime.
The Strand path and bikeway is always a busy place. Bikers, joggers, kids and dogs are common sights. It's a great place to walk and drool over the amazing beachfront homes.
When you get hungry, head straight for North End Caffe. The phone number makes it clear what to expect, 310-546-GRUB. Grab a seat outside the small, family owned restaurant, but make sure to pop inside to read the special board and check out the guys making it happen in the kitchen. The Kahlua Pig Monte Cristo Egg Rolls are a must order, and after listening to a regular go on about the warm brownie sundae, I gave in. There's also a children's menu.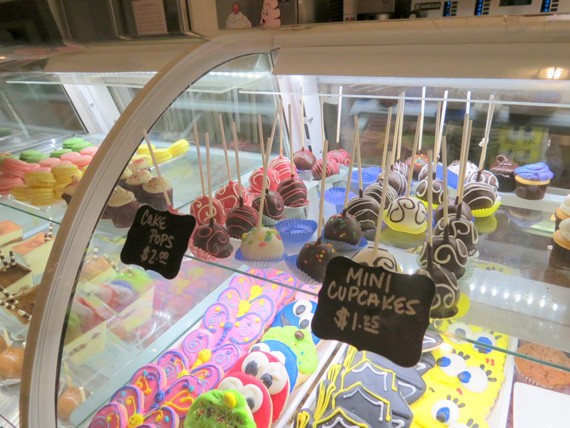 After dinner, expect to be on the move again, Manhattan Beach keeps going after dark. If you didn't indulge at dinner, The Manhattan Beach Creamery might finally push you over the edge. All of the ice creams, cookies and specialty desserts are hand made in small batches. It offers the perfect pick-me-up for any kids or kids at heart.
If you're staying the night, there are plenty of options in town or surrounding LAX if you're trying to catch an early morning flight. I landed at the Four Points by Sheraton Los Angeles International Airport. It was comfortable and so convenient, I even managed to squeeze in a workout before boarding my flight.