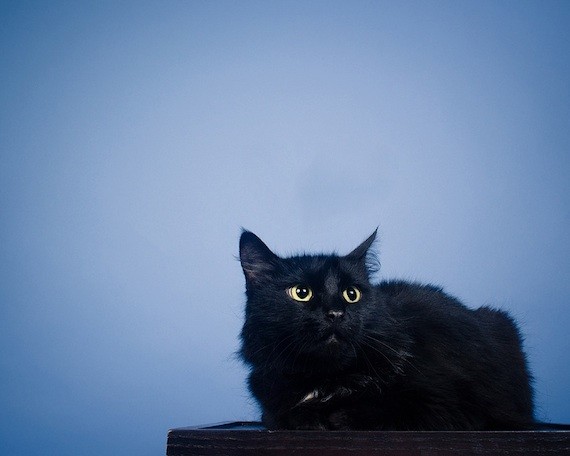 Anyone who reads 7x7.com on the regular knows how much we love animals. Welcome to our new series "Meet Your New Best Friend," with the support of the animal lovers at K9 Scrub Club. It's a weekly chance for you to find your star-crossed furry friend and learn about different animal rescue agencies while you're at it.
We're returning to the great people who run Loup Garou Rescue, who're dedicated to the rescue of black and dark colored companion animals from shelters where they are disproportionately euthanized for their color. Today, Jazzy (doggie) and Terra (kitty) want to meet you! Read their backstories below and get in touch with Loup Garou Rescue by emailing them at jenn@lgrescue.org ASAP to adopt one or both of these delightful animal friends who need homes.
Jazzy's approximate birthday is May 2012, so she is still a silly playful puppet.  We believe she is a Dachshund mix, and maybe part of the mix is Labrador, because is she ever terrific at fetch!  She LOVES to chase the ball and bring it back to be thrown again!  She will retrieve until you stop throwing, and even after, she will carry the ball around in her mouth!  Jazzy weighs approximately 12 lbs., is spayed, has all of her shots and is microchipped.  All she needs now is her forever family! 

Terra is a sweet four-year-old medium haired cat. Her shelter card was marked "obese" but we think she is just a large build kitty.  She weighs approximately 12 lbs, and is a total lap cat. Her favorite thing in the whole world is chin scratches….she will sit still for them for hours! If she even has an inkling that you are about to pet her, she begins to purr. Terra is shy at first…she's an observer. She gets along other cats, mostly ignoring them.  She'd be fine in a home with other cats or by herself. Her energy level is fairly low…she's a mellow girl! If you are interested in a lap lounger, Terra is it! 
Photography by Ruffles Art Studio
This post is sponsored by K9 Scrub Club, located in Noe Valley.  A premium dog wash & specialty store like no other!