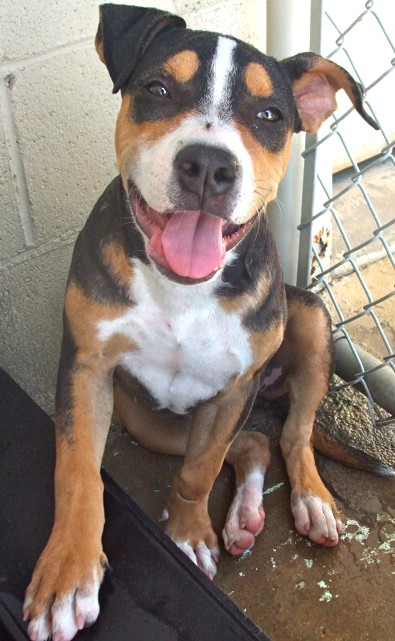 ---
Anyone who reads 7x7.com on the regular knows how much we love animals. Welcome to our new series "Meet Your New Best Friend," with the support of the animal lovers at K9 Scrub Club. It's a weekly chance for you to find your star-crossed furry friend and learn about different animal rescue agencies while you're at it.
This week, we're working with Copper's Dream Rescue. They work tirelessly to increase public awareness about animal shelters, take legal action that will benefit shelter animals, and rescue dogs scheduled for euthanasia by placing them in permanent and loving homes. Meet little Ernest (top) and Holly (bottom). Read their backstories below and get in touch with Copper's Dream Rescue by emailing jennifer@coppersdream.org or jill@coppersdream.org ASAP to adopt one or both of these delightful pups!
ERNEST
Adorable and friendly 6-8 month old male terrier mix puppy we rescued from Stockton. His foster says "he's an awesome, charming, sweet sweet little guy."
Friendly with everyone he's met.
Loves people and dogs big and small!
Dog in his foster home has 40 lbs on him and he loves her. Started playing right away together.
Slept through the night in his crate, some whining at first.
Not fully house trained yet, but getting there.
Loves checking himself out in anything reflective. No barking, just admiring himself!
Learning "sit" quickly, getting better with "no."
Huge snuggler, loves to be on your lap and will fall asleep there while you watch TV.
Could stand to put on some weight.
Left front foot might have been injured at some point and didn't heal properly – doesn't let it bother him though.
His adoption fee is $300, which includes his neuter and current vaccinations.
HOLLY


Holly is a 7-month old mix we rescued from Chowchilla. She's a beautiful short-haired girl.
Has done well at dog parks with big and small dogs alike.
Her adoption fee is $300, which includes her neuter and current vaccinations. 
Check out this video of Holly (fast-forward to the 1:55 minute mark):
This post is sponsored by K9 Scrub Club, located in Noe Valley.  A premium dog wash & specialty store like no other!