By
Naoya Hatakeyama produces austere, almost impossibly beautiful photographs of landscapes that have been touched by human industry: Remote snow capped mountains studded with observation decks, massive limestone quarries, colossal heaps of slag (a mineral mining byproduct). In these stark works, well over one hundred of which are now on view at SFMOMA, marking the artist's first solo exhibition in the U.S., Hatakeyama manages to coolly capture those moments of humbling, fall-to-your-knees awe that mother nature is known to produce. Gasps could be heard throughout the galleries.

Hatakeyama's work immediately invites comparison to 19th century Romanticism, but the Impressionist tradition might actually be a more suitable place to locate the artist. His crisp prints are technically a far cry from the signature brushstrokes of Caillebotte or Monet, but in subject matter the artists are much alike. The impressionists took great interest in how then-new industrial technologies had come to bear on natural landscapes. One hundred and fifty years later, Hatakeyama returns to the question with arresting clarity and drive.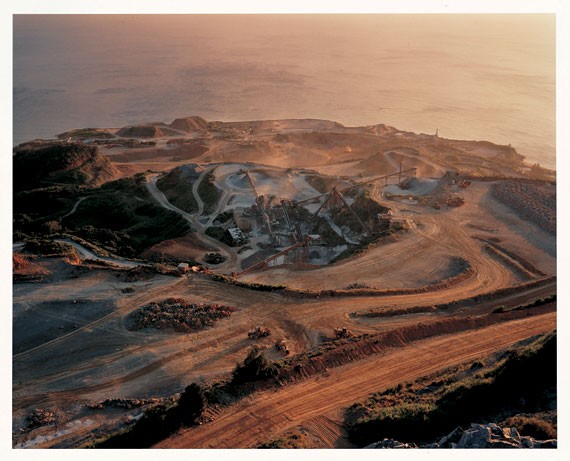 Naoya Hatakeyama, Lime Hills #23514, 1988; chromogenic print; 11 13/16 in. x 14 15/16 in. (30 cm x 38 cm); Tokyo Metropolitan Museum of Photography; © Naoya Hatakeyama, courtesy Taka Ishii Gallery

We may find a grand narrative of human civilization, Hatakeyama suggests, in the life of a hunk of limestone. Blasted from a cliff or dug from a quarry, then transported great distances and finally processed into cement or brick, the hunk ultimately comes to provide structural support for a skyscraper in the teeming, vertical metropolis of Tokyo. Hatakeyama's breathtaking aerial shots reveal this city to be, as the artist puts it, but a negative image of the quarry to which it owes its material.

Midway through the exhibition, Hatakeyama's epic narrative takes a tragic turn. The artist's hometown, the Japanese seaside community of Rikuzentakata, bore the brunt of 2011's 9.0 earthquake and tsunami. In an unflinching set of almost forty photographs, the artist returns to his birthplace to document the devastation: tracks of homes utterly leveled – reduced to heaps of splintered wood and automobile skeletons. In the exhibition's only sentimental move, a digital projector cycles through photographs of the idyllic-looking town from before the disaster. In one slide, Hatakeyama's partner stands contemplatively in shallow water. The before/after juxtaposition is sobering, to say the least.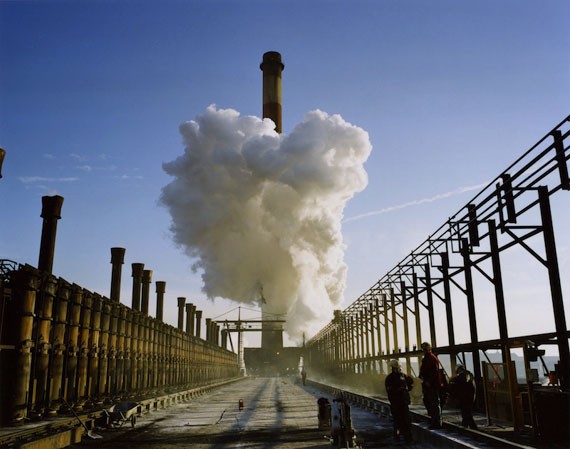 Naoya Hatakeyama, Sollac Méditerranée, Fos-sur-Mer, #12404, from the series Atmos, 2003; chromogenic print; 27 9/16 in. x 35 7/16 in. (70 cm x 90 cm).; Courtesy the artist; © Naoya Hatakeyama, courtesy Taka Ishii Gallery

While the media focused on Japan's resulting nuclear disaster, a human technological failure, Hatakeyama's photographs fixate on something perhaps more unsettling: the capriciousness of nature itself. For all we do to manipulate and control the natural world, Hatakeyama suggests, an element of randomness or uncertainty will always exist in our relationship. In spite of our progress, we may any time find ourselves subject to an ancient, primordial wrath. The impressive cities – our negative images of the earth – captured in the previous gallery begin to look mighty delicate.

Natural Stories declines to end on this mournful note. To the contrary, the exhibition leaves Hatakeyama's most thrilling, technically astonishing photographs for last.

In his Blast series, Hatakeyama captures the dynamite blasting of limestone cliffs, getting his high-speed, motor-driven camera as close as reasonably possible to ground zero.  A series of seventeen 4x6 photos document one such event. Five large-scale panels show another. In yet another set, the artist photographs the demolition of a large structure, literally capturing the building in the split second after its foundation was dynamited but before the rest hit the ground. Its inward collapse imminent, the building actually wobbles in mid air. Natural Stories suggests that there is hope to be found in this awesome, explosive violence. In spite of disasters past, civilization continues to blast its way forward.

Natural Stories runs through November 4 at SFMOMA, 151 3rd Street
DON'T MISS A BAY AREA BEAT! SUBSCRIBE TO OUR NEWSLETTER.