Wineries are now offering off-road vineyard tours for adventurous wine (and nature) lovers that'll take you through the vineyards, into the hills, and past historic landmarks. Some tours feature tastings in the great outdoors, while others focus on sustainable farming. But they're all paired with top-notch wines, local cuisine, and VIP treatment.
The Terraces at Quarry Vineyards tour takes you, and up to four others, on a four-wheel-drive journey of their 120-acre ranch in Rutherford. The trip includes a barrel tasting at their historic 1885 stone winery, and stops at the vineyard's 19th Century rock quarry. This tour also showcases their sustainable farming practices, which incorporate six bee colonies, over a hundred fruit trees, vegetable gardens, and a mobile chicken coop. Most grapes from Quarry Vineyards are sold to cream-of-the-crop wineries–meaning what they produce is top-notch. They specialize in Cabernet and make Petite Sirah, Chardonnay, Chenin Blanc, Riesling, Tempranillo and even traditional Balsamic Vinegar.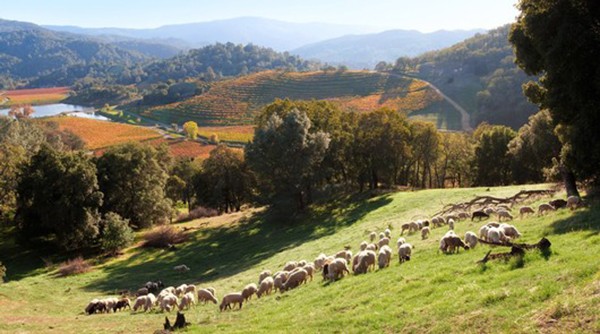 Image Courtesy of Somerston Wine Co. 
Somerston Wine Co. Vineyards are off the beaten path, but well worth the journey. Upon arrival, you'll tour the winery and then jump into an oversized quad and shimmy up the mountain. Famed for their sustainable farming practices (you'll see barns, sheep, vineyards, and ponds on the tour) and wide range of wines, Somerston has plenty to show off, and will tailor the experience to your group.
Heibel Ranch is small, family owned, and about as personal an experience as you'll find in Napa Valley. Owner and winemaker Trent Ghiringhelli will take your group and his pup on a bumpy ride across a creek, through the vineyards, and to a lakeside picnic table. Here you'll enjoy tasty, local snacks and wines from the vines that surround you. Trent is a Napa native, and an especially down-to-earth guy. By the end of the day you'll have a friend in the wine industry and exposure to a side of Napa Valley few have seen.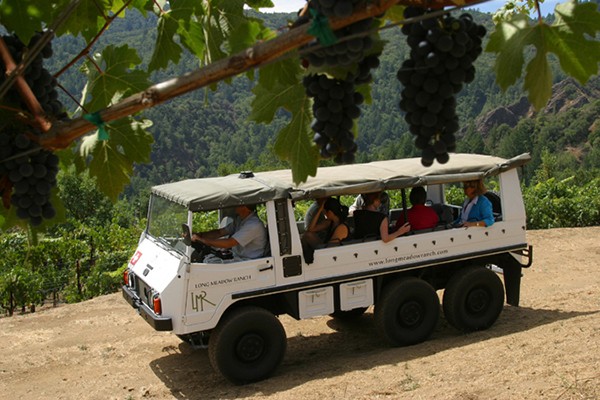 Long Meadow Ranch has the off-road experience down pat. Their renowned "Napa Valley Dream" experience begins at in St. Helena, with fresh coffee, fruit and pastries. From there, you'll board their 4x4 and head to the home ranch, located high above Napa Valley in the Mayacamas Mountains. Walk the ranch, learn about organically farmed vineyards and orchards, and take in the expansive view. Next, you'll hit the winery and visit the wine cave and frantoio–one of the few traditional olive oil mills in Napa County. The tour ends with a seasonally inspired, farm-to-table lunch prepared at their restaurant, Farmstead, with wine and extra virgin olive oil pairings.