Everyone's heard of the House of Chanel," says the energetic Malaysian-born-and-raised tastemaker Jiun Ho, who aimed to evoke that personal feeling at his new SoMa gallery, Jiun Ho de Jia. Chinese for the House of Jiun Ho, the space is a testament to the designer's emphasis on the role of home and honors the Asian tradition of hospitality by offering a multisensory experience for guests.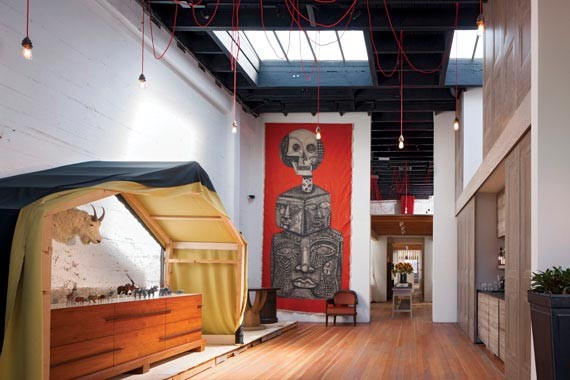 An 18-foot tribal tapestry created by SF street artist Zio Ziegler adds drama to the gallery's back showroom, which includes a well-stocked bar and custom lighting designed by Ho.
The former 1920s factory on Folsom Street was reimagined with gusto to house Ho's namesake furniture line, a collection of international art, a fully equipped kitchen, and even a well-stocked bar. Carpeting was torn out to uncover the original wood floors, drywall was removed to reveal poured concrete walls, and a claustrophobic second floor was leveled to expose ceiling beams. "I find beauty in the nicks and scrapes of the past," says Ho. "I wanted to celebrate the building's history, not hide it." The loft-like space now mixes a raw urban sensibility with elegant refinement. An asymmetrical tailored sofa and rough-hewn lounge chair from the designer's latest collection rest on shipping pallets, while Sandra Jordan's luxurious alpaca fabrics hang next to graphic 18-foot tapestries by street artist Zio Ziegler.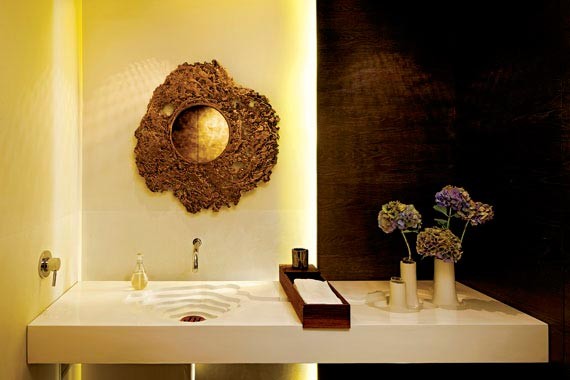 The modern bathroom includes a molten bronze mirror and custom sink made from cast resin to mimic the topography of San Francisco. The brass initials "JH" serve as the drain cover.
An interior designer who arrived here in 1997 to work for the international hospitality firm Bent Severin & Associates, Ho has traversed the globe in search of inspiration for hotels and restaurants. Not surprisingly, he has developed an enduring love of travel—upon celebrating his 40th birthday this year, Ho reached his longtime goal of visiting more than 100 countries.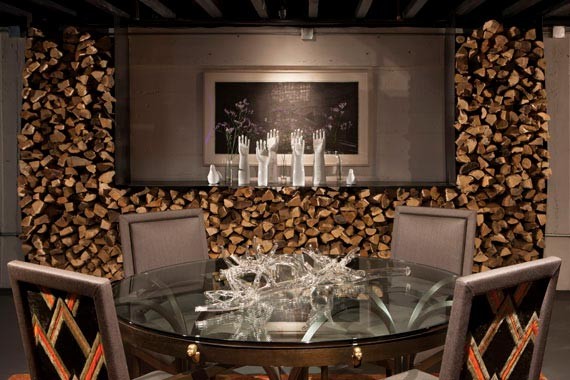 The basement level at Jiun Ho de Jia evokes the feel of a moody Parisian lounge. Ho's Chenonceaux Table (embedded with ornamental Louis XVI heads) fronts a wall of stacked logs and a collection of white ceramic glove molds.
Along the way, he has expanded his professional repertoire to include lighting and photography, and these skills have informed his furniture designs. His latest offering, the Jiun Ho IV Collection, composed of 13 pieces now on display in the gallery's front showroom, echoes traces of South America—the salt flats of Bolivia and the ruins of Machu Picchu. It seems the more time Ho spends away from home, the more his gallery becomes an exhibit of the world.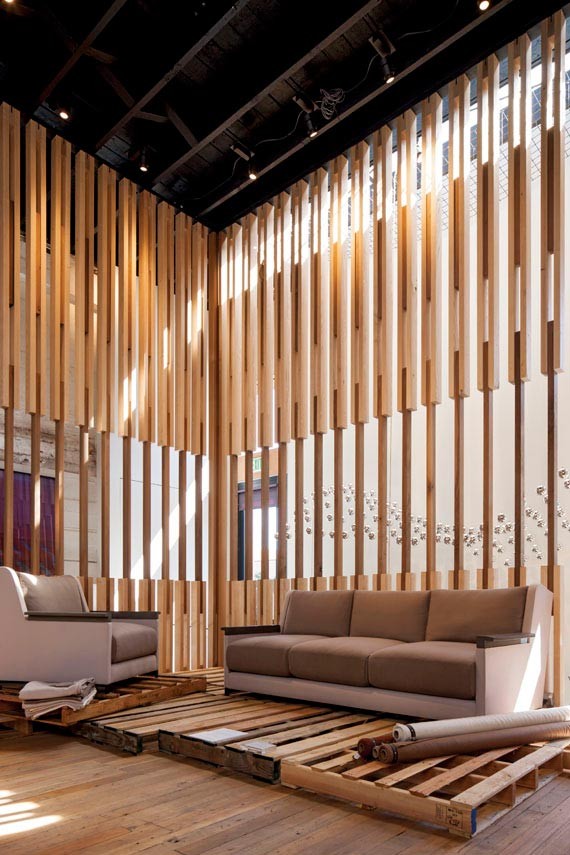 Floor-to-ceiling wood beams create a more intimate alcove to display the oak-and-carbon-finished Puno sofa and chair from the new Jiun Ho IV Collection. The Sandra Jordan alpaca-covered pieces rest on shipping pallets.
This article was published in 7x7's November issue. Click here to subscribe.