By
Fall is officially here. Here's how to make the most of your October.
ART + EXHIBITS
Oct. 6-16: The Mill Valley Film Festival, Mill Valley
The California Film Institute presents the 39th Mill Valley Film Festival this month. The 11-day event will feature film screenings by local and international filmmakers, panel discussions and live musical performances. Some of this year's highlights include 20th Century Women (Elle Fanning, Greta Gerwig), American Pastoral (an adaption of the Pulitzer-winning Philip Roth novel), and tributes to Nicole Kidman and Julie Dash. General admission tickets are $15. // MVFF: October 6–16, various locations (Mill Valley, Larkspur, and San Rafael), mvff.com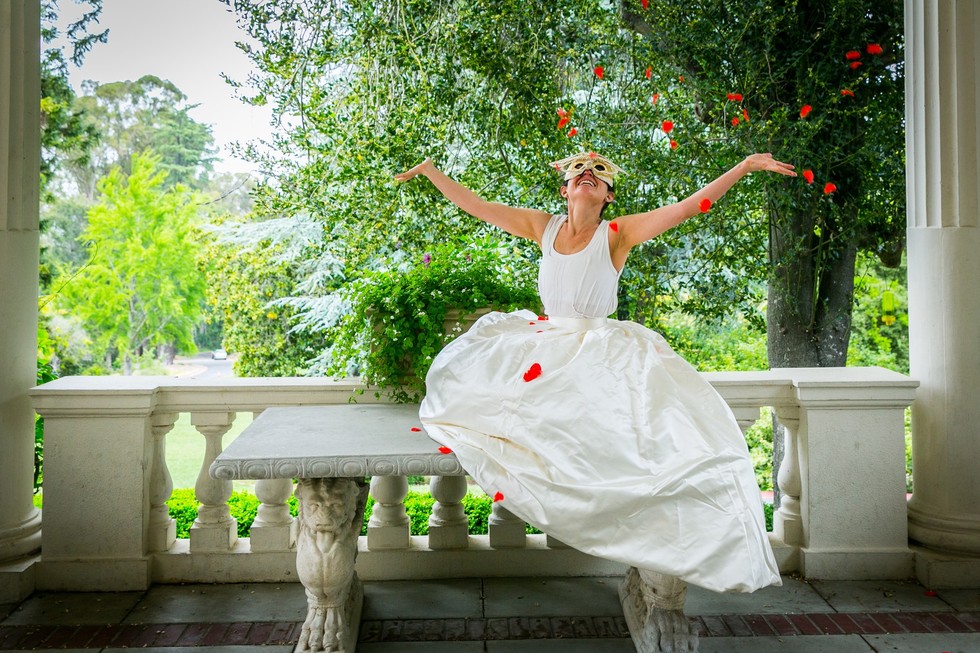 Maria Leigh as Juliet - masked for the ball, at which she meets Romeo.(Tina Case)
Oct. 6-16: Romeo & Juliet at Villa Montalvo, Villa Montalvo
Immerse yourself in the ultimate story of romance—the Montalvo Arts Center and We Players presents a one-of-a-kind interactive theater experience in the historic Villa Montalvo, a Gatsby-esque mansion located in Saratoga. Instead of sitting back and relaxing, audience members will be on their feet, moving through the villa and following the actors through every action—from sword fighting on the lawn, to dancing in the ballroom, to romancing Juliet at the balcony. // Romeo & Juliet: Oct. 6–16 at Montalvo Arts Center, 15400 Montalvo Rd. (Saratoga), montalvoarts.org
Oct. 7: ArtlyOwl Pop-Up Art Show and Launch Celebration, North Beach
Take a stroll on "Terrific Street" in North Beach for the opening of a pop-up show featuring the works of 16 SF-based painters and street artists. Organized by art start-up ArtlyOwl, the show aims to create a more accessible gallery space for talented artists just getting off the ground and will run until the end of the month. // Artly Owl Pop-Up Art Show: Oct. 7 through Oct. 28, 1534 Grant Ave. (North Beach), artlyowl.com

Oct. 7-9: Alameda International Film Festival, Alameda
Kicking off the first weekend of October, the Alameda International Film Festival (AIFF) is bringing cutting-edge, independent films to the Bay Area. The festival will feature short films and feature films made by both local and international filmmakers. Screenings and Q&A sessions with directors will take place at the Pacific Pinball Museum and The Crystal Room at the Alameda Hotel. Advance tickets are being sold at $8, and can also be purchased for $12 at the door. // Alameda International Film Festival: Oct. 7–9 at Pacific Pinball Museum, 1510 Webster St. (Alameda), alamedafilmfest.com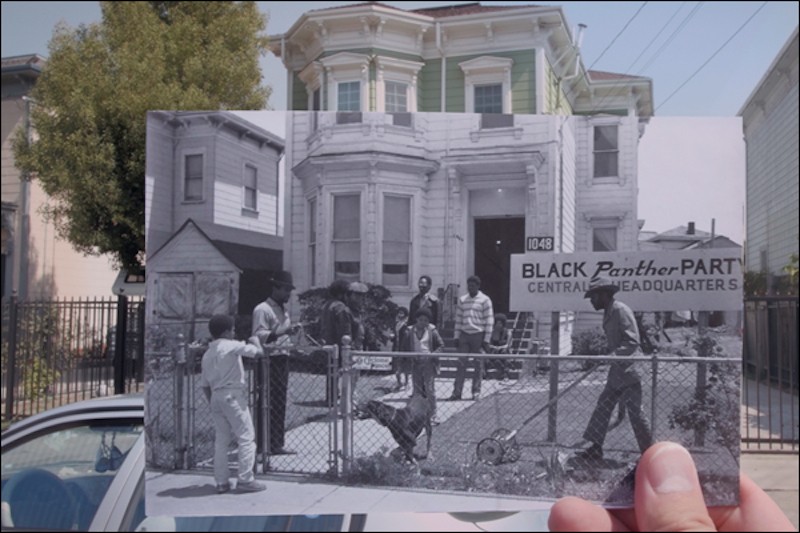 (Courtesy of OMCA)
Oct. 8–Feb. 12: All Power to the People, OMCA
On the 50th anniversary of the founding of The Black Panthers, the exhibition All Power to the People provides a contemporary view of the Party and its aims to serve oppressed people and fight injustice. Rare historical artifacts, never-before-seen photographs, first-person accounts from former Panthers, scholars, and community members, and contemporary art show how the Party continues to influence culture and activism locally, nationally, and internationally. // All Power to the People: Oct. 8–Feb. 12 at OMCA, 1000 Oak St. (Oakland), museumca.org
Oct. 8 - Nov. 12: Songs for Women Living with War, Pro Arts Gallery

Curated by artist Johanna Poethig, Songs for Women Living with War is an exhibition dedicated to commemorating the women who suffered in times of war and are often forgotten. The exhibit, and accompanying workshops and discussions, are intended as a living memorial and anti-war monument. Exhibiting artists include Eliza Barrios, Binh Danh, Lola Remedios Felias, Kija Lucas and many more. // Songs for Women Living with War: Oct. 8 - Nov. 12 at Pro Arts, 150 Frank H. Ogawa Plaza (Oakland), proartsgallery.org
Oct. 8—Dec. 31: XXc ICONS of PHOTOGRAPHY and Pairings, Sonoma Valley Museum of Art

The Sonoma Valley Museum of Art is introducing two new exhibitions to the museum this fall. XXc ICONS of PHOTOGRAPHY is a compilation of masterworks from private collections of the world's best portraiture, landscape, photojournalism, abstraction and fashion photography. Pairings: 16 Artists Creatively Combined is a collection of contemporary paintings, sculptures, drawings, photography, and videography focused on harmonious combinations of artworks. // XXc ICONS of PHOTOGRAPHY: Oct. 8—Dec. 31 at Sonoma Valley Museum of Art, 551 Broadway (Sonoma), svma.org
Oct. 8: The Big Draw, Walt Disney Family Museum
Experience drawing and storytelling in a whole new way way at The Big Draw, with drop-in activities, performances and ticketed workshops for the whole family. Known as the world's largest drawing festival, 2016's theme is "STEAM Powered"—a celebration of the integration of science, technology, engineering, art, and math in the field of animation. // The Big Draw: Oct. 8 at the Walt Disney Family Museum, 104 Montgomery St. (Presidio), thebigdraw.org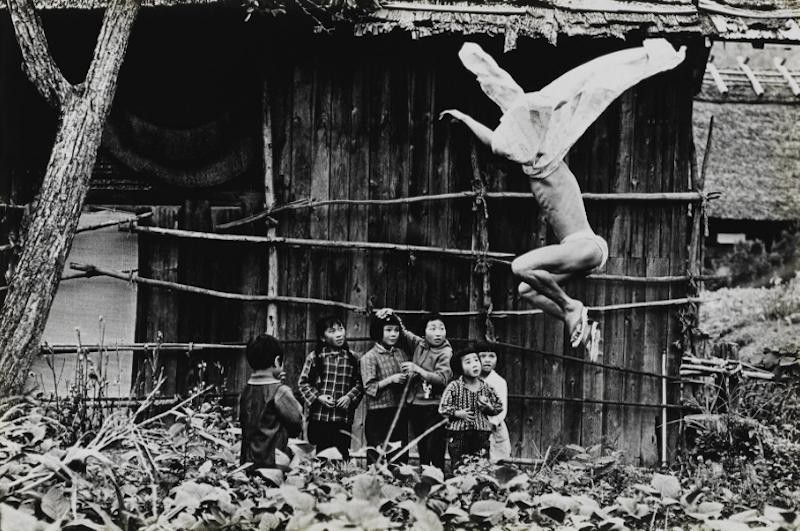 Eikoh Hosoe, Kamaitachi #17, 1965(Collection of the Sack Photographic Trust)
Oct. 15: Japanese Photography Exhibition, SFMOMA
Beginning in mid-October and staying through mid-March, the "Japanese Photography from Postwar to Now" exhibition at SFMOMA features 200 photographs in various forms—from daguerreotypes to chromogenic prints to photomontage. The photographs presented will range from the 1960s to today, touching topics of Americanization, industrial growth, the Fukushima nuclear disaster, and more. // Japanese Photography from Postwar to Now: Oct. 15—Mar. 12 at SFMOMA, 151 Third St. (SoMa), sfmoma.org
Oct. 15: Wayne Levin Underwater Photograph Exhibit, Mumm Napa winery
The Mumm Napa winery's Fine Art Photography gallery presents "Through a Liquid Mirror," featuring the striking underwater photographs of Wayne Levin, who has been capturing photos from the depths of the ocean since the early 1970s. The artist himself will be in attendance at the exhibit's opening reception, which is open to public, on Oct. 15. // Through a Liquid Mirror opening reception: Oct. 15 at Mumm Napa Winery, 8445 Silverado Trail (Napa), mummnapa.com
Oct. 15-16: SF Trolley Dances, San Francisco
Hop on board the SF Trolley Dances and celebrate the city from the Castro to the Financial District, while enjoying seven site-specific performances by various famous dance and theatre companies along the way. // SF Trolley Dances: Oct. 15–16 at the Eureka Valley/Harvey Milk Memorial Branch Library, 1 Jose Sarria Court (Castro), epiphanydance.org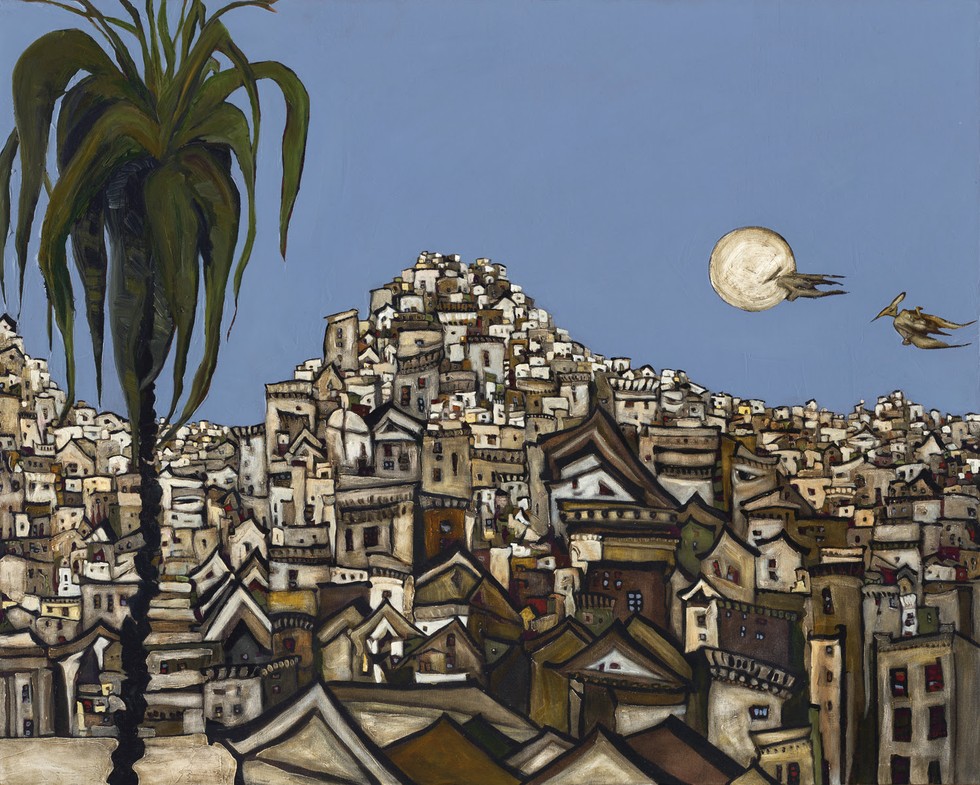 Once Upon a Lavender Moon by Lynn Rubenzer (Courtesy of Open Studios)
Oct. 15-16: Weekend 1 of SF Open Studios, Hunters Point
This weekend marks the first of the four-weekend SF Open Studios season, and features Hunters Point Shipyard and Islais Creek Studios. SF Open Studios is the oldest and largest open studios program in the country, and showcases established San Francisco artists in their studios every year while inviting all to explore the city and connect with the art community. // SF Open Studios 2016: Oct. 15—Nov. 6 at various locations (Hunter's Point), artspan.org
Oct. 17-20: Interviews with Ralph Nader
Ralph Nader, consumer advocate and former presidential candidate, will be in the Bay Area for a week of events, visiting Berkeley on Oct. 17, North Beach on Oct. 18, Corte Madera on Oct. 19, and Santa Cruz and Palo Alto on Oct. 20. The interviews will focus on his recently-released book Breaking Through Power, which highlights success stories of Americans who work together to derail moneyed interests manipulating our quality of life. // Various dates and locations, brownpapertickets.com
Oct. 20: Invasion of the Body Snatchers, Tenderloin Museum
Join the Tenderloin Museum for Invasion of the Body Snatchers on Oct 20, and Snatchers Body the of Invasion on November 3. The first is the classic film from 1978, and the second is that film meticulously edited shot-by-shot in reverse order by artist Anne McGuire. See the original first, and then come back for a more hopefully version where soul-less clones are gradually replaced by humans. Plus, Anne McGuire will attend in person on November 3rd! // Invasion of the Body Snatchers: $5, Oct. 20, 7pm at 398 Eddy Street (Tenderloin), eventbrite.com
Oct. 20-23: Alexander Valley Film Festival
The Second Annual Alexander Valley Film Festival presents four days of screenings, industry panels, opening and closing night parties, awards ceremonies, and more. This year, there are also two dedicated programming tracks: Spanish Language, including the mind-bending Mexican film, The Incident, and LGBT, highlighted by the Closing Night film Finding Kim, a remarkable documentary on self-discovery and gender reassignment. // AVFF: Oct. 20-23, various locations (Healdsburg, Geyserville and Cloverdale), avfilmsociety.org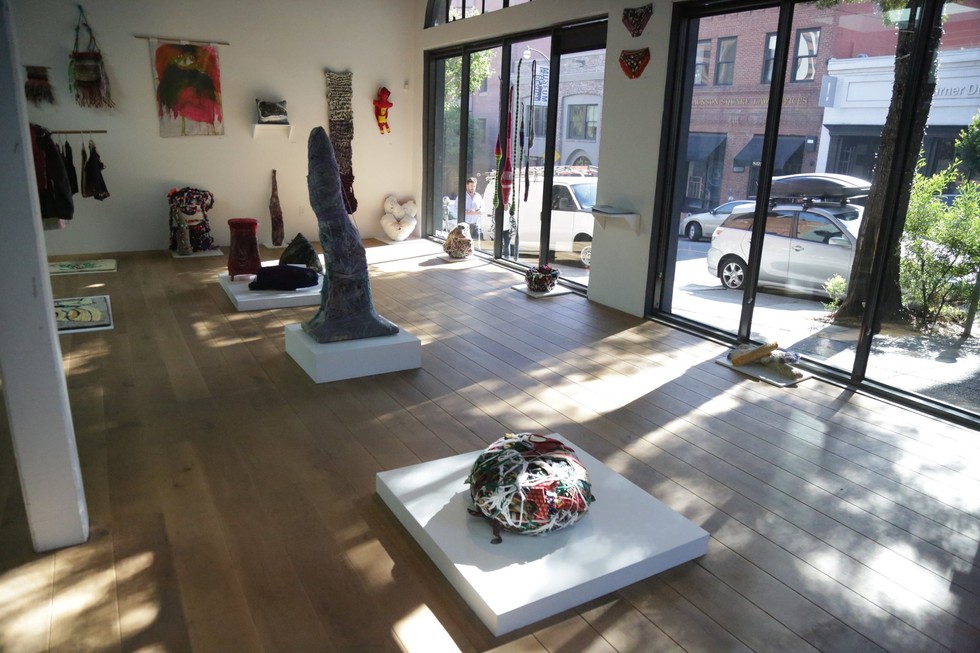 (Courtesy of @836M)
Oct. 24: Large Drawings, 836M
The second installation of 836M's project with Creative Growth launches Oct. 24 with its "Large Drawings" exhibition - featuring work from Dan Miller, the first artist with autism to have work purchased by the Museum of Modern Art. Creative Growth is known for its work in representing artists with developmental, mental or physical disabilities and crosses the bay from Oakland to San Francisco for its four-month series at 836M. // "Large Drawings," Oct. 24 through Dec. 6 at 836M, 936 Montgomery St. (Financial District), 836m.org
PARTIES + FESTIVALS
Oct. 9: Out & About Street Festival, Rockridge
Rock out to live music, devour food and drinks, and participate in family-friendly festivities at the Rockridge Out & About Street Festival all day on Oct. 9. The celebration includes performances by youth choruses, a circus troupe and more. The Picnic with Market Hall will feature delicious food, activities, and tastings from Market Hall merchants as well as a cookbook exchange. // Out & About Street Festival: Oct. 9 on College Avenue between Alcatraz and Manila (Oakland), rockridgeoutandabout.com
Oct. 15: Oyster Oyster Block Party, Jack London Square
Drag your friends out of their shells and join Jack London Square for an oyster-powered block party right on Oakland's waterfront. Fresh oysters, craft beers and local artisans will all be featured as well as a variety of oyster dishes from Oakland's eateries. // Oyster Oyster Block Party: Oct. 15 at Jack London Square, 48 Water St. (Oakland), oysteroyster.party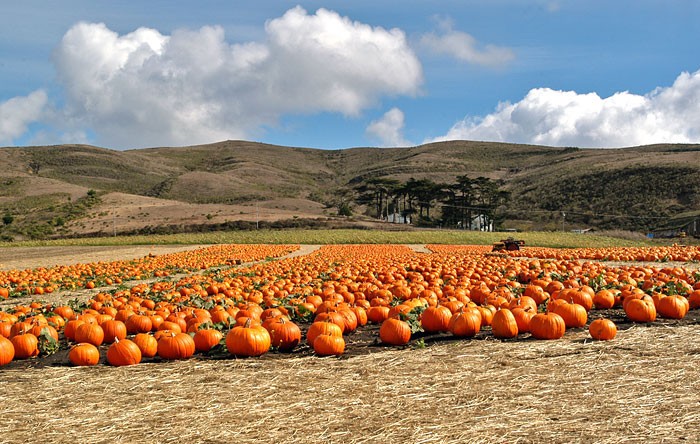 (via Half Moon Bay High School)
Oct. 15-16: 46th Annual Art + Pumpkin Festival, Half Moon Bay
Where better to celebrate the pumpkin season than the affectionately dubbed Pumpkin Capital of the World? With three stages of live music, the Great Pumpkin Parade, pie-eating and costume contests, a haunted house, and more, this admission-free pumpkin festival attracts thousands to Half Moon Bay every year. // Half Moon Bay Art and Pumpkin Festival: Oct. 15–16 on Main Street (Half Moon Bay), pumpkinfest.miramarevents.com
Oct. 15-16: Bay Area Pet Fair, Marin Center

The Pet Food Express Bay Area Pet Fair is collaborating with 70 California pet rescues and shelters to bring over 1,000 adoptable dogs, cats and other pets to pet-loving families. This pet adoption extravaganza will also feature free live shows, activities for kids, food trucks, giveaways and vendors. Admission and parking are free—the main focus of this nonprofit event is to help pets get adopted by a loving home. // Bay Area Pet Fair: Oct. 15–16 at Marin Center, 3501 Civic Center Dr. (San Rafael), bayareapetfair.org
Oct. 16: Día de los Muertos, OMCA

The Oakland Museum of California will be hosting its 22nd annual community celebration in honor of Dia de los Muertos (Day of the Dead). The museum will come to life with food, dance, musical performances, craft activities and demonstrations by local artists and artisans. Tickets are on $12 for adults, $9 for students/seniors/youth and $5 for youth ages 9-17. // Dia de los Muertos: Oct. 16 at Oakland Museum of California, 1000 Oak Street (Oakland), museumca.org
Oct. 29: The Masquerade Macabre, Presidio Officers' Club

On October 29, the Presidio is opening up the dance floor of the Presidio Officers' Club to all guys and ghouls for The Masquerade Macabre from 7pm to 10pm. The evening will feature performances by the Rhumba Bums featuring Miss Carmen Getit and the San Francisco Jitterbugs. Attendees can also peer into their mysterious future with a resident fortune teller and enjoy specialty spirits served by Arguello. The event is ages 18+ and admission is free with an RSVP. // The Masquerade Macabre: Oct. 29 at Presidio Officers' Club, 50 Moraga Avenue (Presidio), presidio.gov
Oct. 28-29: Boo! Bark, Brews + Bites, Jack London Square
Pets and their humans are invited to enjoy a Halloween celebration on the Oakland waterfront with tricks, treats, frights and delights! The festivities will fill Jack London Square with paw painting for pups, pets pampering, a pet psychic, pooch photo booths, doggy treats and more! From ghouls to ghosts, four-legged friends are also invited to participate in a canine costume contest to show off their Halloween spirit! Restaurants will offer Halloween specials at Boo! Bark, Brews + Bites, and pets are welcome to restaurants with outdoor dining year round. Also, bring your dog to a special Doggie Walk-In Movie screening of Best In Show on Friday evening. // Boo! Bark, Brews + Bites: Oct. 28, 6pm and Oct. 29,11am-4pm a Jack London Square (Oakland), jacklondonsquare.com
EAT + DRINK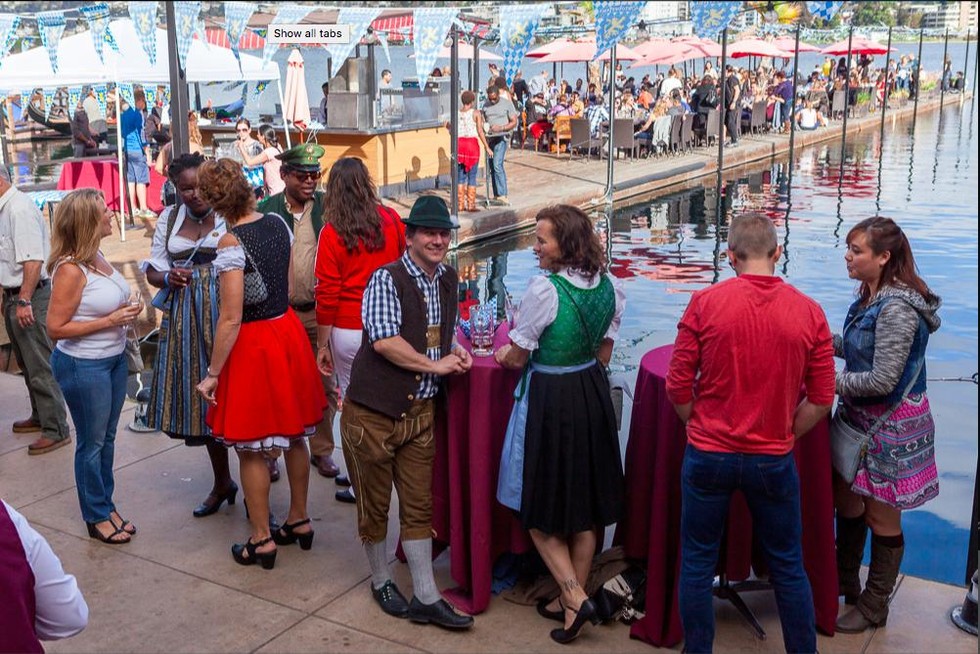 Oktoberfest on the Lake(Courtesy of Lake Chalet Seafood Bar & Grill)
Oct. 9: Oktoberfest on the Lake, Oakland

Lake Chalet Seafood Bar & Grill will be hosting its 2nd annual Oktoberfest on Lake Merritt. The celebration will feature live entertainment by a 30-piece German band, steins, costumes, food and (of course) handcrafted Chalet ales and lagers. Make sure to grab you tickets ($25) before they sell out like last year! // Oktoberfest: Oct. 9 at Lake Chalet, 1520 Lakeside Dr. (Oakland), thelakechalet.com
Oct. 14: Carneros Supper Club, Napa
Join the Carneros Resort and Spa for its very first supper club dinner party, which celebrates local winemakers and features a six-course family style dinner from executive chef Aaron Meneghelli. The evening begins with a welcome reception on the Hilltop patio overlooking the surrounding vineyards and mountains, and guests are invited to bring a bottle of wine of their own to be shared throughout the harvest-themed dinner party. // Carneros Supper Club: Oct. 14 at the Carneros Resort and Spa, 4048 Sonoma Hwy. (Napa), farmatthecarnerosinn.com

Oct. 15: Cochon 555 US Tour, Mission
Chef Tu David Phu will be hosting a Cochon 555 Asian Speak Easy Pop-Up charity dinner with a few of Bay Area's top chefs. Guests will indulge in six courses of Devil's Gulch Ranch pork and enjoy well-paired wine and cocktails, all while giving back. 100% of the proceeds go to Piggy Bank, a farm-in-the-making that supports heritage breed farmers and raises the fences for safer food—so you can feel good while pigging out. // Late-Night Asian SpeakEasy Pop-up: Oct. 15, exact address to be shared upon purchase, eatfeastly.com
Oct. 16: CUESA's Sunday Supper: A Farm to City Feast, The Ferry Building

CUESA is bringing the Bay Area's top chefs, winemakers, farmers and bartenders together to serve up a four-course feast at an elegant celebration of the local farmers market community. The 14th annual Sunday Supper hopes to fundraise for CUESA's educational programs, which serve farmers, students and educators in building a healthy food system. General admission tickets are on sale for $275 and VIP with early access tickets are going for $350. // Sunday Supper: Oct. 16 at the Ferry Building, 1 Ferry Building (Embarcadero), cuesa.org
LIVE MUSIC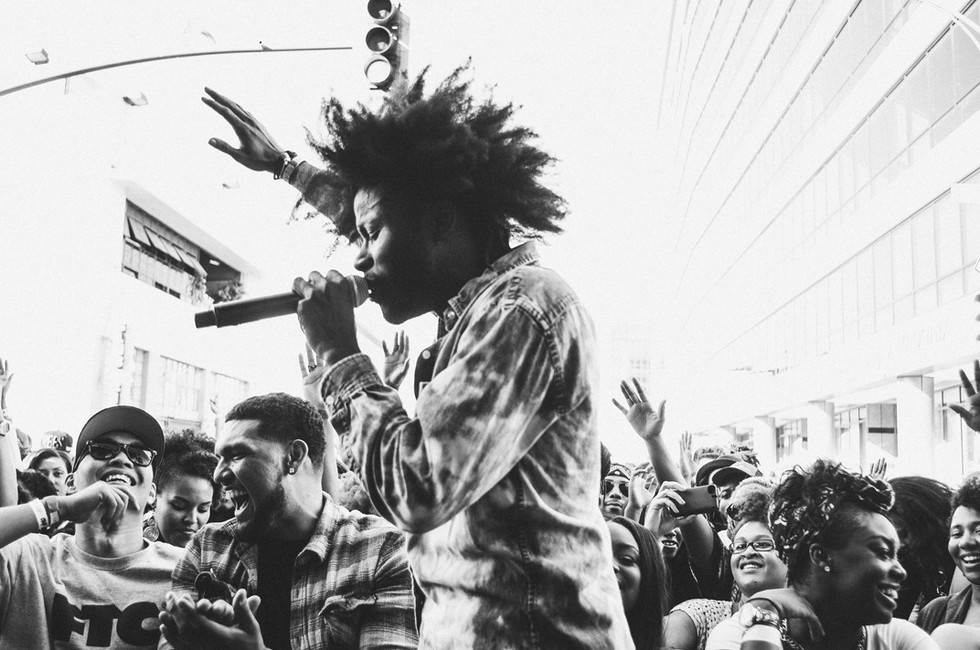 (Courtesy of Oakland Music Festival)
Sept. 30–Oct. 9: Oakland Music Festival, Oakland
Now in its fourth year, the Oakland Music Festival is rebranding the one-day event to a weeklong community-hosted festival celebrating Oakland's vibrant and historic music and arts culture. With performances, parties, community events, workshops and panel discussions, the festival aims to encompass Oakland's resurgence as a premier music and arts destination and bring thousands of music-lovers together to various venues in the downtown area. // Oakland Music Festival: Sept. 30–Oct. 9, various locations (Oakland), oaklandmusicfestival.com
Oct. 6: Grouplove, Fox Theater

American indie pop-rock band Grouplove is bringing their Big Mess World Tour to Oakland's Fox Theater on October 6. Big Mess, the band's electrifying third studio album, was released at the beginning of September and is sure to make for an energetic live show. Tickets are available for $33.50, standing room only. // Grouplove: Oct. 6 at the Fox Theater, 1807 Telegraph Ave. (Oakland), thefoxoakland.com
Oct. 12: Fitz and the Tantrums, Fox Theater
Fitz and The Tantrums, an American indie pop and neo soul band from LA, are on the road with Neon Trees' frontman Tyler Glenn, who will be opening for them at the Fox Theater in Oakland at an energetic show on Oct. 12. // Fitz and the Tantrums: Oct. 12 at the Fox Theater, 1807 Telegraph Ave. (Oakland), fitzandthetantrums.com
Oct. 13-15: 2001: A Space Odyssey, Davies Symphony Hall
Thursday's opening night performance will welcome special guest Keir Dullea, who played Dr. Dave Bowman in the film, and all screenings will include a pre-concert talk that will take audiences through the famous attention to visual and musical detail of Stephen Kubrick, the director and producer of this award-winning and highly-influential 1968 sci-fi film. // SF Symphony Film Series: Oct. 13–Oct. 15 at Davies Symphony Hall, 201 Van Ness Ave. (Civic Center), sfsymphony.org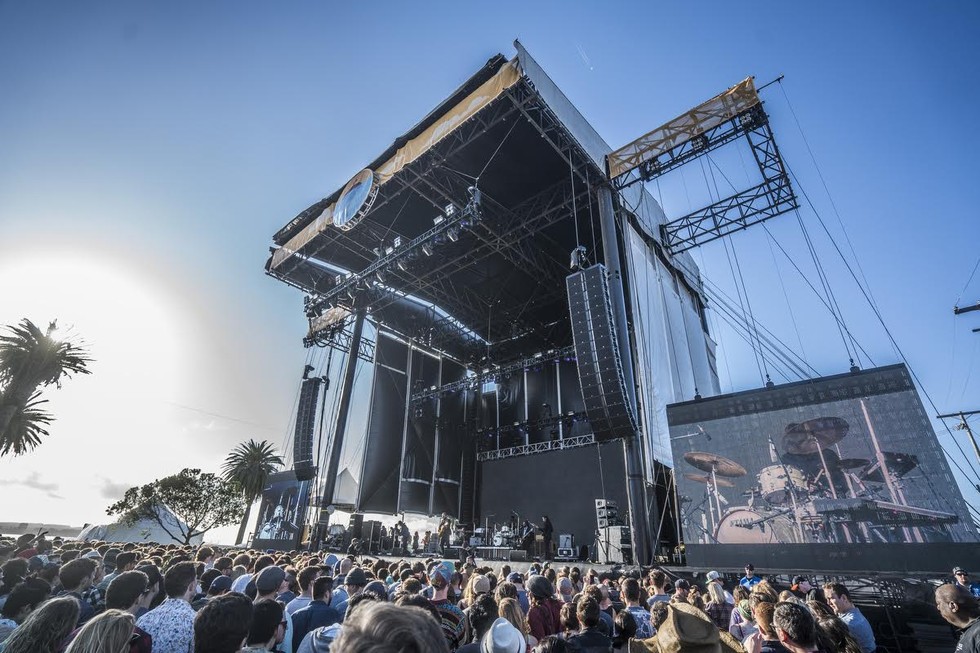 (Courtesy of TIMF)
Oct. 15-16: Treasure Island Music Festival, Treasure Island

The 10th anniversary of Treasure Island Music Festival will also be its last year on the island. As always, the two-day fest will be filled with beats and performances from up-and-coming EDM DJs, rappers, and indie bands. The year's headliners include Ice Cube and Sigur Rós. // TIMF: Oct. 15–16 (Treasure Island), treasureislandfestival.com
Oct. 15: Marin Music Festival, San Rafael
The first annual Marin Music Festival will be an opportunity for music-lovers to enjoy a full day of live, local music in scenic Marin County. Admission is free, and the festival will feature local bands, arts, crafts booths, food trucks, craft beer and wine, and kids activities with a beautiful waterfront view. // Marin Music Festival: Oct. 15 at Marin Rod & Gun Club, 2675 E Francisco Blvd. (San Rafael), sresproductions.com
Oct. 23: of Montreal, The Fillmore

Hailing from Athens, Georgia, American glam-rock band of Montreal is making a stop in San Francisco for a show at The Fillmore. Innocence Reaches, the band's recently released fourteenth album, blends the band's signature psychadelic pop and funk-rock sounds with a contemporary electronic influences. Tickets are on sale for $22.50. // of Montreal: Oct. 23 at The Fillmore, 1805 Geary Blvd. (Fillmore), thefillmore.com
Oct. 28-29: BOO! SF, Bill Graham Civic Auditorium

To kick of Halloween weekend, Insomniac Events is hosting this year's BOO! at Bill Graham Civic Auditorium. Prepare yourself for a weekend of devilish fun and plenty of dancing. This year's lineup includes EDM veterans such as Yellow Claw, Showtek, Valentino Khan and more. Tickets are on sale for $135 for the two-day general admission pass, and $70 for a single day pass. // BOO! SF: Oct. 28-29 at Bill Graham Civic Auditorium, 99 Grove St. (Civic Center), insomniac.com


SPORTS
Oct. 8: Journey to the End of the Night
Join thousands of San Franciscans for the 10th anniversary of the city's largest game of virus tag. In Journey to the End of the Night, players try to make it to stations built throughout the city by artists as interactive checkpoints—but if they get tagged by a chaser, they become chasers as well. The game is free to play and exposes players to the delight of urban exploration—all in the thrill of the night. // journeytotheendofthenight.org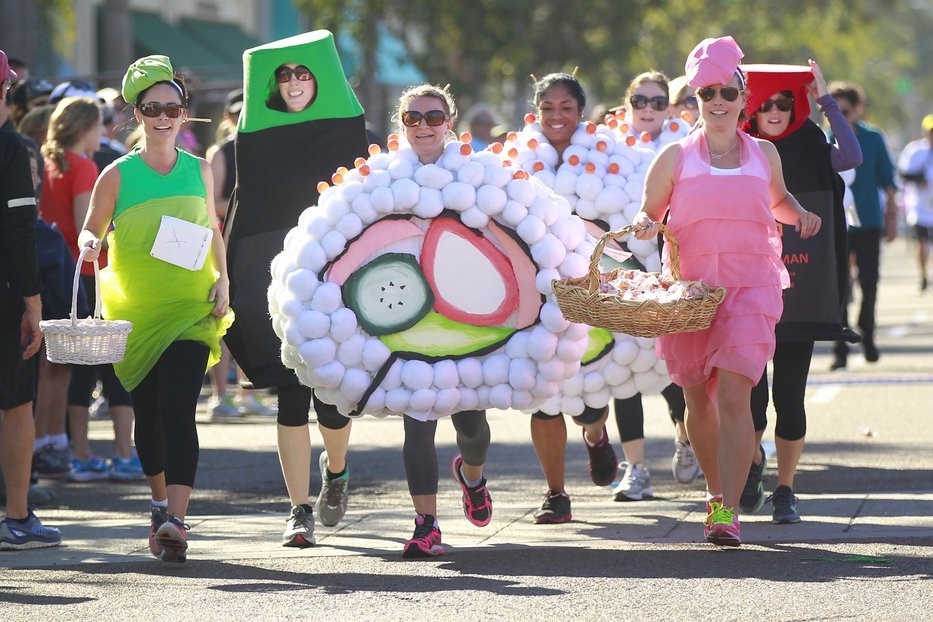 Oct. 30: Costume Dash 5K
Thousands will be running a 5k in Golden Gate Park this month, all while wearing their Halloween costumes. Will you be one of them? // Costume Dash: Oct. 30 (Golden Gate Park), costumedash.com
DON'T MISS A BAY AREA BEAT! SUBSCRIBE TO OUR NEWSLETTER.