By
Not your standard Haight-Ashbury flat, here it's all about the details.
Where: 17 Buena Vista Avenue, Upper Haight
When: Sunday, May 25 from 2:00pm to 4:00pm
What: a 2-bed, 1-bath condo with a separate, unconnected studio with a kitchenette and bath in a c.1900 cottage on the south edge of Buena Vista Park. Asking $1.395M, the top-floor condominium in a 2-unt building was renovated by architects Envelope A+D (Delfina, PROXY in Hayes Valley) over a number of years. Below, the beautifully detailed kitchen and dining areas straddle the width of the house, with views into Buena Vista Park and north to Pacific Heights. The house is owned by a curator, and so yes, that urinal on the wall is a work of art: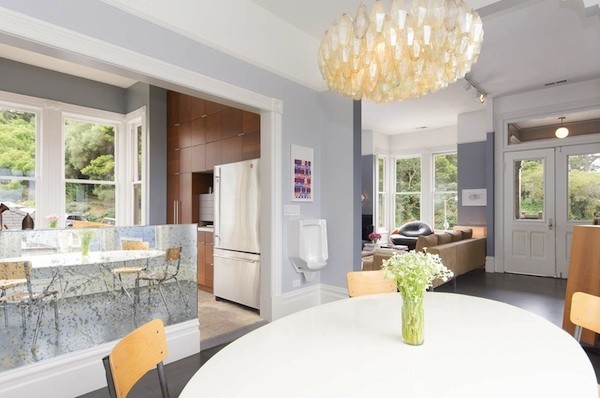 DON'T MISS A BAY AREA BEAT! SUBSCRIBE TO OUR NEWSLETTER.