Can you imagine how many boxes it'll take the Exploratorium to move into its new home on Pier 15? While they unpack, settle in and get ready for opening day on April 17th, there are a number of other Bay Area museums worth checking out.
Pacific Pinball Museum
Not what most would consider the typical museum, entrance into Alameda's Pacific Pinball Museum includes unlimited play on dozens of restored pinball machines. 1510 Webster Street, Alameda, (510)769-1349, Adults $15; Children $7.50, Open until midnight on Friday and Saturday, closed Mondays
Computer History Museum
Believe it or not, computers have been around long enough to warrant their own history museum! And what better place in the world for it to reside is Silicon Valley? The Computer History Museum, which has been continuously evolving since the 1960s, is home to the world's largest collection of artifacts related to the history of computing and includes hardware, software, documents, ephemera, photographs and moving images–even some of the first-ever computers. It's basically a big ode to one of humankind's most important inventions, the computer. Open 10 am-5 pm every day besides Monday and Tuesday. General admission is $15. 1401 N Shoreline Blvd., Mountain View, CA 94043. (650) 810-1010
California Missions Museum
Long before it was a winery, Sonoma County's Cline Cellars was the first camp of the Sonoma Mission, making it a fitting home for the California Missions Museum. The Cline Family opened the museum in 2005 after buying 21 Mission Models that debuted at the World's Fair at Treasure Island in 1939. All of California's Missions are represented. The museum also has two stained glass panels from Mission Dolores prior to the 1906 earthquake. It's not unheard of for visitors to end their tour in the 1850s farmhouse that is now Cline Cellars tasting room. 24737 Arnold Drive/Highway 121, Sonoma, (707) 939-8051, Free.
Walt Disney Family Museum
Just one of so many reasons to hang out in the Presidio. Get yourself in the magical make-believe mood by swinging by to see the Yoda fountain located near the Lombard Gate, then make the half mile or so trek to the learn more about his new kin at the Walt Disney Family Museum.
This museum tells the story of the man behind the amusement park and arguably the world's most famous mouse. Disney's earliest known drawing of Mickey Mouse is worth the price of admission. Even though it's Disney, this isn't designed as a children's museum. There's a good amount of reading as you make your way from one exhibit to the next. Backpacks and large bags must be left at the complimentary coat and bag check area downstairs. 104 Montgomery Street, The Presidio, San Francisco, (415) 345-6800, Adults $20, Children $12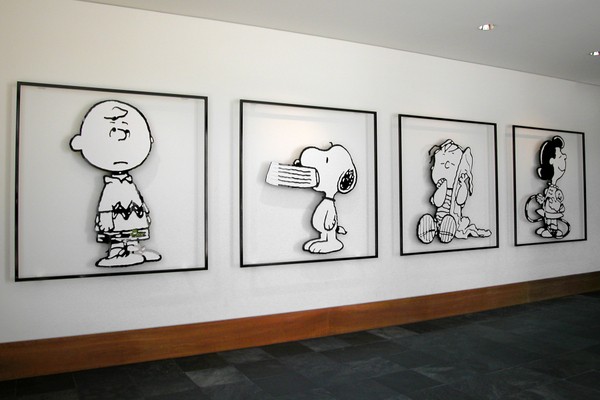 Photo by Rick Samuels courtesy of the Charles M. Schulz Museum and Research Center
Charles M. Schulz Museum
Loaded with Peanuts comics and memorabilia, the Charles M. Schulz Museum would make even Charlie Brown smile.Peanuts comic creator Charles M. Schulz lived and worked in Santa Rosa for more than 30 years. Today, visitors can see Schulz's well-used drawing board and maybe even take a class with a professional cartoonist. 2301 Hardies Lane, Santa Rosa, (707) 579-4452, Adults $10, Youth/Students $5
Dana can be found on Twitter @drebmann