This edition of the Party Blotter is stacked heavily with two things: Friday parties and locals. There are some tough choices to be made, for sure, but my suggestion is to hit as many of the following selections as you can, because each one of them is going to be an uproariously good time. See you on the dancefloor!

MANO LE TOUGH at Monarch SF, Friday, March 29
Let's begin with the only party on the blotter without a San Francisco-based headliner on the bill–Mano Le Tough, who hails from Ireland but is now Berlin-based (natch) is making a rare appearance in our city this weekend. Alongside compatriots like Âme, Dixon, and Christian Löffler, Mano Le Tough is one of a new breed of house producers whose tunes aren't loop- or sample-based, but instead revolve around lush, uplifting melodies and are infused with a sort of slow-burning melancholy, an elegant romanticism that borrows just as much from classic pop music (without sounding anything like pop music) as it does classic house music. The emotional palette of most house music is fairly limited, sticking to various evocations of ecstasy and exuberance (not that there's anything wrong with that), but Mano's music goes beyond. For a good example, listen to "Take It Back" and RSVP on Facebook.

HOUSE WORK featuring MIRACLES CLUB and AVALON EMERSON, Bruno's, Friday, March 29
New party alert! New party alert! And not just that, but new (or at least unfamiliar) venue alert, too! DJs Primo (of 2 Men Will Move You) and Nonamoan (of Body/Current) are putting together a new night at Bruno's, that mysteriously-classy-looking lounge-club-type spot on Mission and 20th. It's in the upstairs room (complete with stripper poles!), and to round out the musical selections for the night, they've brought in Portland's Miracles Club for a DJ set alongside local producer & DJ Avalon Emerson. True to the party's name, you can expect house music of all kinds, from vintage late-80s and early-90s jackin' Chicago sounds to spacey synth weirdness to futuristic dubbed-out deep-house vibes. And it's only five bucks after 10:30 pm. RSVP on Facebook and come prepared to have a smashing good time.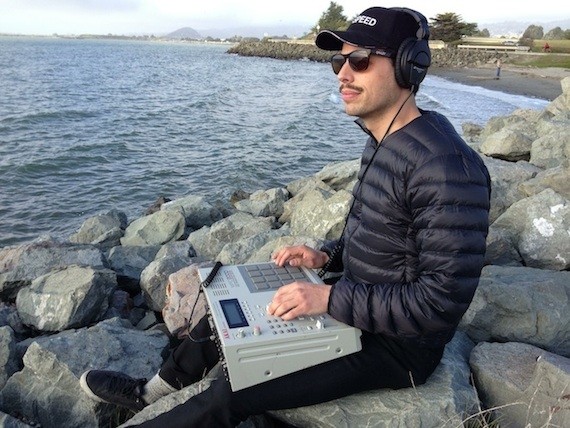 Bobby Browser by Morrie Pauline

ICEE HOT featuring TEENGIRL FANTASY and BOBBY BROWSER, Public Works, Friday, March 29
The Icee boys are doing it again at Public Works, this time bringing in the not-very-aptly-named Teengirl Fantasy alongside the vintage-sampler stylings of local bad boy Bobby Browser. Teengirl Fantasy's sound is warm, analog, and retro-inspired (that is to say, it uses a lot of old hardware) without sounding particularly retro itself. Their aesthetic is dreamy, cloudy, and kind of hazy, owing debts to old sci-fi film and television soundtracks, and just as much to classic house and techno. What's really got me excited, though, is Bobby Browser, whose all-new live set I had the pleasure of seeing recently: Over an hour of purebred jackin' house from start to finish, the kind of stuff that makes me feel like I'm 10 years old all over again, marveling at the way the music makes my body move without me telling it to. As always, the Icee Hot selectors will be rounding out the night with impeccable DJ sets. And, oh yeah, this party is FREE if you RSVP on Ticketfly. Check out one of Bobby Browser's latest tracks and RSVP on Facebook.  

REMOTE VIEW pt. 3 featuring BARN OWL, MAX & MARA, VEREKER, The Lab, Friday, April 5
This is the final iteration of a three-part series that pairs experimental electronic music–all Bay Area-based–with various visual performances, to explore the space between visual and aural stimuli. Headlining this night are Barn Owl, an SF-based duo who create guitar-based, droning psychedelia influenced and informed by synthesizers and electronic music. The murky sounds of their new record V will be balanced out by the minimal-synth electronic pop wizardry of Max & Mara. Later on in the night, SF's Vereker (who just released two razor-sharp records on NYC's on-fire L.I.E.S. imprint, which you can get a taste of here) will perform a DJ set of industrial-strength techno to keep your body moving. What's more, if you attend Haçeteria as recommended below, you can get into The Lab for a measly $4! RSVP on Facebook here.

HAÇETERIA featuring KIT CLAYTON and EARTHMAN, Slate Bar, Friday, April 5
Haç has always been one of my favorite parties in SF and this latest edition is one of the most exciting in awhile. Kit Clayton's San Francisco roots go way, way, way back – he was throwing techno parties in the city back when I was a wee lad, wondering what beer tasted like, and he produced top-shelf minimal dub techno before it was cool. He'll grace the decks at the next Haç, and given how long he's been down with the scene, his DJ set is one you absolutely do not want to miss. There will also be a live set from Oakland-based producer Earthman, who'll bring a spaced-out, dubby ambient-house set that I am hoping will give me flashbacks of The Orb. Haç's five bucks all night and only three if you have a stamp from Remote View at The Lab! RSVP on Facebook here.