This edition of the Party Blotter brings you the five best parties to attend across this weekend and next, and this time around, there's quite a diverse spread. One party comes to a close, another is just getting started, and in between is an assortment of SF's finest local DJs, a San Francisco debut from a wily Dutchman, and a can't-miss appearance by one of the finest DJs in North America. Read on, party on, and see you on the dancefloor!

FORWARD featuring MANIK, ADNAN SHARIF, Friday 4/12, Mighty
All good things must come to an end. Forward, one of San Francisco's longest running parties, is celebrating its 11 year anniversary by saying goodbye, as its founder and longtime SF nightlife stalwart Adnan Sharif makes his move to Brazil. For this final iteration, Sharif has brought together an all-over assortment of talent, with a strong focus on San Francisco locals. Headlining is Manik, an NYC-based producer with a penchant for rubberized, bouncing tech-house that incorporates sound-bits from genres across the board–a little bit disco, a little bit funky. What you should stay for, though, is Adnan Sharif's final set in San Francisco, which is sure to be a special one. If that's not enough, this all takes place at Mighty, which recently replaced its stellar Richard Long soundsystem with an even-more-insanely-stellar EAW Avalon Club.two soundsystem, which means the sound will be pristine, thumping, and fully physical. Check out this track by Manik and RSVP on Facebook for details.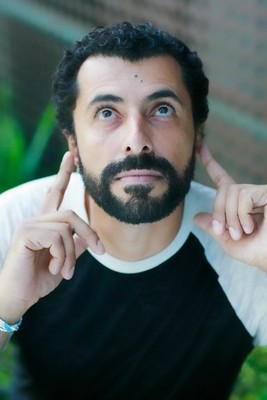 Adnan Sharif

ICEE HOT featuring GERD, Friday 4/12, Public Works Loft
The Flying Dutchman is, as you assuredly know, a two-beef-two-cheese-no-bun selection from In-N-Out's secret menu. It also happens to be what's on the menu at the Public Works Loft on Friday night as Icee Hot flies Gerd from his native Holland all the way out to our lovely burg (ahem) to bless us with an all-beef DJ set of the best of modern house music, sans the cheese. Gerd is one hell of a prolific producer, with a bunch of aliases under his belt (as of late, Geeeman and NY Stomp) and releases on Clone, Poker Flat, Aus Music and Icee's own homegrown record label, among others. His sound is assuredly throwback, harking back to that sweaty early '90s era when New York City was voguing like life depended on it, while maintaining a refreshingly modern sensibility–Gerd's tracks aren't imitations, they're homages. Listen to his killer "NY House Trak" to get a sense of what I mean, and RSVP on Facebook for the party details.

HONEY SOUNDSYSTEM + NO WAY BACK, Friday 4/19, Beatbox
Despite the fact that San Francisco gets loads of international talent on a weekly basis, we have no shortage of fantastic homegrown DJs. On Friday the 19th at Beatbox, it's all locals, all night. Honey Soundsystem (DJs Josh Cheon, Robot Hustle, Jason Kendig, and P-Play) are teaming up with No Way Back (DJs Conor and Solar) to bring you their vision of a dance party gone right – expect to hear a ton of strange, twisted house music, perhaps some EBM and Italo styles, and assuredly a bevy of tunes orbiting planet disco. Did I mention that this party goes 'til 5 AM and will cost you all of five measly dollars if you purchase a presale? RSVP on Facebook for more details.

ADVANCED RAVERS & DRAGONS, Saturday 4/20, First Church of the Buzzard, Oakland
It's pretty much become an accepted fact that April 20th is now something of a national holiday. (At least within the nation of the Bay Area) Whether or not you choose to partake in the inhalation of intoxicating plant matter is up to you, but you should definitely choose to take advantage of the numerous parties occurring on this day. And how could you resist a party called "Advanced Ravers & Dragons"? It makes no sense, and it shouldn't. A bevy of locals (including 100% Silk) boys Roche and Bobby Browser in addition to a number of East Bay heads) will be casting rave spells all night, and dressing up in costume is highly encouraged. Put on your wizard hats, freshen up your dragon's tails, or better yet, drag the JNCO and Kikwear pants out of your closet and let the candy-kid within you shine. RSVP on Facebook for details on the weirdness.
Silent Servant

HONEY SOUNDSYSTEM featuring SILENT SERVANT, Sunday 4/21, Holy Cow
If you had to pick only one party from this Blotter to attend, it should be this one. Silent Servant is a force of nature, a phenomenal DJ's DJ whose tastes run the gamut from 80s industrial and experimental to the most futuristic techno and the deepest house, and every time he spins records, it's like taking a trip – you never know what you're gonna get. What you can be absolutely assured of is that whatever Silent Servant chooses to play will make your body move, and keep it moving. With support from the top-notch Honey Soundsystem DJs (namechecked above), it's pretty much impossible to go wrong with this party. Yes, it's on a Sunday, but that doesn't matter–forego your beauty rest and pay the price on Monday morning, because this will be one to remember. Check out the event page on Resident Advisor and sign up to Honey's mailing list to stay abreast of future happenings.