Originally published on CaliforniaHomeDesign.com
The Pinterest headquarters in San Francisco is exactly how you'd picture it: cute and creative, with a unique DIY aesthetic. Pinterest employees frequently assemble after work for "Make-a-thons" to teach each other crafty techniques and decorate their new office, pulling inspiration from – you guessed it - their favorite pins. We met with Pinterest's brand manager, Everett Katigbak, who worked closely with the architects and is tasked with ensuring that the innovative company's one-of-a-kind culture is visible throughout the space.
A few months ago, Pinterest moved into their new office space, a previously empty warehouse in SoMa, a block away from Airbnb and down the street from Zynga. Everett says that they left the space pretty open and didn't do much building. They kept the skylight, elevator, and stair railings, and stripped away excess, confining materials.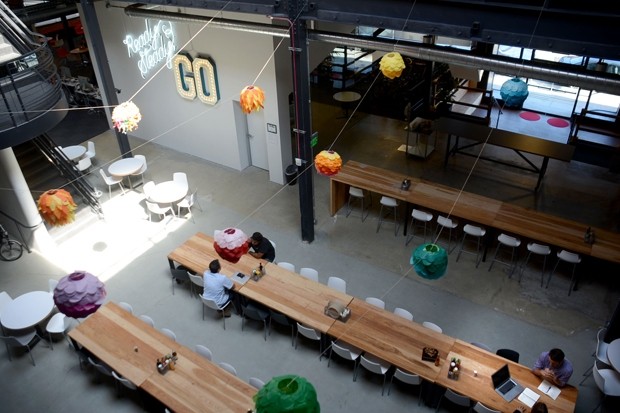 Long meeting and lunch tables fill the main floor of the space, where employees gather to eat lunch together every day. The tables, specially designed for the office, contribute to the space's fluid atmosphere, as they can be pushed out of the way for large meetings or events. Everett created the awesome neon lights on the back wall, featuring one of Pinterest's slogans, "Ready, steady, go!"
Click here to get the full scoop and see more pics of Pinterest HQ!